It seemed as if out of nowhere, Daniel Wellington became one of the most popular watch brands. With its sleek ad timeless design, their watches definitely look luxurious, but is Daniel Wellington a luxury watch brand?
Daniel Wellington is not a luxury watch brand, as they produce affordable watches made with low-quality materials. They're also mass-produced, contain an outsourced movement, and the entire manufacturing process is outsourced to cheaper countries like China.
Despite Daniel Wellington advertising its timepieces as affordable luxury, it's safe to say that Daniel Wellington is not a luxury watch brand. It misses pretty much every single guideline set in place. But does that also mean that Daniel Wellington watches are bad?
In this article, we'll discuss exactly why this is not a luxury watch brand, but we'll also cover the overall quality of a Daniel Wellington watch.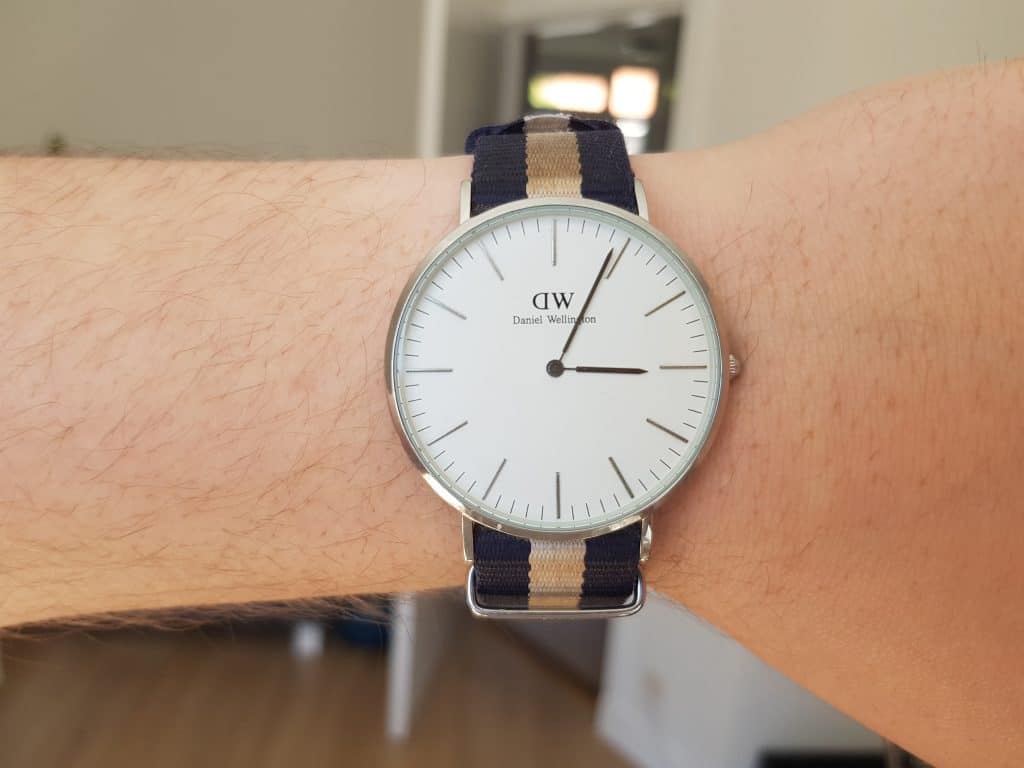 Why Daniel Wellington Is Not A Luxury Watch Brand
When is a watch brand a luxury watch brand?
It's a commonly asked question with no clear-cut answer. There aren't any rules for this, but some commonly agreed-upon guidelines exist. These include:
The watch must have an in-house movement.
The watch brand must include precious or exotic materials within its watch designs.
The watch must have a reputable brand behind it.
The watch must be exclusive, either by low production rates or a high price (or both).
The watch must be hand-assembled.
In Daniel Wellington's case, they meet none of these requirements. Outsourced movements, relatively cheap materials, all mass produced. It's easy to see why they aren't a luxury brand.
That's not necessarily to say that Daniel Wellington is a brand you should avoid, but don't expect a luxury timepiece.
We would actually classify Daniel Wellington as a fashion watch brand. Fashion watch brands basically bulk-produce a great-looking watch that is purely made to sell well.
And while a good-selling product is also what luxury brands are after, luxury brands tend to innovate. They go above and beyond to create a piece of horological significance, which cannot be said for fashion watch brands.
Below, we'll cover all guidelines separately and see how exactly Daniel Wellington scores!
The Movement
The movement of the watch is by far the most essential part of a watch. It's what keeps the watch moving and working. To stress its importance, the movement is commonly called the heart of the watch.
Creating an in-house movement is both incredibly difficult, but also very costly. When you purchase a luxury watch, though, it's expected that the brand cuts no corners. Outsourcing this part is an absolute no-go.
It's a bit of a different story for fashion watch brands (or more affordable brands in general). These brands tend to outsource this part, and in essence, there's nothing wrong with that.
Getting an outsourced movement from brands like ETA or Miyota is absolutely fine. They produce fantastic movements. But when you purchase a luxury watch, you want the movement to be made in-house.
Daniel Wellington watches are typically equipped with a Miyota quartz movement. This particular movement can be bought for $3 and considerably less when bought in bulk.
The movement itself is accurate and will last a good while, but it's a movement that can also be found in watches that are even cheaper than Daniel Wellingtons.
We've written many articles on whether or not a brand is a luxury watch brand, and the most common example I used is this:
If you pay upwards of $5000 for your luxury timepiece, it stings when you find out that it basically functions the same as a $200 watch.

Exerp from our article Is Omega A Luxury Watch Brand.
Daniel Wellington is essentially that '$200 watch'.
Once again, there is nothing wrong with an outsourced movement, but it disqualifies the brand from being a luxury watch brand.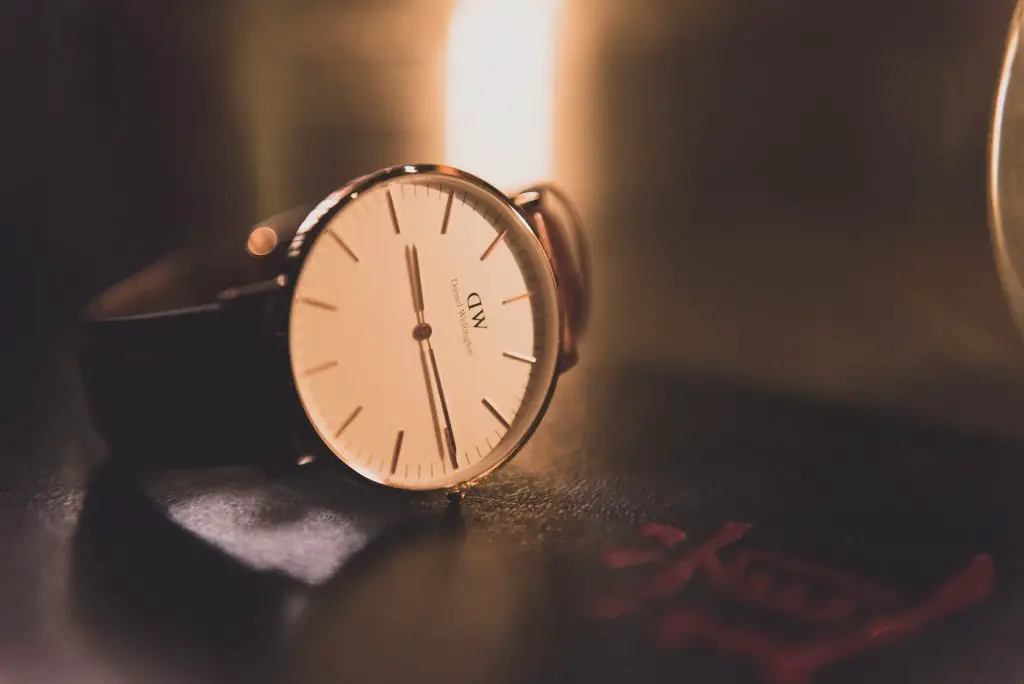 The Materials Used To Make The Watch
Next up are the materials used to make the watch. When you buy a luxury timepiece, you expect luxurious materials. Or, at the very least, materials of very high quality.
In Daniel Wellingtons' case, they use neither.
Daniel Wellington watches are typically made with low-end materials. It's almost as if they're looking for whatever is the cheapest but still looks relatively good.
The case of a Daniel Wellington watches is made with 316L stainless steel. This is the industry standard for all watches (and brands), and they actually meet the criteria.
Still, Daniel Wellington watches tend to scratch easily. While they definitely meet the industry standard grade of material, it seems they lack on the actual quality of it.
Sometimes you'll also see a golden Daniel Wellington watch, but that's no real gold. Instead, it's a gold-plated watch that tends to discolor or chip after a few years of wear.
The strap is typically made of genuine leather or a NATO strap. Genuine leather is a fancy name for low-quality fake leather, and a NATO strap is another affordable option.
Again, both options do look great, but they lack in quality.
The watch's face is covered by a piece of mineral glass, which is not the worst or cheapest option but also not the best. I'd actually give them a pass here, as mineral glass is commonly used for more affordable timepieces.
Overall, it becomes apparent that creating a high-quality watch isn't the main priority for Daniel Wellington. Instead, they tend to go for whatever's the cheapest but still makes the watch looks great.
Production & Manufacturing Rates
Luxury watches are scarce. They are both costly, and not so many are produced. This is what keeps the watch rare and luxurious.
Just imagine if everyone's able to afford a Rolex. Would it still really be that luxurious and unique if everyone had one?
And that's exactly what's happening with Daniel Wellington. Their watches are neither expensive nor scarce.
While there aren't any exact numbers, it is public that Daniel Wellington sells well over a million watches every year. We can use this number to determine that Daniel Wellington creates between 6 million and 10 million timepieces annually.
Compare that to an actual luxury watch brand, A. Lange & Söhne, which only produces 5000 watches annually, and you can see a clear difference.
Daniel Wellington watches are in incredibly high supply, a trait not seen in a luxury brand.
To produce this many timepieces a year, Daniel Wellington outsources their production process to China, where the rates are significantly lower. Here, all watches are assembled in bulk by machines.
Again, these are two traits not seen in luxury watch brands.
A luxury watch brand hand-assembles their timepieces, and they do that in-house. This way, they can ensure optimum quality for every timepiece that leaves their factory.
By bulk-producing their timepieces, Daniel Wellington compromises on quality control in favor of higher output.
Price Tag & Daniel Wellington's Position In The Market
Daniel Wellington quickly became one of the most recognizable brands in the watch world. With their sleek, simplistic designs and extremely enticing price tag, it's no wonder why.
They offer exactly what most millennials are after.
We've been fairly negative about Daniel Wellington so far, and that's mostly justified from a watch enthusiast's perspective. From a horological standpoint, Daniel Wellington watches are atrocious.
But from an average person's perspective, a Daniel Wellington is a good-looking and affordable timepiece.
And that's what Daniel Wellington was after. They never intended to sit amongst brands like Rolex or Omega. They wanted to position themselves as 'affordable luxury'.
And the best way to get there was to offer sleek and simplistic designs. In other words, designs that look luxurious.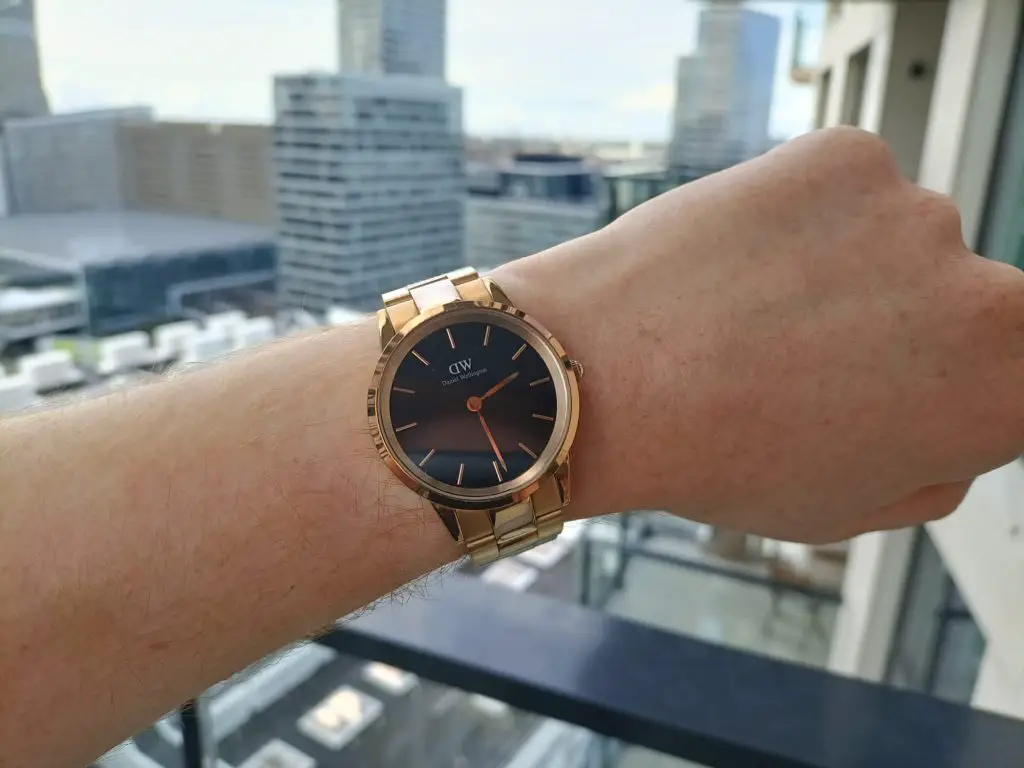 In that regard, Daniel Wellington has positioned itself exactly where it wants to be, but also where it should be. Because whatever you may think of the brand, we must admit that their watches look great.
As for the price, this is yet again a guideline where Daniel Wellington falls short. Luxury watches are priced high not only because they're made with high-end materials. but also because a high price creates a barrier to entry.
The average Omega watch costs around $5000, a price not everyone can or is willing to pay for a watch.
On the other hand, a Daniel Wellington watch typically costs $200 or so. This is a price most people feel comfortable paying for a watch.
And since the vast majority of watch shoppers don't have all that much knowledge of timepieces, the sleek design and low price tag of a Daniel Wellington look like a treat.
Are Daniel Wellington Watches Good?
Daniel Wellington sells good-looking watches that leave a lot to be desired in actual quality. While not the worst, Daniel Wellington is no horological standout. If you're looking for a simple and great-looking watch, a Daniel Wellington watch is a good option.
Throughout the entire article, we've touched on the many aspects where Daniel Wellington lacks in quality. And while it may come across that we're talking Daniel Wellington down simply because they don't meet the luxury watch guidelines, that's not the case.
Seiko also isn't a luxury brand, but they produce excellent timepieces. The same can be said for Citizen, also not a luxury watch brand, but a highly respected watchmaker.
And to a certain extent, we can even say that Fossil creates much better watches. Fossil is also a fashion watch brand and not a luxury watch brand, but their timepieces seem more appropriately priced when compared to Daniel Wellington.
But speaking purely from a quality standpoint, I'm sad to say that a Daniel Wellington watch is not really worth it.
Here are a couple of pointers as to why we came to that conclusion:
Easily scratchable stainless steel.
A thin case, which makes it easy to break.
An outsourced, cheap Miyota movement.
All watches are bulk-produced in China.
Priced too high for what you actually get.
Due to the small crown, setting or adjusting the time is difficult.
Their watches are not waterproof.
Poor quality leather straps.
With that said, the one thing we can't ignore is the fact that Daniel Wellington watches look good. They have a timeless design, and when you take care of them properly, they will last a long time.
And I would be lying if I said I don't own one myself.
How Long Will Daniel Wellington Watches Last?
A Daniel Wellington watch will last between 3 and 8 years. Daniel Wellington watches are of poor quality, so no matter how well you take care of your watch, it will show signs of wear after some years. A Daniel Wellington watch battery lasts around 3 to 5 years.
How long a watch will last is entirely dependent on the quality of the watch. Good-quality materials and a solid movement will ensure a watch lasts a long time.
But as discussed throughout this article, Daniel Wellingtons' focus isn't on quality. It's on design.
Due to the poor quality of the materials and the fact that Daniel Wellington watches are super slim (read: easy to break), a Daniel Wellington watch tends not to last as long as other watches in the same category.
A good comparison would be a Fossil watch. Fossil is also a fashion watch brand, but they put a little more effort into the actual quality of their timepieces. Where a Daniel Wellington watch lasts between 3 and 8 years, a Fossil watch can last well over 10 years.
Luckily, there are a couple of ways to extend your DW's lifetime:
Make sure not to drop your watch.
Keep your watch away from water, even rain.
Replace a worn-out battery in a timely fashion (otherwise, the battery will leak inside the very thin case)
Replace the strap when it eventually wears out.
Avoid sporting activities.
And if your watch does break, expect the repair to be more costly than you think.
Daniel Wellington can keep production costs low by outsourcing everything to cheaper countries. But them keeping their production costs low how no impact on your local jeweler's hourly rate.