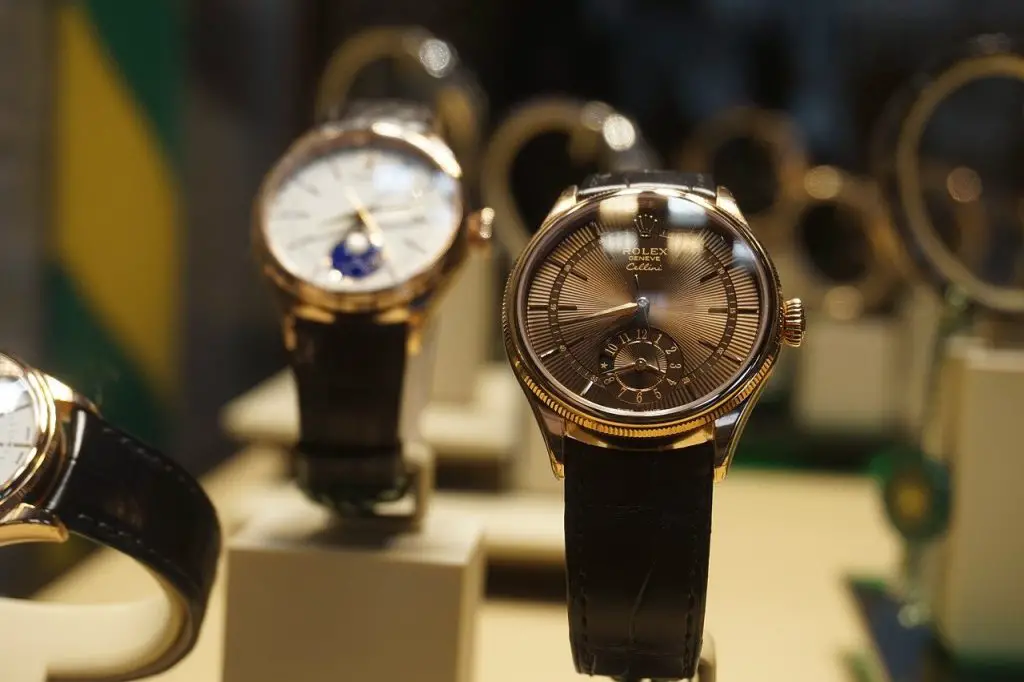 There's a large number of watch brands out there, some considered more luxurious than others. But what actually defines if a watch is a luxury watch?
A luxury watch is a watch that's handmade with high-end materials. Furthermore, luxury watches are very complex and have lots of complications, made with in-house movements. These luxury watches will come at a premium price, further pushing the 'luxury' feel.
What does and does not define a luxury watch is kind of a gray area. There are many different opinions out there, but some are more agreed to than others. In this article, we'll discuss some luxury watch brands, as well as what makes a watch a luxury watch!
What Defines If A Watch Is A Luxury Watch
There actually isn't a clear cut definition for what makes a watch a luxury watch. Luxury can have a different meaning for everyone, but there are some aspects that all seem to agree on.
The most common aspect that would make a watch a luxury watch is the brand behind it. A brand like Rolex will always be seen as a luxury watch brand, simply because they have the name and have positioned themselves as a luxury brand.
After all, most people buy luxury products because of the name. With the purchase of a Rolex, you don't just purchase a watch, but also the feeling of success that comes with it. This is not a timepiece that anyone could afford, which makes it sit on a pedestal.
Another common scale for when a watch becomes a luxury watch is the price for which it's available. Any luxury watch brand will have watches that will costs you a few thousand dollars. Even the cheapest watches from these brands could be a few thousand dollars, while the more expensive ones could go all the way up to multiple hundreds of thousands of dollars.
You should also keep in mind that although these watches are priced very high, they are also of incredible quality. Just take a Rolex for example.
Rolex watches are known for being some of the quietest watches in the world (read this article to find out why!), they look incredibly sleek and luxurious, and the attention to detail is just absurd.
In the end, a luxury watch is a watch that portrays some kind of feeling. Maybe it's the feeling of success, maybe it's the feeling of preservation, or maybe it's the feeling of status.
Aside from the feeling that comes with the watch, a luxury watch is also of incredible quality. They look amazing, they work amazing, and the attention to detail is spot on. You truly get a luxury, quality product.
Luxury, however, can have a different meaning for everyone.
Why The Definition Is Different For Everyone
Luxury is often seen as glamorous, insanely expensive stuff. However, luxury can have a different meaning for everyone. 'One man's trash is another man's treasure'.
For many people, a $1.000 watch is a true piece of luxury. After all, $1.000 is a lot of money and you can buy some truly beautiful watches for that price. On the other hand, some people find it a luxury to own a watch in the first place.
And on the other extreme, there are people out there spending half a million or more on a single timepiece. These are extreme prices, of course, but it paints the picture. Even a $5.000 watch is a very high price for most people.
With such large discrepancies, it's hard to pinpoint what exactly a luxury watch is. And that's why the term 'luxury watch' will have a different meaning for everyone.
Some will only call watches from well-respected brands such as Rolex or Patek Philippe a luxury watch, while others solely base their opinion on the price tag of the watch.
The Quality Of A Luxury Watch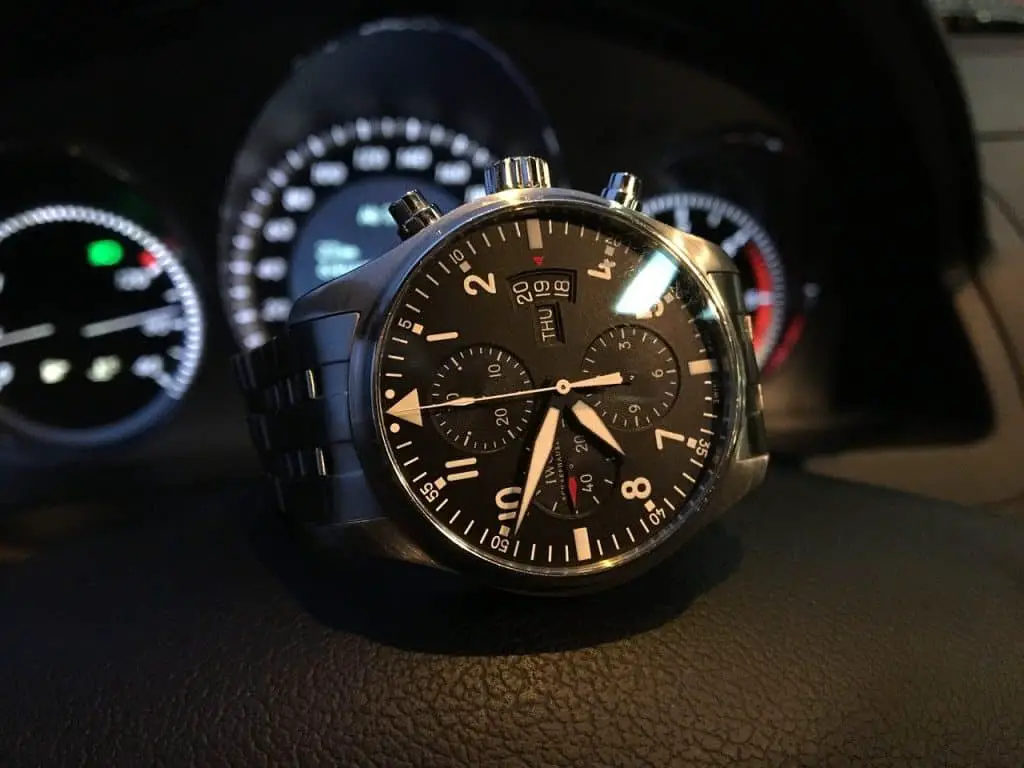 In order to justify the price tags of luxury watches, there has to be something special about them. Just a 'feeling' alone couldn't possibly be responsible for a few thousand dollars, right?
Well, yes and no. The feeling and prestige of the brands and the watches themselves are certainly responsible for a good chunk of the price, but luxury watches are also made of great quality materials.
It's important to know that luxury watch brands make the movement themselves. Cheaper watch brands could outsource this process, but luxury watch brands make them themselves.
This way, they can ensure perfection in their signature ways, always knowing they made the best product possible. Furthermore, luxury watchmakers make the watches by hand, which again adds to the quality and the price of the watch.
Aside from making the movement, luxury watches are also made with more expensive materials. High-quality stainless steel is no rare sight, but the likes of rose gold, yellow gold, white gold, platinum, titanium, or carbon fiber are common as well.
As you can imagine, a watch made with yellow gold will be more expensive to produce than a watch made with lower quality stainless steel.
The crystal of a luxury watch is also made with higher-end materials. Luxury watches use what's known as a sapphire crystal. The crystal covers the face of the watch, and sapphire crystal is extremely durable.
Sapphire crystals have been the standard in luxury watchmaking for a while now, mostly because of its scratch-resistance and resistance to cracks.
Of course, a sapphire crystal is not unbreakable, and when it does shatter, it shatters completely. When this happens, make sure to get it fixed quickly, otherwise, it can damage the dial and movement.
Naturally, these higher-end and more expensive materials and metals will drive up the price a fair bit. Even though the price of a quality watch can be very high, you do get a quality product.
How Much Can You Expect To Pay For A Luxury Watch
As we just discussed, luxury watches can be very expensive due to the materials used and the feeling of prestige it gives. But what can you expect to pay for a luxury watch?
An entry-level luxury watch can easily cost you around $1.000, on the low end. Some mid-level luxury watches will cost you around $5.000 to $10.000, but there are watches out there that can cost you much more. Some even go for as much as a few hundred thousand dollars.
The cost of a luxury watch will of course be different per brand and per model. Most brands have more affordable, entry-level watches as well as some more expensive watches.
| | |
| --- | --- |
| Brand | Average Price Of Their Luxury Watches |
| Richard Mille | $141.171,18 |
| Patek Philippe | $54.132,55 |
| Audemars Piguet | $50,781 |
| Rolex | $12.390,56 |
| Omega | $5.992,16 |
| Tissot | $761,72 |
Source: Statista
As you can see, even among luxury watches, there's a huge price gap. Tissot watches, often described as the most affordable entry-level Swiss luxury watches, are actually very affordable.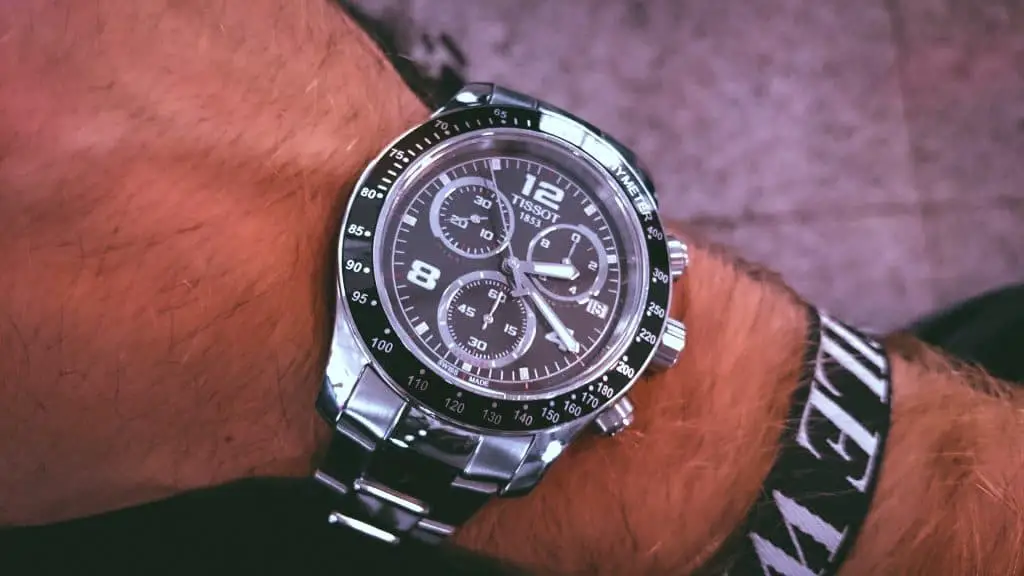 Even Omega watches are on the more affordable side, especially when compared to the likes of Richard Mille. The average price of a Richard Mille watch is almost 24 times as much as the average price of an Omega.
You also have to keep in mind that these are averages. Rolex offers watches priced at $6.000, as well as watches prices at $40.000. Still, the table above does give an indication of what you could expect to pay for a luxury watch from a certain brand.
Examples Of Luxury Watch Brands
With the sheer number of watchmakers, it's extremely difficult to number every single one of them. There are, however, a few that most will be familiar with. In this section, we'll list some of the more popular or interesting luxury watch brands!
Rolex
When we're talking about luxury watches and luxury watch brands, the name of Rolex cannot be excluded. Arguably one of the best-known watch brands in general, Rolex, a Swiss watch brand, continuous to impress.
Rolex makes every one of their watches in Swiss, by hand. With the production of the watches, quality and detail are of the utmost importance. It's safe to say that all Rolex watches are of great quality and very durable.
Aside from just making amazingly good watches, Rolex has also mastered the art of making quiet watches. As you might know, every watch ticks, but some have a much louder tick than others. When it comes to Rolex watches, you'll notice that you can barely hear anything at all. Only when you press the watch against your ear will you be able to hear a quiet ticking sound.
As of now, Rolex has a collection spanning 15 different models: Air-King, Cosmograph Daytona, Datejust, Lady-Datejust, Day-Date, Explorer, GMT-Master II, Milgauss, Oyster Perpetual, Pearlmaster, Sea-Dweller, Sky-Dweller, Submariner, Yacht-Master, and Cellini.
The prices of these watches will vary widely. The Rolex Oyster Perpetual is a nice entry-level Rolex watch, coming in at around $6.000. The Rolex GMT-Master II will come in right around $13.000 and a Rolex Day-Date will be around $40.000.
Patek Philippe
Patek Philippe, one of the more prestigious Swiss watch brands, founded all the way back in 1839, is another well-respected luxury watch brand. This brand ranked second on the table above, having an average price of $54.132,55 per watch!
A Patek Philippe watch is made by hand with only the finest materials available. This ensures that every single Patek Philippe watch is of the best quality possible.
Just like most luxury watches, a Patek Philippe watch is loved for its timelessness. Patek watches are very scarce, as there are less than a million produced since 1839. That's an incredibly low number, as some watchmakers produce over a million watches a year.
The scarcity of these watches not only makes a Patek Philippe watch a rare sight, but it also makes them a great investment. Patek watches are known to hold their value incredibly well!
As of now, there are 10 collections of Patek Philippe watches; Grand Complications, Complications, Calatrava, Gondolo, Golden Ellipse, Nautilus, Aquanaut, Twenty~4, Pocket Watches, and Rare Handcrafts. The last two of the collections feature more unique and unusual watches and pocket watches.
Among these 10 collections, you'll mainly find more high-end luxury watches, ranging in the tens of thousands of dollars per watch. Even the entry-level Patek watches will probably cost you around $25.000, if not more.
Audemars Piguet
Audemars Piguet is yet another one of the most prestigious luxury watch brands in the world. Founded in 1875, Audemars Piguet has perfected its skill in watchmaking, only making the finest, most luxurious pieces.
Nowadays, Audemars Piguet is dedicated to creating unique, rare, and precious watches, constantly pushing the boundaries and breaking the 'rules'. And with over 140 years of experience, it's safe to say they know what they're doing.
As usual with luxury watches, an Audemars Piguet is handmade with keen attention to detail. These watches are known to be extremely accurate and of high-quality, making them not only fantastic to wear, but also a solid investment.
As of now, there are 9 collections of Audemars Piguet timepieces; Code 11.59, [RE]Master01, Royal Oak, Royal Oak Offshore, Royal Oak Concept, Millenary, Jules Audemars, Haute Joaillerie, and Classique. The last 2 of these collections are more unique timepieces, different from the 'standard' and perfectly embodying the unique experience Audemars Piguet is working so hard to provide.
As we saw in the table above, the average cost of an Audemars Piguet watch is extremely high. The standard Audemars Piguet Royal Oak can cost you over $20.000 already, but prices can go as high as a few hundred thousand dollars per watch.
Richard Mille
Richard Mille is one of the younger luxury watch brands, but it's also one of the most expensive brands out there. Richard Mille was found in 2001 by Richard Mille himself, and he wanted to create a luxury segment in an already luxury business.
Nowadays, Richard Mille creates watches far from the norm. Ever since the very first watch, the RM 001, released in 2001, Richard Mille has taken things to the extreme. Working with respected Swiss watchmakers to only create the best possible products, a Richard Mille watch is a true sign of luxury.
As of now, there are over 80 different Richard Mille models, all simply named RM 001, RM 002, and so on. These collections of watches are available for both men and women and have that classic, different Richard Mille look.
Richard Mille is one of the most expensive watch brands by far, averaging a cost of over $140.000 per watch. This is an average, of course, so some will be cheaper, but some of the watches can even go up to close to a million dollars! That's just insane.
Is A Luxury Watch Worth It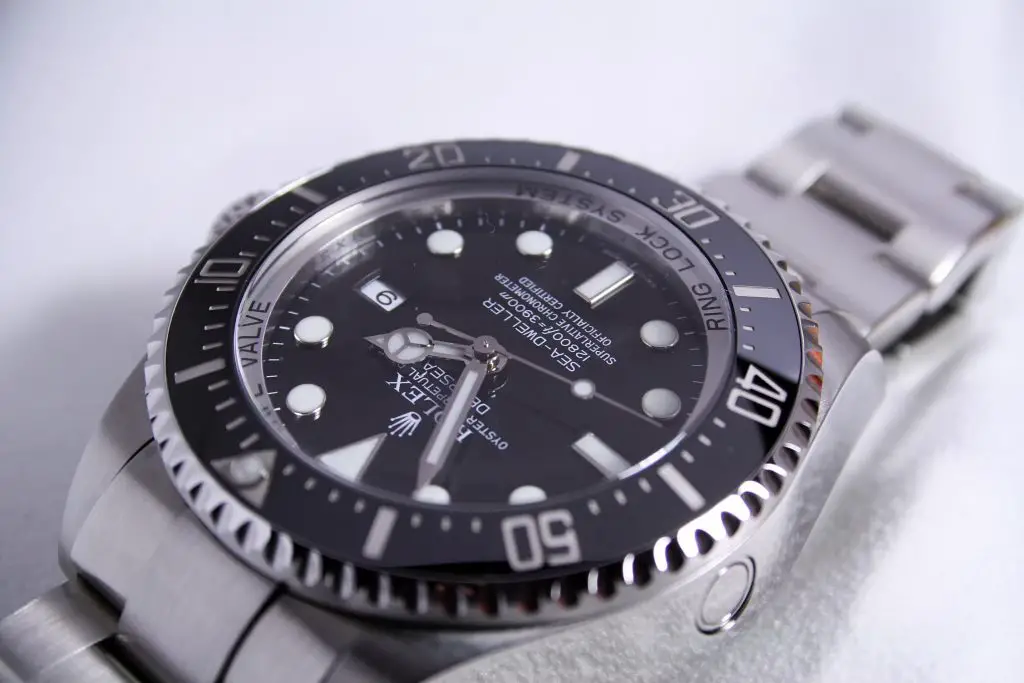 With such high prices for a luxury watch, a common question would be; is a luxury watch worth it?
A luxury watch is only worth it if it's worth it to you. Watches are highly subjective and some would never find a watch that costs a few thousand dollars worth it. On the other hand, some people are prepared to pay much more than just a few thousand dollars for a single watch.
The most important question you should ask yourself is if it's worth it to you. If you truly love watches and have the money ready to go, then, by all means, go for it.
If you don't absolutely love the watch, maybe take some time off and see if you still want the watch after, say, 2 weeks.
Also, it should go without saying that you should never purchase the watch if you can't afford it. No matter how beautiful they are, a luxury watch is not worth going into debt for.
What Are Some Great Entry-Level Luxury Watch
It's established that luxury watches can be quite expensive. Luckily, there are some gorgeous entry-level luxury watches, perfect for the people looking to get into luxury watches, but don't want to go bankrupt after purchasing one!
Rolex Oyster Perpetual
The Rolex Oyster Perpetual is one of the most approachable and easy-going luxury watches available. With a modest price tag of around $5.600, this is one of the more affordable watches from Rolex.
In 2020, Rolex revamped their Oyster Perpetual range, swapping out some of the more timid colors for brighter variants. Some of the options are yellow, turquoise blue, coral red, bright blue, silver, and black.
The wide range of colors allows both the more contemporary and more adventurous watch seeker to find what he/she is looking for.
Omega Seamaster
Omega is one of the more affordable luxury watch brands, having its price tag sit between $4.000 and $15.000. An Omega Seamaster will usually cost you right around $5.000, making this a great entry-level luxury watch.
Aside from being more affordable, they also look great and there are a few different models to choose from. They actually have a little in common with the Rolex Oyster Perpetuals in terms of looks.
IWC Pilot
The IWC Pilot watches are a little different from the earlier mentioned watches. Where those had a metal strap, the IWC Pilot watches have a leather strap. Coming in at right around $6.000, these luxury watches are on the more affordable end of the luxury watch market.
But price does not determine how great something looks. An IWC Pilot watch looks absolutely amazing. It's both modern and classic, making for a timepiece that fits in anywhere.
What Are Some More High-End Luxury Watches
Now that we discussed some of the entry-level luxury watches, let's take a look at three luxury watches that are a little higher in price.
Hublot Big Bang
Hublot is a Swiss luxury watch brand, known for making fine and more expensive luxury watches. One of these more expensive luxury watches of Hublot is the Hublot Big Bang, a rather polarizing and masculine watch.
The Hublot Big Bang has a bulkier look to it, which is why it's often seen as a little more masculine, but it still manages to look modern as well. This watch can costs you around $16.000 or more, so it's definitely a more expensive watch to purchase.
Rolex Day Date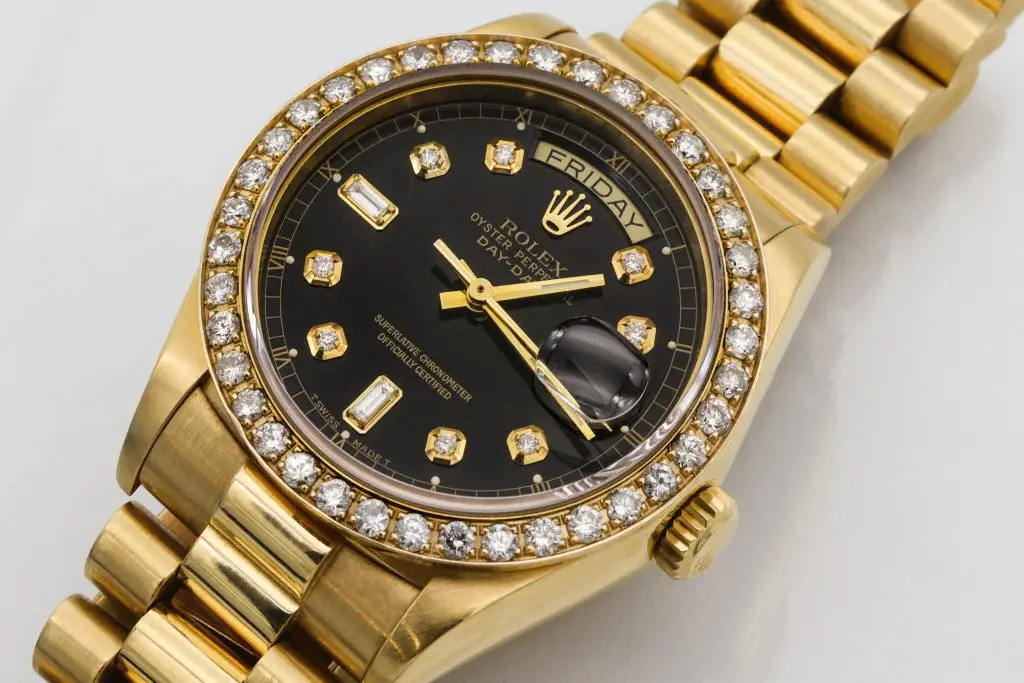 Earlier we discussed the Rolex Oyster Perpetual, the entry-level Rolex. Now it's time for the Rolex Day Date. These watches can costs you around $40.000 apiece and carry that classic, sleek Rolex look.
Just like the Oyster Perpetual, there are many aesthetic options for you to choose from, ranging from the color of the face to the different types of metals. This makes sure that anyone can create their personal favorite variant!
Audemars Piguet Royal Oak
Even though Audemars Piguet watches have an average cost of around $50.000, the Audemars Piguet Royal Oak watches can be obtained for as little as $25.000. Don't get me wrong, this is still a very high price, but seeing that they're half of what the average price is, these are on the more affordable side.
An Audemars Piguet Royal Oak watch is a beautiful timepiece with a sleek and timeless design. And with multiple different designs, there are a lot of options to choose from!