Breitling is a watch brand known for its luxurious and high-quality watches. But just like any watch, it needs to be serviced every few years to retain its quality. Considering the retail price of a Breitling watch, you may wonder, how much does a Breitling watch service cost?
A Breitling Watch service can cost around $500 on average, with the cost for a complete service being $850. Breitling offers estimates for specific repairs and services in their maintenance service guide.
As with any watch repairs, they need to be done by professionals to ensure the integrity of the timepiece. In this article, I'll list the cost breakdown of a Breitling watch service so you can know what to expect if you own one of these luxury watches and need it serviced.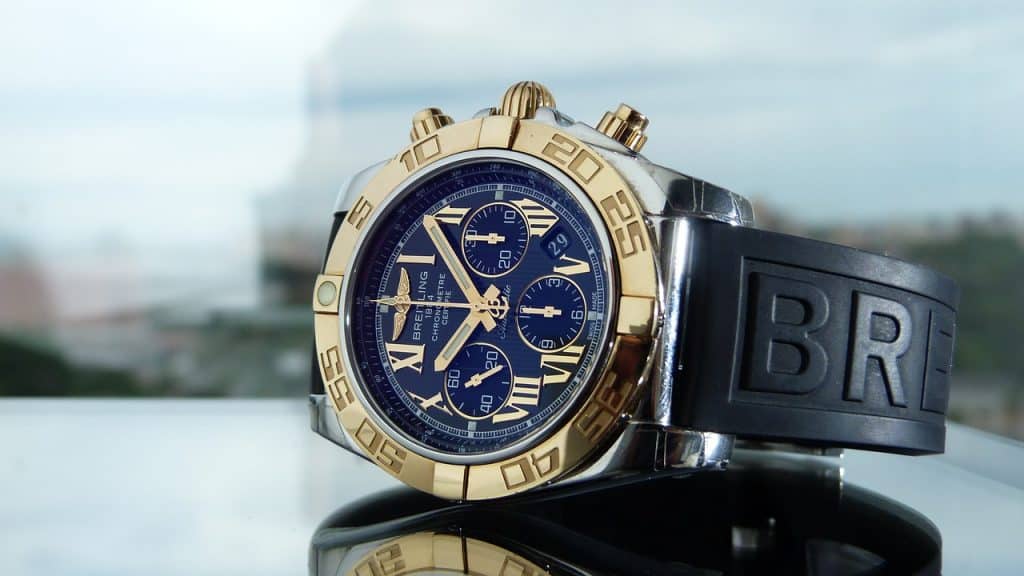 How Much Does It Cost To Get a Breitling Watch Serviced?
A Breitling watch is a luxurious timepiece that's loved by many. Each model is made with care and precision, ensuring that they remain a long-lasting item for their owners throughout their lifetime. 
However, just like any other product, Breitling watches need upkeep and repair every once and a while. These routine maintenance servicings are always more affordable than buying a brand new piece altogether. 
It typically costs $80 to $850 to get a Breitling watch serviced. The fee depends on the maintenance or other services performed. Maintenance services are usually under $220, while complete services from Breitling are $850 and up.
It is recommended to have your Breitling watch serviced every four to six years, but if you ever notice that anything looks or feels off about your watch, you should take it in as well. Some signs that a watch is in need of a service include:
Moisture inside the case
Filth inside the case
A jittering second hand
The watch is inaccurate
A Breitling maintenance service includes:
Checking movement parameters and watch functions.
Replacing all seals.
Testing water resistance.
Cleaning the case and metal bracelet.
Changing the battery for quartz timepieces.
Here is a cost breakdown for emergency and maintenance services on Breitling watches:
| | | |
| --- | --- | --- |
| Maintenance Service | Service | US Dollars |
| Mechanical | Self Winding watch / GMT | $170 |
| | Chronograph | $220 |
| | Chronograph Breitling caliber | $220 |
| | Chronograph with complications | $220 |
| Quartz | Analog | $110 |
| | Analog / Analog-Digital Chronograph | $160 |
| | UTC / CO-PILOT | $80 |
| Emergency Services | Emergency I | $460 |
| | Emergency II | $700 |
An emergency service entails: 
Replacing a transmitter and antenna
Replacing a test receiver or charger (depending on the model)
Battery and accumulator exchange (depending on the model)
Main gasket replacement
Water-resistance control
Case
Bracelet polishing
Breitling Watch Complete Services
Breitling offers complete services for their watches, suggesting that they be performed every four to six years. A comprehensive service ranges in cost from $200 to $850.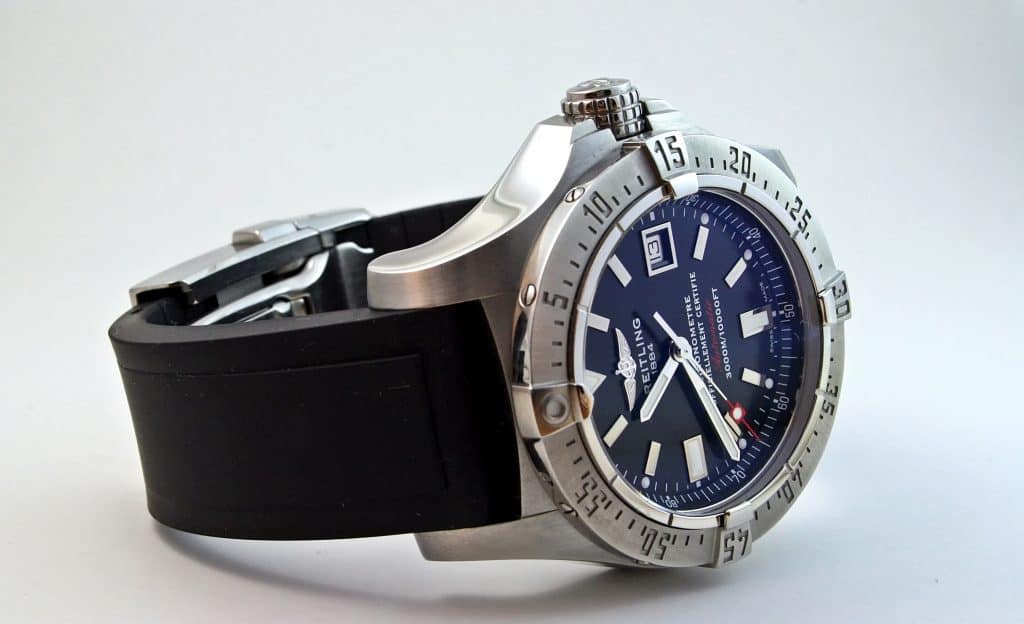 The objective of complete servicing is to check the entire watch and repair/replace parts where necessary. It must be completed every 4 to 6 years and includes the following: 
Disassembly
Cleaning
Replacement of essential movement components (including hands)
Assembly
Lubrication
Adjustment and setting of movement function parameters
Sealing change
Water-resistance testing
Quartz watch battery replacement
Case and bracelet polish.
Here is a cost breakdown for complete services offered by Breitling:
| | | |
| --- | --- | --- |
| Complete Service | Service | US Dollars |
| Mechanical | Self Winding watch / GMT | $490 |
| | Chronograph | $690 |
| | Chronograph Breitling caliber | $850 |
| | Chronograph with complications | $850 |
| | Chronograph with perpetual calendar/split-second | On estimate |
| Quartz | Analog | $420 |
| | Analog / Analog-Digital Chronograph | $540 |
| | UTC / CO-PILOT | $200 |
What Is Included in Breitling Watch Services?
All Breitling watches are serviced the same way, whether quartz or mechanical. A Breitling service will include checking and cleaning the case, movement, crystal, crowns, pushers/crown guard, and seals. 
Most Breitlings have similar features, so the pros can provide you with an estimated price based on the brand's average prices listed online. 
Here's what's included in Breitling watch services: 
Checking the case for water resistance.
Polishing the case and strap.
Changing the sealing if necessary.
Testing the watch movement for accuracy.
Replacing the battery if applicable.
Inspecting the movement of the watch case. 
After a professional watch servicer performs these checks and repairs, the watch receives a final quality control test before it comes back home with you.
Breitling recommends having your service done every two years to maintain optimal timekeeping accuracy. Due to the nature of how watches work, though, you may need to get repairs or other maintenance services done before the recommended period is up.
Breitling Polishing Services
Breitling offers polishing services as part of their servicing to completely renew the appearance of your watch. Polishing helps to remove scratches and scuffs and gives your case a brilliant shine that brings out the intricate details on each side of the case.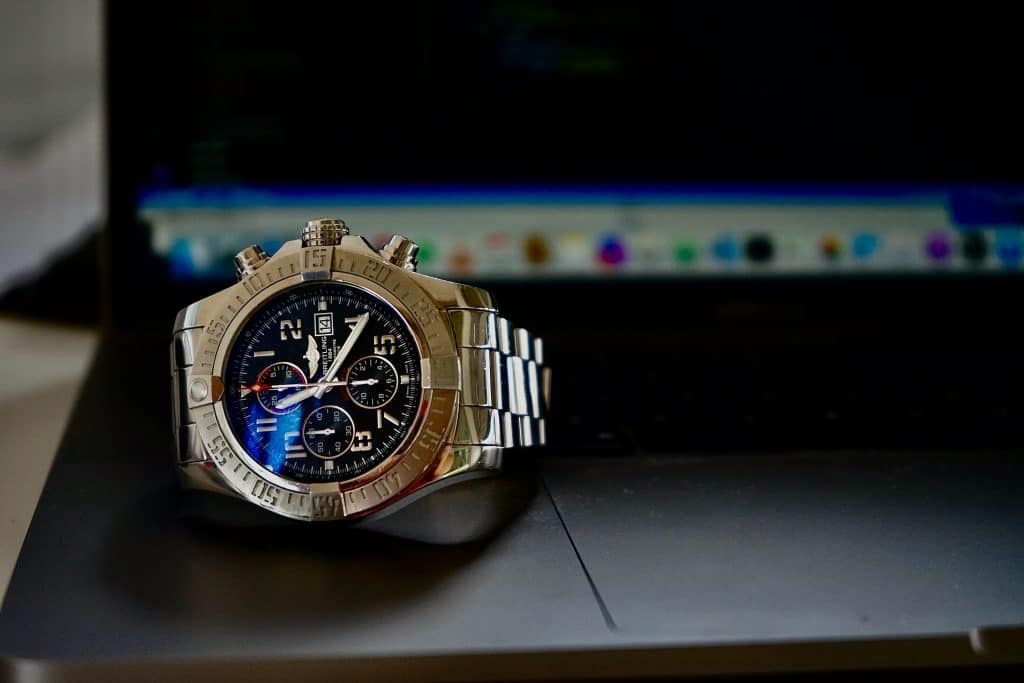 The pros will polish your bracelet and watch case when you purchase this service. You can only get this service as part of a maintenance package (not applicable for watches with black DLC coating or Breitlight).
Breitling offers polishing services for free when having your watch serviced, but they recommend keeping 2-3 years between polishes to ensure that you don't go overboard and wear down the metal. It is always best to avoid exposing your watch to harsh conditions or substances until it has been polished again. 
Breitling Special Calibers
The engine of a watch (also known as a "caliber") is the watch's motor that powers the timekeeping features and makes the watch run. 
This internal mechanism drives the hands and supports features such as a chronograph, an annual calendar, or dual time zone faces. Breitling has several special caliber watches, including some in-house and some non-in-house. 
Here is a list of some of Breitlings special calibers:
| | |
| --- | --- |
| Breitling in-house calibers | Breitling non-in-house calibers |
| B01, B01C, B02, B03, B04, B05, B05, B12,B14 | B20, B35, B09, B10, B11, B13, B13b, B15, B16b, B17, B18, B18b, B19, B21, B22, B22LC |
Conclusion
Breitling watches are known for their durability and precision in time measurement. When purchasing a Breitling watch, consumers have the benefit of knowing they will continue to run smoothly throughout their lifetime without any significant issues.
To ensure your watch keeps working as it's supposed to, it's good practice to have it serviced every once and a while. Breitling suggests servicing their watches every four to six years, which is a good starting point.
Of course, if you notice anything wrong with your watch, you should take it in for servicing as well. Expect to pay anywhere between $200 to $850 for a complete service. The ultimate price depends on your watch model and what needs to be fixed.