Timex is one of the most affordable and approachable watch brands out there. But that doesn't mean that they don't have unique watches. Indiglo is one of the unique features of Timex watches, but do all Timex watches have Indiglo?
Not all Timex watches have an Indiglo dial. Timex has many watch collections, of which the Timex T80 collection, Standard collection, Expedition collection, and Easy Reader collection have the most Indiglo dials. All the other collections have a few watches with Indiglo dials and a few watches without Indiglo dials.
Despite not every Timex watch having the Indiglo feature, it is still one of their best-known features.
Do All Timex Watches Have Indiglo?
Timex has multiple hundreds of watches in their collection, but sadly, not all of them have that cool Indiglo dial. Timex has 21 collections of watches, and in every collection, there are a few sprinkled in that have an Indiglo dial.
To answer the question more accurately, I went through every single Timex watch collection to see just how many of them have the Indiglo feature! These are my findings:
| | | |
| --- | --- | --- |
| Watch Collection | Number Of Watches | Indiglo Watches |
| Waterbury Men | 25 | 7 |
| Waterbury Women | 21 | 13 |
| Giorgio Galli | 1 | 0 |
| Q Reissue | 17 | 0 |
| Q 1975 Reissue | 1 | 0 |
| Q 1978 Reissue | 1 | 0 |
| M79 | 5 | 0 |
| Q Falcon Eye | 1 | 0 |
| Q LCA Reissue | 1 | 0 |
| Marlin Automatic | 14 | 0 |
| Marlin Handwound | 1 | 0 |
| American Documents | 4 | 0 |
| Malibu Collection | 4 | 2 |
| Timex T80 | 16 | 15 |
| Timex X Peanuts | 18 | 11 |
| Standard | 35 | 35 |
| Navi | 25 | 0 |
| Kids Watches | 19 | 8 |
| Expedition | 21 | 19 |
| Easy Reader | 27 | 27 |
| Ironman | 14 | 11 |
| Total | 271 | 148 |
Number of Indiglo watches per Timex Collection. Source: Timex.com
From this table, we can easily see that not every Timex watch has an Indiglo dial. In fact, only about half (to be more precise, 55%) of the Timex watches have an Indiglo dial. That's still a lot, but not every single one.
If you're in the market for a Timex watch with Indiglo, your best bet would be to look at the Timex T80 collection, the Timex Standard collection, the Timex Expedition collection, the Timex Easy Reader collection, and the Timex Ironman collection. Furthermore, the women's collection of Waterbury timepieces also contain a lot of Indiglo dials.
Luckily, with more than half of their watches containing the Indiglo feature, there are more than enough to choose from!
What Is The Timex Indiglo Effect?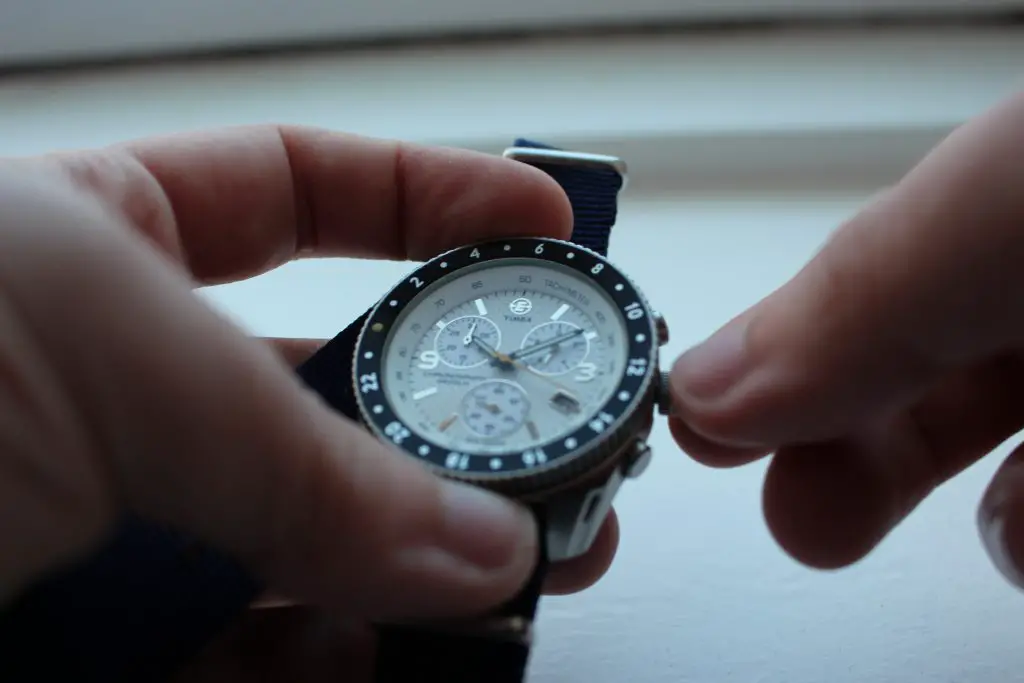 Indiglo is a watch feature that emits an electroluminescent backlight, leading to an evenly lit watch. Originally in the color indigo (hence the name 'Indiglo', this feature is a Timex exclusive. Other brands have come up with a similar version, but Indiglo is a Timex exclusive.
Indiglo is basically a very fancy backlight that you can turn on or off. This backlight originally came in an indigo color (a nice mix between blue and green), hence why the feature is named 'Indiglo'.
This feature was first introduced in 1992 by the company Indiglo Corporation, which is fully owned by Timex. First seen on the Timex Ironman, the Indiglo backlight dial quickly became a success.
Nowadays, there are a few variations of Indiglo. Of course, there's the classic backlight that lights up the whole dial, but there are also versions that only light up the numbers or digits.
Aside from being a very cool feature, Indiglo does need to be powered. And since most Timex watches are battery-powered, the Indiglo feature will also get its energy from the battery. As you can imagine, an Indiglo watch battery will be out of juicy much faster. Luckily, Indiglo can be turned on and off, so you're in charge of how often you want your Indiglo to be on.
When you turn on Indiglo, energy will be taken from the battery. This energy is transported to the atoms in the zinc sulfide-copper compound, which emits the energy as light. And as you turn Indiglo off, the energy will be taken away, basically resetting the process.
Do Other Watch Brands Have Indiglo Watches?
Indiglo is a Timex-exclusive feature. Indiglo is developed by Indiglo Corporation, a company that's solely owned by Timex. Other brands do have their own variants and alternatives, but the actual Indiglo feature will only be found in Timex watches.
Casio, for example, has a very similar backlight technology with a similar function. Of course, it isn't named Indiglo, but it functions similarly.
Is Timex Indiglo Waterproof?
The Timex Indiglo feature has no effect on how waterproof the watch is. Depending on what collection your Timex Indiglo watch is in, its water-resistance will be either 30 meters or 50 meters with a rare case of 100 meters.
Timex watches aren't known for their water resistance. All of their watches are of course resistant to water, but only to a certain degree. Most Timex watches will have water resistance up to 50 meters, with some collections going to only 30 meters.
Despite being a cool and nifty feature, Indiglo doesn't actually impact the level of water resistance. Yes, there is a lot more going on inside the case, but since Timex watches aren't built for insane water resistance anyway, they have very little to no impact.
Below is a table containing the water resistance levels for all the watch categories that have the Indiglo feature:
| | |
| --- | --- |
| Watch Collection | Water Resistance |
| Waterbury Men | 50-100 meters |
| Waterbury Women | 50 meters |
| Malibu Collection | 50 meters |
| Timex T80 | 30 meters |
| Timex X Peanuts | 30-50 meters |
| Standard | 30-50 meters |
| Kids Watches | 30 meters |
| Expedition | 50-100 meters |
| Easy Reader | 30-50 meters |
| Ironman | 50-100 meters |
Water resistance levels per Timex watch collections with Indiglo dials
How Much Is A Timex Indiglo Watch Worth?
A Timex with Indiglo is worth as much as you paid for it. Over time, the value will go down. The Indiglo dial does not make a Timex worth more money. Timex watches in general are fairly cheap, so you won't really see that much (if any) increase in value. Timex also doesn't carry a prestigious name, synonymous with wealth, like many other watch brands that are worth a lot.
When you purchase a Timex watch, you can expect the value of it to go down to the moment you purchase it. Unlike prestigious brands such as Rolex, a Timex watch doesn't really increase in price. There's neither a monetary value to it nor a prestigious value.
Old Rolex timepieces, for example, can increase in value because they're sought after. They are unique and sought-after timepieces that people are willing to pay a lot of money for. A Timex watch, on the other hand, doesn't hold that luxurious feeling of uniqueness or scarcity.
On top of that, Timex watches are some of the cheapest watches in the world, so who would want to pay more for an old timepiece when they can go to the store and buy a new one for the same amount of money?