The Citizen brand has been long-known as an affordable starting point for watch enthusiasts who crave the look of luxury without the outrageous price. With over 10,000 watch models in its portfolio, you might wonder, do any Citizen watches have real gold or diamonds?
Citizen creates watches with real diamonds, but not real gold. Instead of real gold, the Japanese brand produces gold-toned watches in which the watch has a golden layer of color painted over the case and strap. Gold-toned watches do not contain any actual gold. 
Many watchmakers create gold-toned watches as they are a more affordable alternative than pricey pure gold, and luxurious diamonds spice up any timepiece with a touch of sophistication. First, we'll look into why Citizen makes gold-toned and diamond watches, and then we'll see which models in the Citizen collection are standout favorites for these features.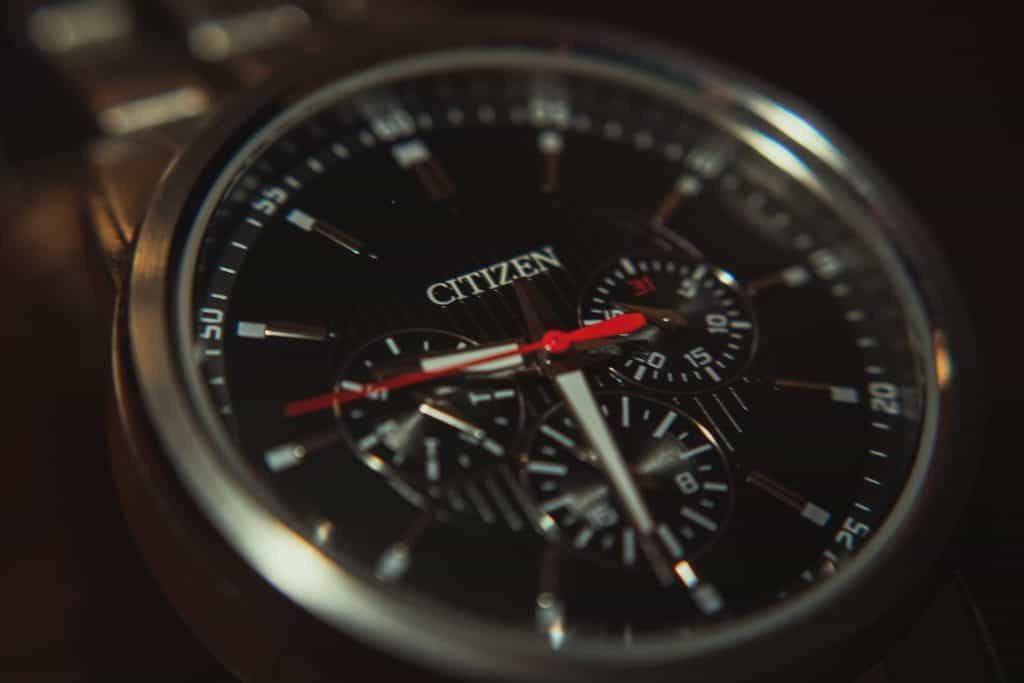 Do Citizen Watches Have Real Gold?
Citizen does not produce watches with any real gold. Instead, the company manufactures watches that have a stainless steel base and then paints them in a golden color. These painted gold watches are called gold-toned watches and they are a common sight in the Citizen watch collection.
None of Citizen watches are produced with pure gold because pure gold watches are costly for the company to source and produce and are typically out of your average Joe's price range. Plus, ever since the brand's inception in 1918, Citizen has prided itself on providing affordable and dependable watches for the masses, and pure gold timepieces are quite the opposite of affordable. 
Instead, Citizen produces gold-toned watches in which a stainless steel base is painted gold. In the watch world, there are also gold-plated watches that last longer than gold-toned ones. However, Citizen primarily designs timepieces that are golden-toned. 
Gold-toned watches are different from gold-plated timepieces as gold-toned watches are coated with a special type of paint, whereas the latter is covered with a layer of electroplated metal. Roughly only 5% of gold-colored watches do not have these colored layers!
Gold Toned
If you have a gold-toned watch, your watch has been painted in layers of golden color. The more expensive the watch, the thicker the layers typically are, and thus the longer the gold color remains on your watch. 
Golden-toned watches typically start to fade after the first year, though this varies depending on how often the piece is worn, exposure to water, and the inevitable knicks and bumps. When the color comes off, you'll see the stainless steel underneath.
Since stainless steel is an alloy, it's prone to tarnishing over time. Higher-end watches that run $500 and upwards typically use 316L stainless steel, whereas lower-end timepieces use lower quality stainless steel that tarnishes faster. Gold-toned watches are beautiful and still a worthwhile investment, however, gold-plated watches are more fade-resistant.
Gold Plated
If you're going for the gold color without going with actual gold, gold-plated watches are where it's at! These watches usually keep their color until about 3 to 5 years of wear. That's when they start to show signs of wear, but this can be prolonged with proper care.
Gold-plated watches are much more durable than their cheaper gold-toned counterparts as the gold coloring is infused with a layer of electroplated metal in a process called ion plating. A tiny, virtually unmeasurable amount of gold is put into this layer of electroplated metal. Still, despite being such a microscopic amount, the mixture results in a luxurious, opulent aesthetic for the watch wearer. 
This color mixture is relatively cheap for companies to make yet truly adds a level of richness to their watches. If you don't want to drop your cash on a chunk of pure gold for your wrist, a gold-plated watch is the best option over a gold-toned watch. Although gold-plated is the better option, that doesn't mean that gold-toned is bad.
Don't let that the fact that Citizen makes gold-toned watches stop you from adding one to your collection! They look amazing and are actually very durable. With proper care, they will last you a long time. Below, we'll check out some beautiful Citizen watch models that are gold-toned, but for now, let's see if Citizen uses real diamonds in their timepieces. 
Do Citizen Watches Have Real Diamonds?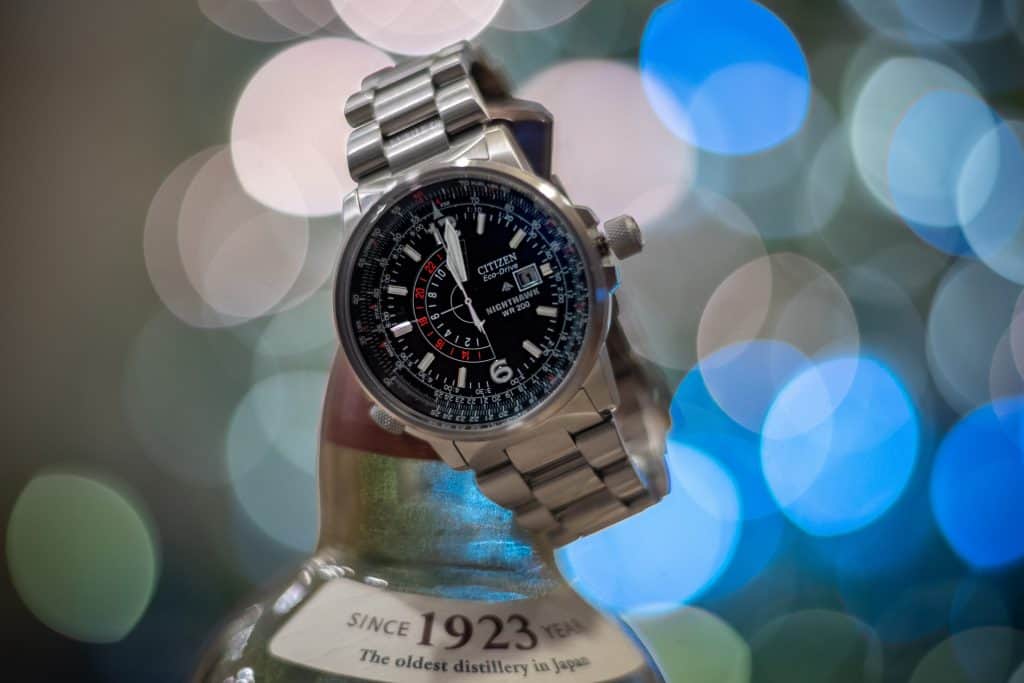 Citizen produces watch models featuring real diamonds. These diamonds can be located on the dial, the case, the bezel, or all three. These Citizen watches that use real diamonds are on the higher, more luxurious end of the Citizen watch collection.
Diamonds are the world's most popular gemstone for a reason: jewelers have been using diamonds for centuries because they are renowned for their beauty, durability, and versatility. 
It makes sense to use diamonds. Diamonds have a high luster value, can only be scratched by other diamonds, and can be cut in a multitude of ways offering endless possibilities for designers and consumers. Many Citizen watch models include diamonds on the bezel, on the case, or on the dial.
Naturally, models that include either gold or diamonds will also hold onto their value much better.
Citizen makes stunning diamond and gold-toned watches, so without further ado, let's see some of our favorite gold and diamond-featured watches for men. 
Great Gold-Toned Citizen Watches
Citizen Corso AW0092-07Q
You'll be sure to draw eyes to this gorgeous gold-toned watch, the Corso by Citizen. Super elegant with a vintage feel, the Corso is the ultimate timeless watch. It features a gold-toned 40mm stainless steel case and a champagne-colored dial, giving off a soft yet luxurious vibe. Wrap the ash brown leather strap around your wrist, and you're good to go.
Don't worry about constant winding or getting to the jewelers for a battery replacement–this piece comes equipped with Citizen's famous Eco Drive technology. With Eco Drive, watches are powered by light and can forgo the need for a battery.
Citizen Drive AW0083-08X
Classically modern and effortlessly cool, the Citizen Drive comes in a beautiful rose gold-tone perfect for punching up any look. Of course, the rose gold color is painted over the high-quality 42 mm stainless steel base, but that does not lessen this watch's attractiveness.
A deep brown leather strap and matching brown dial pairs nicely too, with just about anything. You can ditch the need for annoying replacement batteries as it's powered by light with Eco Drive Technology. 
Citizen Stiletto EG6012-59E
The Citizen Stiletto is a bold classic for both men and women, featuring a gold-tone bracelet and small (25 x 35 mm) stainless steel case. The face design is minimal and sleek with a gold-tone two-hand dial, punctuated with a single sapphire crystal on the dial.
If you prefer slimmer watches, this watch comes in at just 5.06mm thick. Of course, it's equipped with Citizen's trusted Eco Drive technology, leaving the need for a battery.
Great Citizen Watches With Diamonds
Citizen Calendrier BU2082-56E
The Citizen Calendrier looks impressive on any wrist. The gold-toned 44mm stainless steel case features a diamond bezel and a black dial that displays 24 time zones, so you can instantly know what time it is in any part of the world.
Crystals adorn the outer ring of the watch face adding a solid dose of bling. If you're one to travel or want to look like a baller with all that sparkly golden color, opt for the Calendrier. 
Citizen Paradigm AW1552-54E
Another simple and classic design from Citizen is the contemporary gold-toned Paradigm. The Paradigm features a 40mm gold-tone stainless steel case with a diamond-accented black dial, keeping the watch face clean and minimal.
The Paradigm is excellent for any occasion and features a slightly simpler design than most other diamond-featuring watches.
Citizen Axiom AU1062-56G
Similar to the classic Paradigm, the Axiom is another gold-tone favorite featuring unique edge-to-edge glass details. The beautiful gold-tone shines on the watch bracelet and around the 40 mm case, and even the hands match in color as well.
Citizen keeps the dial classic with a black backing and gleaming diamonds for the hour markers. Equipped with convenient Eco Drive Technology, the Axiom hits two birds with one stone — a gold-tone and polished diamonds.