As one of the most well-known names in the watch industry, Seiko has a solid reputation for its technological innovation as well as its affordable, durable timepieces. You may already know that Seiko made its first Kinetic watch decades ago, but do they still make kinetic watches today?
Seiko still makes kinetic watches today. Some of the most popular models include the Kinetic GMT, Kinetic Perpetual, Kinetic Chronograph, and Direct Drive. Seiko's Kinetic watches are popular because the wearer does not have to worry about batteries or continually winding it up. 
Not all of Seiko's watches are kinetic, but the company does have a quality selection to choose from. In this article, we'll take a deep dive into what a kinetic watch is, how the technology differs from a traditional automatic watch, and take a look at some of the kinetic watches in Seiko's collection.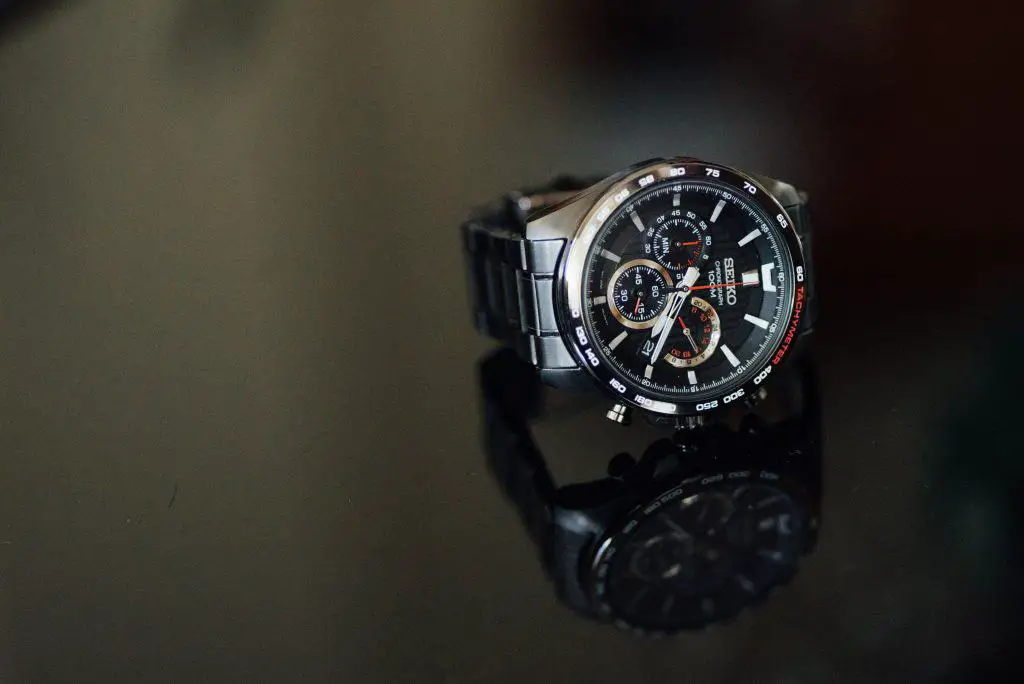 Does Seiko Still Make Kinetic Watches Today
As mentioned before, Seiko still makes kinetic watches today, but when did the company first start making these innovative, battery-less timepieces? 
Seiko debuted their first prototype for their kinetic watch at the 1986 Baselworld Watch Fair in Basel, Switzerland. 
This kinetic prototype was the very first of its kind in the watch world, converting the kinetic energy of the wearer's movement into electrical energy to power the watch.  No winding was needed and neither was the hassle of batteries.
Even today, this convenience has become a popular buying point for many Seiko Kinetic watch owners. In addition, a Seiko Kinetic watch is also much more environment-friendly, as there's no more use for a landfill-destined battery.
When Seiko released their first kinetic watch for sale in 1988, it was originally dubbed as the "Auto-Quartz" or "A.G.S." (Automatic Generating System). It wasn't until 1991 that the name was changed to Seiko Kinetic. 
However, Seiko's history long predates the technology-driven 1980s as it stretches back to the very late 19th century. In 1895, Seiko created their first product, the Seikosha Timekeeper pocketwatch. 
It wasn't long before Seiko's founder Kintaro Hattori realized the growing popularity of the wristwatch in the early 20th century, so he decided to get ahead of his competition.
 In 1913, the silver-cased Laurel wristwatch was born, followed by the first official Seiko watch in 1924. 
It was the first piece to brandish the Seiko name on the dial. Seiko is short for "Seikosha," which roughly translates to "House of Exquisite Workmanship" in Japanese.
So before we take a look at the different kinds of kinetic watches Seiko has in their current collection, let's breakdown what a kinetic watch actually is and how it differs from an automatic watch. 
What Are Kinetic Watches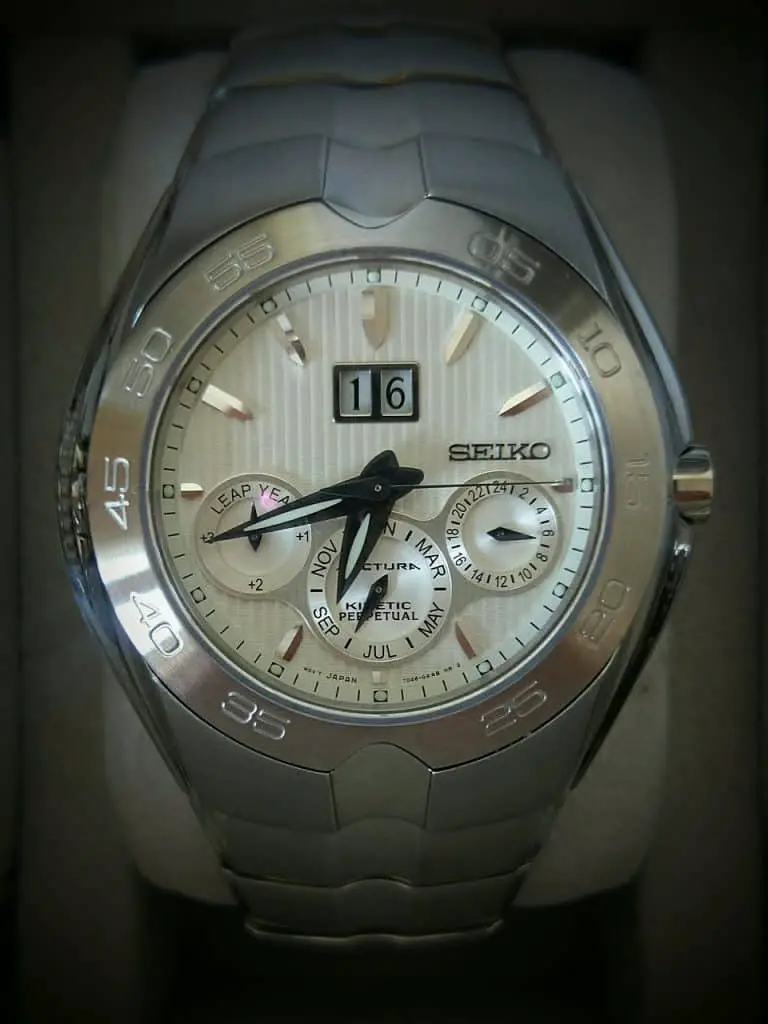 Kinetic watches are unique in that they use stored electricity in a rechargeable battery to generate power. They require fewer battery replacements than the traditional quartz watch cell battery.
However, don't let that confuse you, because a kinetic watch is also known as an automatic quartz watch.
Automatic quartz is a term used to describe a particular type of watch calibers, also known as watch movements. 
If a watch is an automatic quartz watch, that means that the watch movements use a self-winding rotor mechanism to produce electricity which is paired with a piezoelectric quartz crystal as a timing element.
In simpler terms, these kinds of watches use kinetic energy to create electricity to power the watch. Kinetic energy is produced by movement, so the everyday movement of the watch wearer generates the watch's power.
Walking your dogs, eating lunch, and everyday motions like driving the car create kinetic energy. 
These movements affect the oscillating weights inside the watch to move and rotate. When those weights are paired with a capacitor to store energy, like piezoelectric quartz crystal as a common timing element, electricity is created and housed inside the watch, releasing slowly overtime. 
A long-lasting charge is one of the hallmarks of the kinetic watch.
How Do Kinetic And Automatic Watches Differ
Both of these types of watches are extremely popular on the market today and Seiko excels in crafting both of them. But what's the main difference between the two? 
A kinetic watch stores energy in a capacitor, whereas an automatic watch stores the power in the mainspring. This is the main difference. Besides this, kinetic and automatic watches don't differ that much.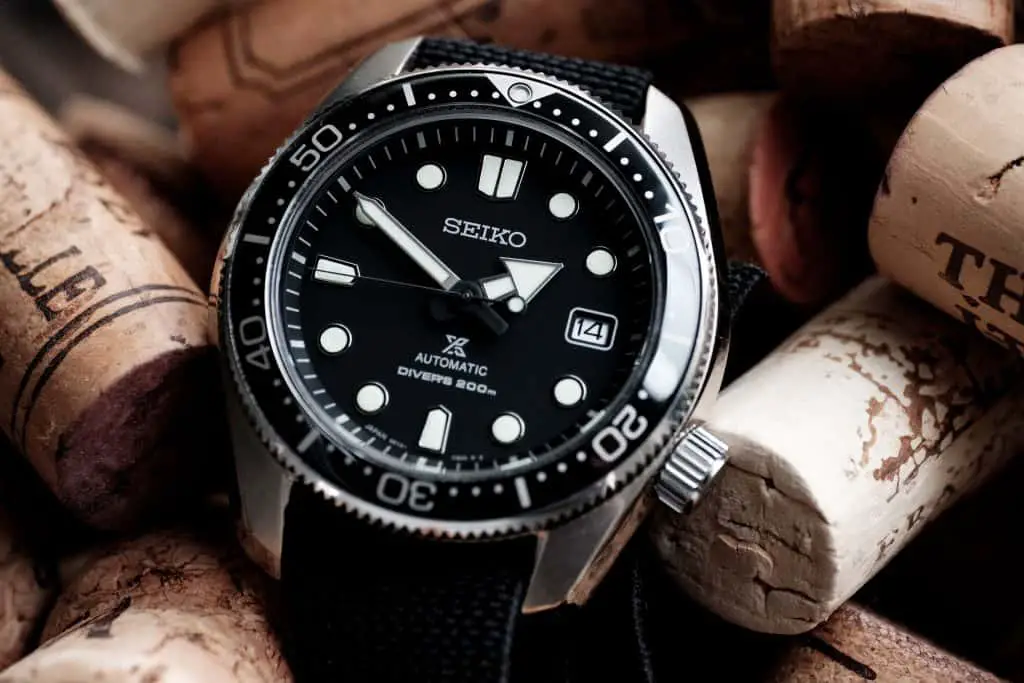 Both of these types of watches use a swinging rotor to power them, however, the major difference between kinetic and automatic watches is that automatic watches store their power in a mainspring, whereas kinetic watches store the energy in a capacitor. 
A watch capacitor is used to store power in battery-like cells. Kinetic, as well as solar watches, used capacitors. You may also have heard of a capacitor as an accumulator. 
So how does an automatic (also known as mechanical) watch work?
Inside the watch is a large rotor. When you move your wrist, that rotor moves too, winding the spring that powers the watch. With watches that have to be wound manually via the crown, turning the crown on the side of the watch case winds the spring up and stores energy for the gears to use later to power the watch. 
It all depends on the spring size and watch setup, but mechanical watches usually store a charge for about 48 hours or so. The downside to wearing this kind of watch is that they need to be worn on a consistent basis to keep the watch charged by maintaining a moving rotor. Alternatively, you can also store these in a watch winder!
What Kinetic Watches Does Seiko Have
Since bursting onto the watch and jewelry scene with their first kinetic timepiece over thirty years ago, Seiko has certainly expanded their collection. Here are several different Seiko kinetic watch model types and their features.
1. Seiko Prospex Kinetic GMT 100M SUN049P2
Made for adventure enthusiasts and just plain badasses, the Seiko Prospex Kinetic GMT 100M SUN049P2 looks like a metal compass on your wrist. 
It's equipped with a stainless steel case that is backed with a black hard coating, cementing this watch with heavy-duty status. Hardlex crystal covers the dial, and it can reach the 100m water resistance rating thanks to the screw-down crown. It has a somewhat large case dimension at 42mm in diameter.
Going back to the compass-like exterior, the Seiko Prospex Kinetic GMT 100M SUN049P2, unfortunately, does not have a true compass function. However, help locate your lost self with the NEWS markings on the bezel, a truly handy feature for tried-and-true hikers and outdoor enthusiasts. 
The GMT function is also a nice feature to have, especially if you are traveling abroad.
2. Seiko Prospex Kinetic GMT "PADI" SUN065
More often than not, water sports lovers have to miss out on the latest and greatest high-tech fun since most of what's on the market is not water-friendly. Luckily for us, Seiko has our backs in this department. 
Seiko has always excelled in creating dive watches made for divers and the Seiko Prospex Kinetic GMT "PADI" SUN065 is no exception. 
The SUN065 model has a bezel that is quite large and thick, measuring 47mm in diameter. The dial is somewhat busy as there is a fourth hand, though it means this watch could also be considered a GMT watch. 
Even beyond swimming, this Seiko piece is the sports enthusiast's best friend. The large bezel makes it easy to see whatever it is you need to see, making it perfect for those that don't have the time to stand still and take a detailed look!
3. Seiko Premier Kinetic Direct Drive Moon Phase
Rather elegant and well-suited for dressy occasions, the Seiko Premier Kinetic Direct Drive Moon Phase is great for individuals who like the Direct Drive line but want less of a sporty aesthetic, though this watch does have a rather high water resistance rater at 100 meters. 
Inside a stainless steel 40mm case with a crown guard and a sapphire crystal, the dial is sophisticated and handsome layered over a white backdrop and Cartier-like Roman numeral hour markers. 
The Direct Drive Moon Phase has a lovely exterior, but it also shields well from everyday bumps and knocks. 
4. Seiko Kinetic Velatura Perpetual
The Velatura Perpetual has a classic black and silver stainless steel case that happily marries sportiness and sophistication. The red hour markers add a sporty feel while the black makes the watch versatile enough for formal events. 
Don't worry about adjusting the date too often as the Velatura Perpetual can detect when to skip the 31st date every few months, staying true to its name with a leap year indicator and perpetual calendar.
It can also automatically adjust to the current time after being reactivated from its 'time relay system', which is an energy-saving mode. Just wave your hand to reactivate your watch. 
Whether you're off for the weekend or buckling down at work, the Velature Perpetual is a good kinetic watch option.  
5. Seiko Kinetic SRN051P1
Elegant, affordable, and timeless, this kinetic model by Seiko should be on your list. 
Unlike the other watches on this list, this Seiko piece has an uncluttered face, with the dial housing a small date window and day gauge.
The color scheme is minimalist, with silver time hands and hour markers, ensuring that this watch can pair well with any outfit or occasion. A black leather strap really sharpens the look. 
It has a stainless steel case that has a case dimension of 42mm, so it's a comfortably suitable size for an elegant watch. And surprisingly, the SRN051P1 model also has a water resistance of up to 100m.
Try on this model by Seiko for an affordable way to spice up your collection and add some pep to your step.