Since its beginnings in 1985, the Fossil watch brand has been known for its stylish, affordable watches, with most models costing less than $200. While Fossil is not considered a luxury brand like Rolex and Omega, it's natural to wonder how much a watch service from Fossil may cost. So, how much is a Fossil watch service? 
A complete watch service for your Fossil watch usually costs about $150, though the final price depends on the condition of your timepiece and where you choose to bring it in for servicing. Costs vary depending on whether you go to your local jeweler or mail it to Fossil. 
Some people may choose not to service their Fossil watches since the cost of a service can compete with the purchase price of the actual watch, while others prefer to maintain their watch because it's an heirloom piece or they just like it.
This blog post will tell you how much you can expect to pay for servicing your Fossil watch and how much it costs for common replacement parts, such as the battery, crystal face, or wrist strap.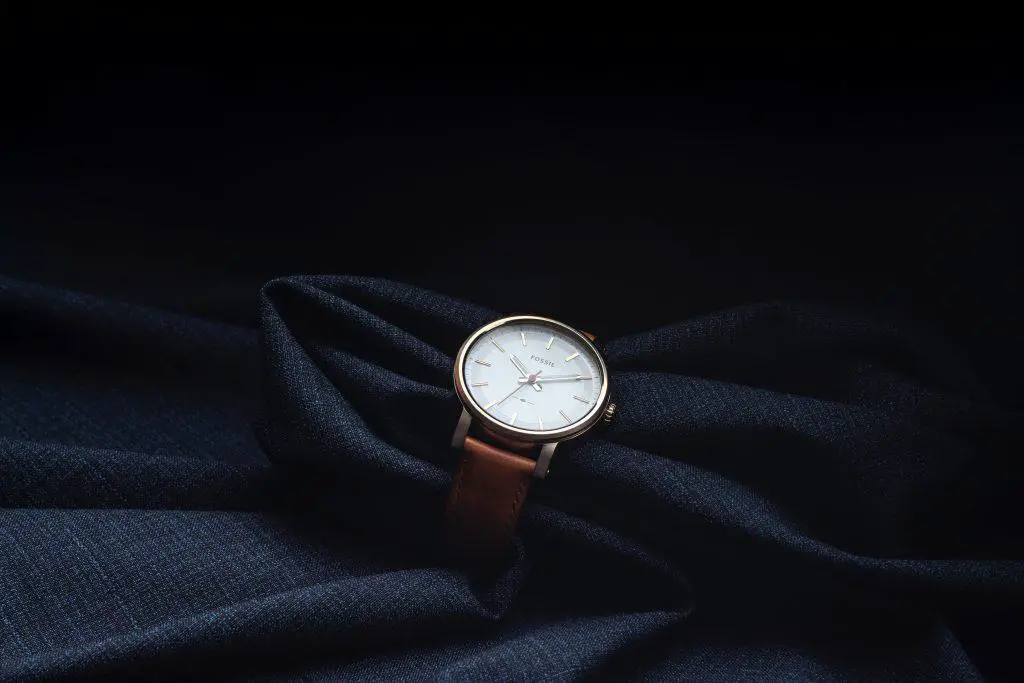 How Much Is A Fossil Watch Service?
On average, a Fossil watch service will cost you about $150. The exact price you'll pay depends on several factors, including the model and movement of your watch, its condition, and where you choose to take it in for servicing. 
In general, however, you can expect to be charged around $150 for complete service on your Fossil watch, whether it's equipped with automatic, mechanical, or quartz movement.
Fossil smartwatches also cost around $150 for a full service. 
Here's a breakdown of the cost of service for a Fossil watch, as well as the cost you can expect to pay to replace or fix the battery, crystal glass, or watch strap. 
Cost Of A Fossil Watch Service 
Movement / Parts 
Service 
Cost
Average
-Automatic
-Mechanical
-Quartz
-Smart / Hybrid Smart
Complete service 
$150
Battery 
Replacement 
-Fossil stores
-Other locations

$10
$20
Crystal 
Replacement 
$50 – $90 
Watch strap 
Replacement 
$10 – $20
What Does A Fossil Watch Service Include?
A watch service typically includes your watch being disassembled for cleaning and maintenance. An expert watchmaker takes apart your watch, then cleans, oils, and polishes up the parts. Any broken or damaged components are fixed or replaced. Your watch's movement will also be adjusted if necessary, and the links or strap may also be cleaned up and polished. 
A watch service is pretty much the same for every watch, regardless of brand. The basic gist is that your watch is disassembled, and everything that needs to be fixed will be fixed. Then, the watch is reassembled, and it should function like brand new.
From the date you purchased your Fossil watch, your watch is covered under warranty for two years – and only the inner parts are included in the warranty (the dial, hands, and movement). You must have a copy of the receipt for proof of purchase. 
If it's been longer than two years or there's exterior damage, you'll have to cover the cost of the watch service yourself.
Service Fees For Fossil Watch Models 
Depending on what part of your Fossil watch needs fixing, you can expect to pay between $10 – $150. 
Replacement batteries, crystal faces, and watch straps are the most common repairs and usually can be fixed for around $20 -$50. Repairs on the watch's movement go for a little more at about $150. 
Are you wondering how much your specific Fossil watch will cost you to repair? Keep reading so you can avoid a surprise watch repair estimate!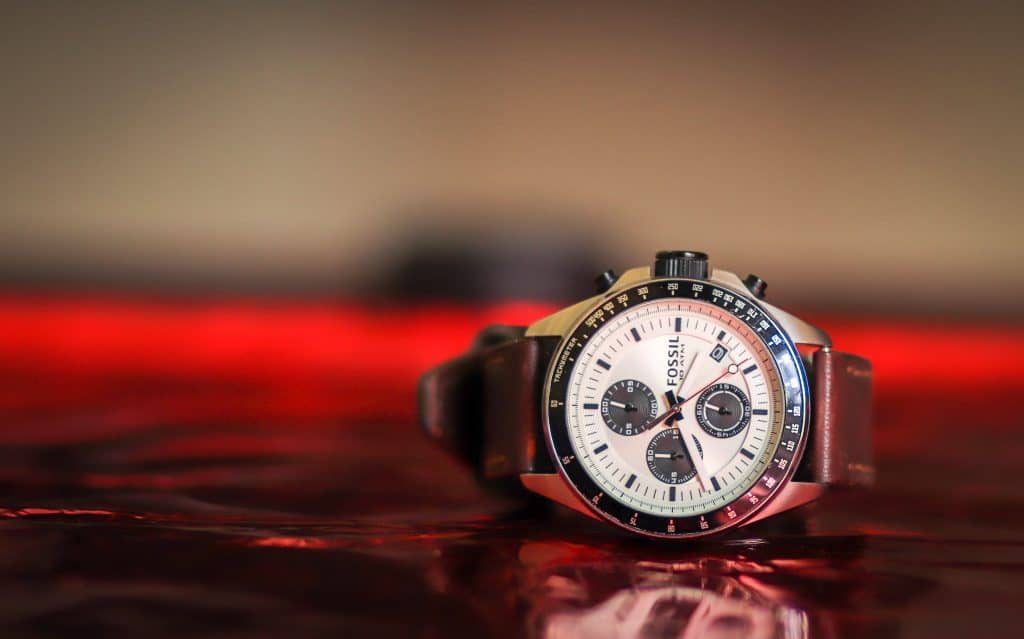 Fossil Service Costs For Automatic Watches
Automatic watches from Fossil are generally fully serviced for about $150. 
Here's a list of Fossil's current lineup of automatic watches:
Carlie (including Carlie Mini)
Evanston 
Everett
FB-01
Fenmore 
Flynn
Grant 
Inscription 
Neutra 
Rye
Stella
Tailor
Townsman
Vale 
Weslee 
Note that some of these Fossil watch names are also powered by mechanical movements, such as the Townsman. 
As a quick note, automatic watches differ from mechanical watches in that automatic watches are self-winding and rely on the wearer's movement to work.
In contrast, mechanical watches are hand-wound and must be wound regularly. Some watches are labeled as having mechanical movement with an automatic power supply, like the ME3081.  
Fossil Service Costs For Mechanical Watches 
Mechanical watches from Fossil are generally serviced for about $150. 
Mechanical watches by Fossil models such as:
Boyfriend
Crewmaster 
Flynn
Grant
Modern Machine (including Sport)
Privateer Sport
Townsman 
Vintage Muse
Fossil Service Costs For Quartz Watches 
The service cost for a Fossil quartz watch is generally around $10-45. Fossil quartz watches are usually cheaper to repair than mechanical, automatic, or smartwatches since quartz timepieces are battery-powered and lack the hundreds of tiny parts that make up the movements of other watches.
You'll have to pay for the battery replacement ($10-$20), and depending on your watch, you may also be charged additionally to have it pressure tested and resealed. For example, if you own a Fossil FB-01, expect to pay for pressure testing and water resistance. 
Some quartz Fossil watches include:
AM4486
AM4522
Bannon
Boyfriend
Coachman 
Bronson
Dillinger
ES3698
Forrester
Garrett
Grant
Jacqueline
Tailor
The Minimalist 
Fossil Service Costs For Smart Watches 
Fossil smartwatches generally cost the same for servicing as mechanical and automatic watches, around $150. 
Fossil smartwatches include:
Fossil Service Costs For Hybrid Smart Watches
Like the regular Fossil smartwatch, a Fossil Hybrid smartwatch service may cost you $150 and upwards. Fossil's lineup of Hybrid smartwatches differs from their standard smartwatch line in design – both watches have smart capability, but only the Hybrid version looks like a traditional watch. 
Fossil hybrid smartwatches include:
HR Bronson
HR Carlie
HR Charter
HR Collider
HR Everett 
Jacqueline 
Machine
HR Monroe 
Neutra
Retro Pilot 
HR Scarlette
Fossil states that the battery on their hybrid smartwatches can last up to 6 months. 
How Much Does It Cost To Change A Fossil Watch Strap?
Swapping out a watch strap is in a similar price range as swapping out a battery. You'll pay anywhere from $10-$20 to replace the watch strap of your Fossil watch. 
You'll also have to cover the cost of the actual watch strap, of course. Those prices range from about $20 for nylon and polyester bands and $40 – $50 for leather and stainless steel straps to about $70 – $120 for gold or tri-tone stainless steel and premium leather watch straps. 
All Fossil watch straps are interchangeable, too – meaning your money can be stretched even further and ensures you can create your own unique Fossil timepiece.   
Lastly, if you select to mail in your watch to be fixed with a replacement strap, you'll have to pay for shipping. Fossil's website states it costs $3.99 to be shipped from anywhere in the US and $10 from Canada.