A Hublot watch is a product that flaunts delicate engineering. Behind every watch is a hundred little components that make a Hublot watch tick.
Although luxury watches like Hublot aren't typically worn every day, they can still be susceptible to wear and tear. As a result, they may be due for a watch service.
You may think that servicing a luxury watch may be as expensive as buying one. So, how much is a Hublot watch service? Let's find out!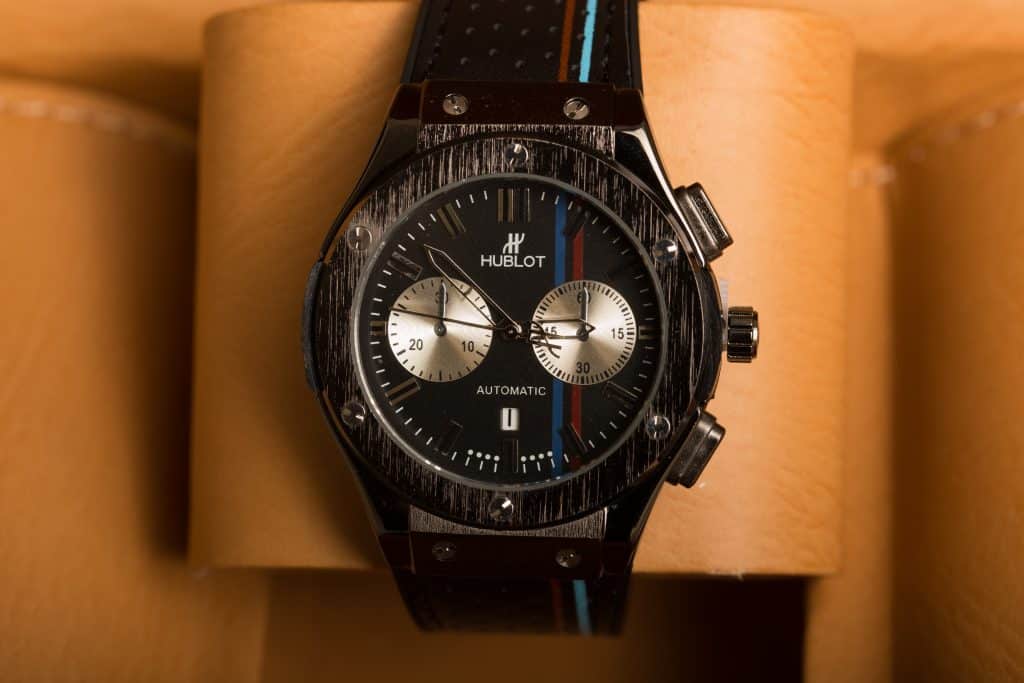 Cost Overview For Hublot Services
A typical watch service includes cleaning, lubricating, disassembling, and polishing. For Hublot watches, a watch service is typically needed every 3-5 years.
If there are damaged components in the watch, they'll either be repaired or replaced. Of course, the servicing price will depend on the severity of the damage.
We've detailed below the typical watch services for a Hublot watch, from a simple replacement to a complete watch service.
| | |
| --- | --- |
| Battery Replacement | Starts At $95 |
| Hand Repair | Starts At $130 |
| Band Repair and Replacement | Starts At $200 |
| Glass Face Crystal Replacement | Starts At $200 |
| Complete Band Refurbish | Starts At $200 |
| Stem and Crown Repair | Starts At $300 |
| Automatic Movement Overhauls | Starts At $500 |
| Complete Service | Starts At $1000 |
Watch Services
What exactly does it mean when you send your watch for a watch service? It may seem like a lot, but not all watches require all services all at once.
Here are some of the most common watch services that mechanical watches receive:
Battery Replacement
Most luxury watches are either automatic or mechanical, but there are several models that utilize a quartz movement. These require a battery to function, and although a Hublot battery will last several years, it will need to be replaced in a timely fashion.
Watch batteries typically last around three years, but Hublot experts recommend you change your battery every 12 to 18 months to ensure optimal performance.
If you don't replace your watch batteries on a regular basis, the batteries can start to leak, causing even more damage and need for repair.
A battery replacement also comes with a water-resistant test to ensure everything is sealed back together the way it should be.
This service is the cheapest one you can get for your watch. In some cases, expert watch owners choose to do this themselves to lessen overall maintenance costs.
Expect to pay a minimum of $95.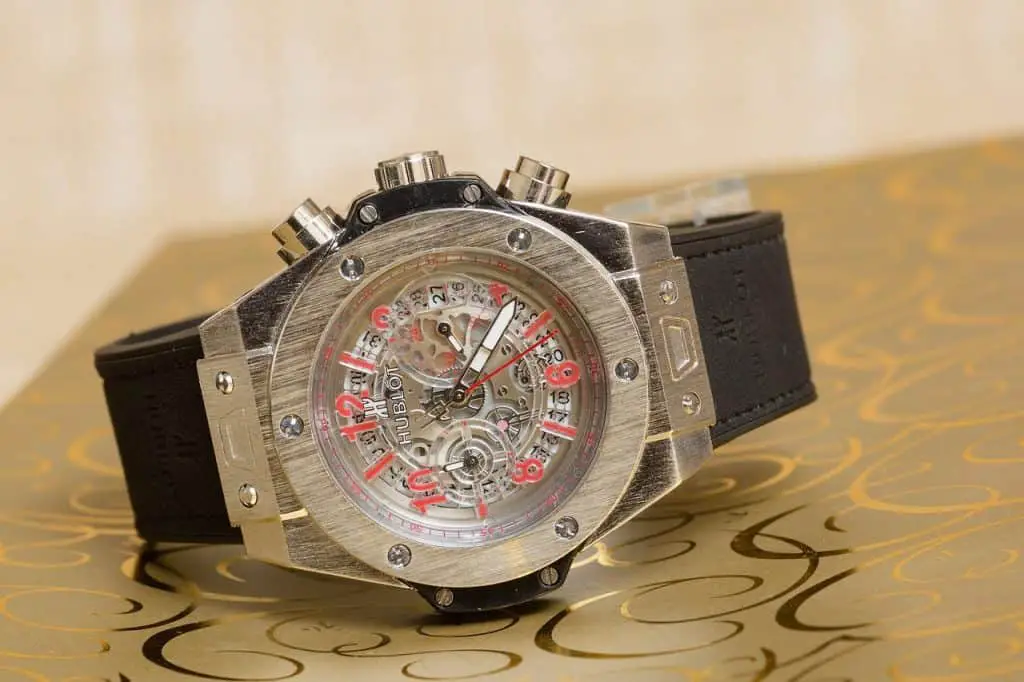 Glass Face Crystal Replacement
A luxurious watch brand like Hublot only has one type of glass face; a sapphire crystal. This is, by far, the most scratch-resistant option there is when it comes to watch glass.
In fact, a sapphire crystal can only be scratched by diamonds. The glass will earlier shatter than get scratched.
But since it's the best possible option there is, it's also the most expensive to replace.
Note how we say replace, as a sapphire crystal will simply shatter instead of getting scratched (unless you rub it along some diamonds, of course).
Expect to pay a minimum of $200 for a replacement.
Band Repair and Replacement
Band repairs are essential if you want your straps to remain rust-free and visually pleasing. Typically, watch specialists remove the metal links to polish and give them a proper finish.
When a strap is unsalvageable, replacement may be needed. The price range for band replacements depends on the band material you'll choose.
You can also customize your band. However, expect this to drive the cost up notably.
Prices start at around $200, but depending on the material and customizations, they can go even higher.
Dial Refinishing
Refinishing your watch's dial can vary depending on the purpose. For either functionality or aesthetics, your specialist may treat the dial with luminous compounds.
This service requires meticulousness. Unlike battery replacements, you'll need to bring your watch to a service center to get your dial refinished. You shouldn't tackle this task on your own to avoid damaging your watch.
Hand Repair
Hand repair takes care of your watch's ability to work on time. This is usually more common for vintage models since there's a higher chance that some of the watch's inner workings are already out of sync.
As a result, vintage models may also require a more expensive repair. This could be because the hand parts they require are already out of production or difficult to acquire.
For minor cases, hand repairs can be as simple as readjustment or reapplication of luminous compounds, which is why the service doesn't usually cost much.
Costs start at around $130 but can go higher for vintage watches or 'out of production' watches.
Stem and Crown Repair
A stem and crown damage can negatively affect your watch's movement. It can also lead to poor water resistance.
For new and vintage watches, the stem and crown may be delicate. Any sudden impact or pressure on the watch can leave your watch useless.
Without these parts, you won't be able to set the time and see any movement. Replacing them with original parts ensures that they retain their quality.
Of course, depending on your watch's model, parts may be harder to find for older watches. 
Prices start at around $300, but once again, will be higher for vintage and 'out of production' watches.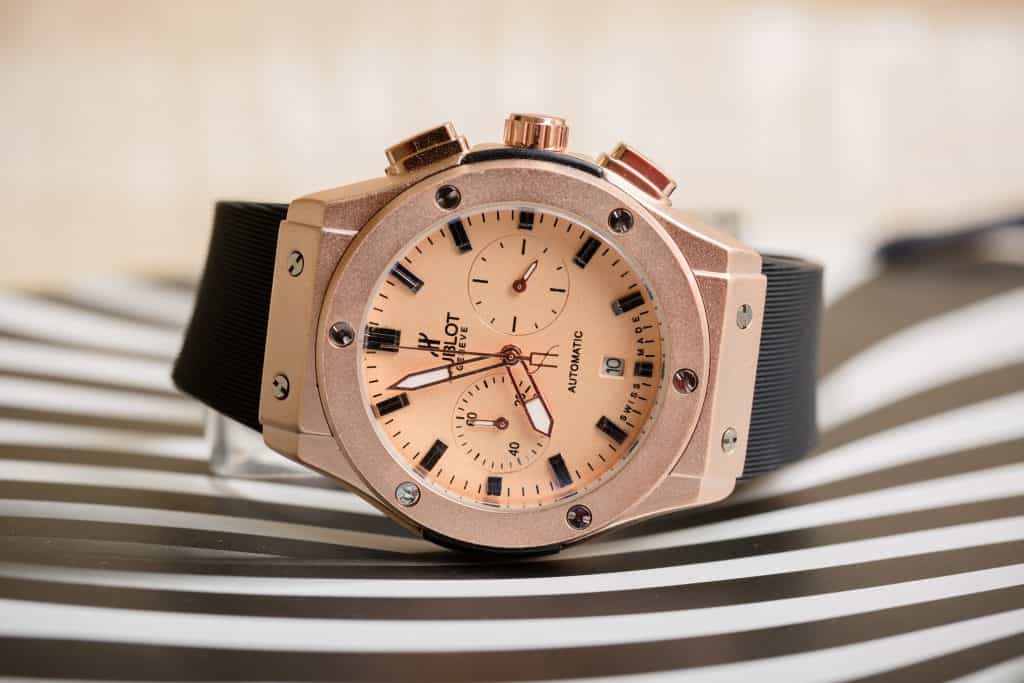 Complete Overhaul and Service
Every 3-5 years, your mechanical watch will need a complete overhaul and service. This means it'll get disassembled, piece by piece, and put back together as if it's brand new.
With this service, you can expect that each piece of the movement will be fixed or replaced. There's also lubrication and calibration included in the process.
Your watch will also undergo pressure and time tests to determine if its efficiency and movement are up to standard. Watch specialists typically complete all these services in 2-3 days.
Because this is an extensive service, minimum rates can start from $1000. This is typically the price for entry-level Hublots, so expect to pay a lot more for the higher-end models.
The costs will also vary based on how many parts of the watch need to be replaced. If your watch is in relatively good shape, the service will be much cheaper than when you need to have half of the parts replaced.
How Often Should You Service Your Hublot Watch?
Hublot recommends you get your watch serviced every 3 to 5 years. After that given time, most watches will show minor signs of wear and are in need of minor touch-ups. Of course, if you notice anything wrong with your watch, you should get it serviced, regardless of the watch's age.
Having your watch serviced in regular intervals is pretty important. When you're paying as much as you are for a Hublot watch, you want it to always look and function well. Having it serviced is the best way to do that.
The interval that Hublot recommends is every 3 to 5 years. Now, we typically see that having your watch serviced every five years is more than sufficient, but you can have it serviced as much as you like.
Aside from the regular intervals, it's important to take your watch in for a service when you notice any of these things:
There's moisture or debris inside the watch's case.
The watch's hands are stuttering.
The watch is suddenly more inaccurate than normal.
The watch makes a rattling noise.
These are signs that there's clearly something wrong and that a specialist should have a look at it.
In Summary
A Hublot watch is a great investment that requires regular maintenance. Whether it's a simple battery replacement or an expensive complete overhaul, a Hublot watch, be it vintage or new, deserves careful attention and protection to maintain its quality and value.
Generally, Hublot watches require complete servicing every 3-5 years. This extensive service typically costs around $500, minus any customizations.
Apart from that, a Hublot watch service will cost you anywhere between $15 and $180, with battery replacement being the cheapest and automatic movement overhauls being the most expensive.