When you're going watch shopping, it's almost impossible not to come across Fossil watches. With their stylish designs and appealing aesthetics, you may wonder if Fossil is a luxury watch brand or not.
Fossil is not a luxury watch brand, as they produce highly accessible, relatively affordable, and overall simple watches. Luxury watch brands should offer a quality timepiece with horological value, which Fossil does not. They stick to trendy designs and mass appeal.
While Fossil is not a luxury watch brand, they do produce overall great-quality timepieces. The luxury title is something that's difficult to obtain, and in this article, we'll explain why Fossil does not carry that title.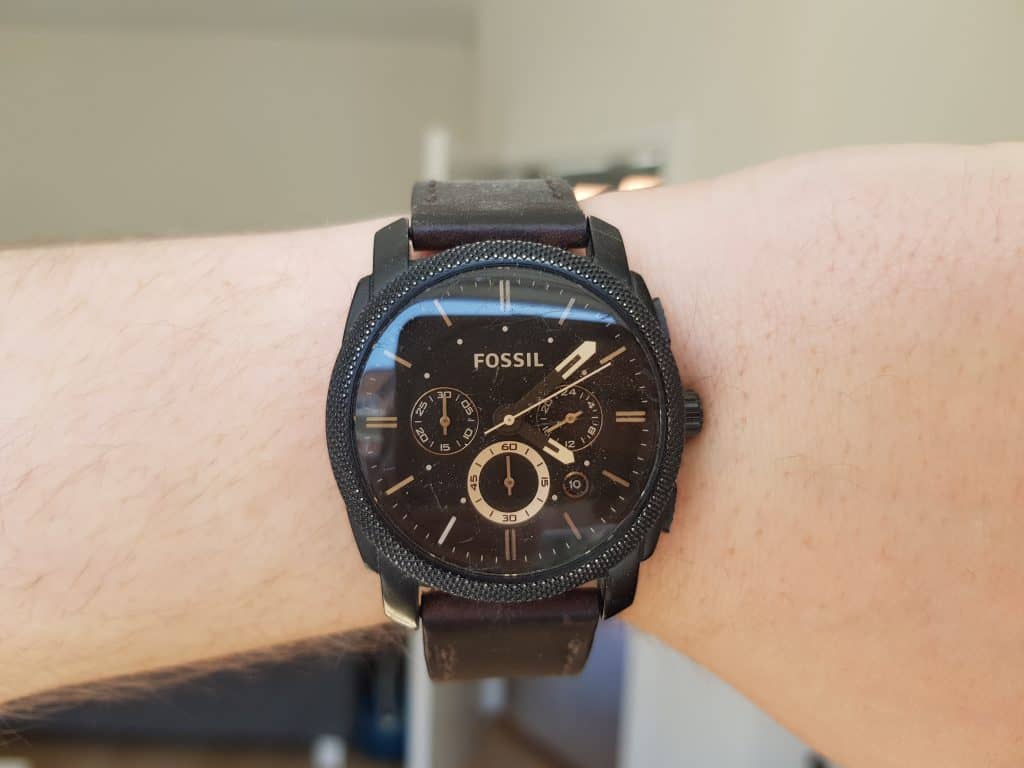 Why Fossil Watches Are Not Considered To Be Luxury Watches
Despite their lovely appearances, Fossil watches are not luxury watches. And in all fairness, it's not even close.
I do feel the need to mention that luxury is a subjective term. For some people, a watch in and of itself is a luxury. For others, a $2000 watch is just another for the collection. Don't let the opinion of others spoil the joy you get out of your watch.
While there are no strict rules as to when a watch is a luxury watch, there are some guidelines set in place. These include where the movement is made, how many pieces are produced, how these timepieces are produced, the materials used to make them, and the brand's overall reputation.
The Movement
One of the key aspects that watch enthusiasts look at when they judge the luxury status of a brand is whether or not the movement is made in-house. Having an outsourced movement in a luxury watch is a clear no-go.
Manufacturing your own movement is a costly endeavor. For luxury watch brands, it's expected that there's no cutting any corners, but for most normal brands, it makes sense to outsource.
The movement of a watch is almost like the heart of the watch. It's the most important part. Luxury brands always make their own movements, often including complications and intricate designs. This is where horological excellence really shows.
For a brand like Fossil, which mass-manufactures its watches, it makes sense to outsource parts. In Fossil's case, they source standard quartz movements from brands like Ronda.
While there isn't anything inherently wrong with outsourcing the movement, it kind of stings when it happens with so-called luxury brands.
Just think of it this way; if you pay $3000 or so for a luxury watch, it kind of sucks if the heart of the watch, the most important part of the watch, is basically the same as one found in a $200 watch.
In short, Fossil outsources its movement, disqualifying itself from being a luxury watch brand.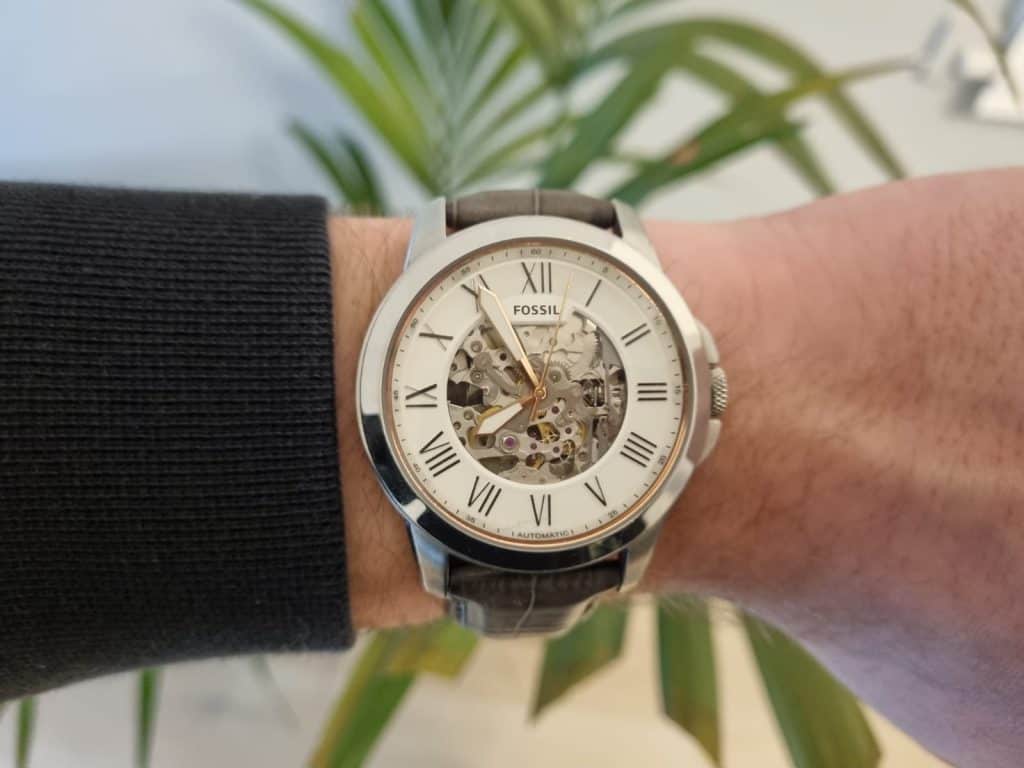 The Materials & Manufacturing Process
It's expected that luxury watch brands incorporate precious and exotic materials within their timepieces. Think of materials like gold, titanium, or diamonds.
Most Fossil watches don't include any of these materials. They're simply too expensive to use if you sell your watches for a couple hundred dollars.
Instead, Fossil offers gold-plated watches. These watches do have that beautiful golden color but aren't made of actual gold.
The watch case of Fossil watches is typically made with stainless steel, while the straps are made with silicon, leather, or stainless steel. Quality-wise, these materials are fine, but they're not quite luxury.
As for the movement, Fossil typically uses a simple quartz movement. Once again, nothing wrong with that, but it doesn't quite scream luxury. Quartz movements are relatively easy to make and don't cost a lot.
Last up, Fossil typically uses mineral glass to cover the watch's face. Mineral glass is a solid option, only behind the legendary scratch-resistant sapphire crystal.
But perhaps the biggest issue with Fossil is the accessibility. Since Fossil watches aren't all that expensive. Pretty much everyone's able to get one. And if everyone has a certain product, it loses that 'luxurious' magic.
Every year, Fossil launches almost as many new models as some luxury watch brands make watches overall. Over 12.000 new models are made every year (those numbers are probably for the Fossil Group in its entirety, but 12.000 is a lot!).
Fun fact: Fossil recently came out with three new models. With these models, Fossil tries to upscale its portfolio. These three models are more luxurious and incorporate high-end materials like a sapphire crystal to cover the watch's face. But that's only three out of 12.000 models.
Around 2000-3000 are brought on the market annually, but that's still an insane number. Just imagine what kind of production and sales numbers Fossil has (spoiler alert, they do about 850 million in revenue each year!)
Compare that to a luxury watch brand like A. Lange & Söhne, which only produces 5000 watches annually, and you can clearly see the difference. There's just no exclusivity when it comes to Fossil watches.
The Price
As much as we hate to admit it, the price does play a role in the luxury status of a watch. The luxury status often comes from the fact that the timepiece is rare. Not everyone's able to get it. And that's best achieved by pricing the watch high.
In Fossil's case, watches are sold for as low as $100, which simply doesn't fit the term 'luxury'. Yes, the design choices (minimalistic, mass-appeal) definitely make a Fossil watch look luxurious, but the 'luxury' name doesn't really come with a hundred-dollar price tag.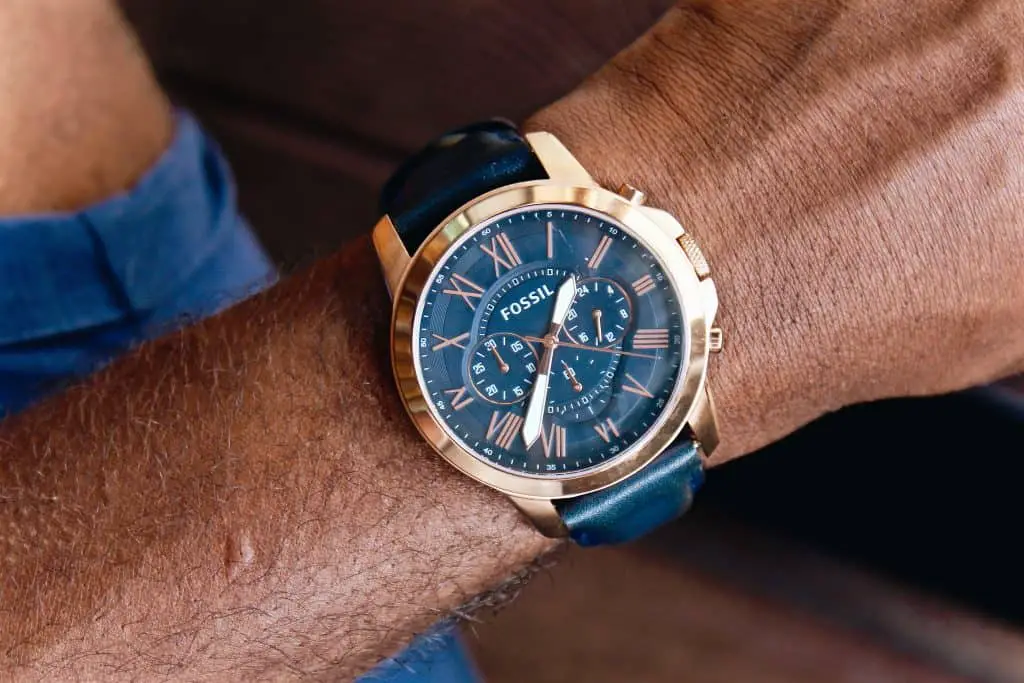 Namesake
Similarly to price, the brand's name also plays a role in its luxury status. Brand names are recognizable. Everyone knows a name like Breitling or Rolex, and they know what it stands for.
That's because brands position themselves in a certain place. Rolex and Breitling position themselves in the market of luxury watches. And Fossil positioned itself in the market of readily available and relatively affordable timepieces for the masses.
Fossil is actually part of the Fossil Group, an overarching company that produces watches for brands like Michael Kors, Skagen, DKNY, and Emporio Armani.
While all these brands most certainly offer good-quality watches, they simply aren't what we refer to as luxury watches. They are mass-produced and don't really offer any horological excellence other than looking good.
What Are Fossil Watches Known As?
Fossil watches are known as fashion watches. Fashion watches aim to produce a mass-appealing timepiece that's purely made to sell well. There's not necessarily any horological value; you simply get a good-performing and mass-appealing watch.
While there isn't anything inherently wrong with fashion watches, some watch enthusiasts can look down upon them.
But that's because the collective term of 'fashion watches' also includes brands like Filippo Loreti. They basically buy their watches from AliExpress and then market them as being incredible pieces of luxury. With a huge markup on price, of course.
In Fossil's case, they're actually known to produce solid timepieces. There's really not much wrong with a Fossil watch (like, at all), but don't expect a piece of horological excellence.
Are Fossil Watches Worth The Money?
Fossil watches are great value for your money. While they're priced relatively low, Fossil watches are of solid quality, look great, and function just as a watch should.
While Fossil isn't a luxury watch brand, they are a good watch brand. Their watches are nothing groundbreaking, but they always do their job.
And with Fossil's focus on mass appeal, they never fail to produce stunning timepieces.
I'd even say that Fossil is up there in the more approachable watch brands for the general masses. While still a fashion watch brand, they do produce solid timepieces.