Wearing an IWC watch can make any watch collector feel prestigious. From the Swiss brand's highly-prized complications to their stunning mechanical calibers and breathtaking craftsmanship, IWC watches rival Rolex in terms of beauty and performance. If you own an IWC watch, you may wonder, how much is an IWC watch service? 
An IWC watch service, on average, costs about $1,115 for a full service, depending on your watch's model, movement, and condition. An IWC complete watch service starts at around $490 for watches with a leather strap and tops out at approximately $2,570 for watches fitted with a metal bracelet. 
IWC is often the brand dubbed for "real watch enthusiasts" since they create masterful timepieces that don't just tell time. With complications such as a Minute Repeater, perpetual calendar, and moon phase – even the common chronograph – IWC's watches are made to be marveled at.
Since we understand you want to keep your IWC watch in pristine condition (and uphold its resale value), we've put together this post breaking down how much it'll cost you for a full service on your IWC watch.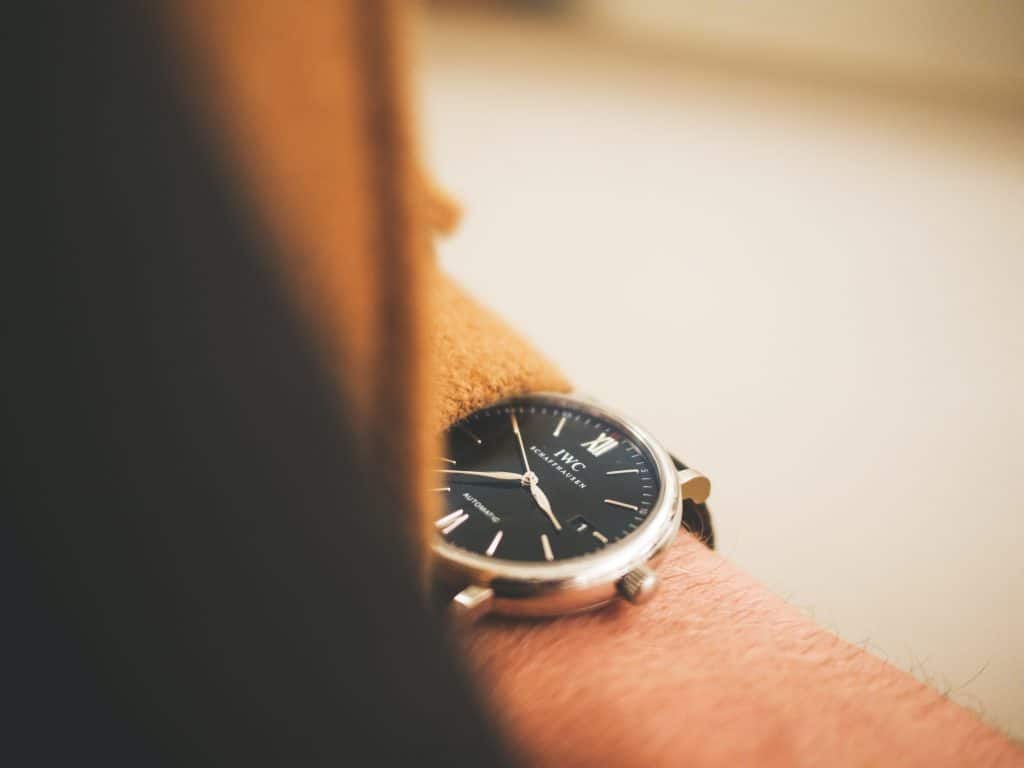 How Much Is An IWC Watch Service? (Cost Breakdown)
An IWC watch service averages ar $1,115 for a complete service. The price for IWC watches fitted with a leather strap typically ranges from $490 to $2,490, while IWC watches equipped with a metal bracelet usually range between $570 and $2,570. The exact price depends on your watch model, condition, and movement.
As mentioned above, IWC watches are similar to watches from Rolex in terms of quality craftsmanship, parts, and price tag. You should expect a complete service for your IWC watch to cost you a couple hundred – if not perhaps a couple thousand – dollars. 
Cost Of An IWC Watch Service 
Movement / Parts 
Service 
Cost
Average
-Automatic
-Mechanical
-Quartz
-Chrono
-Grande Complication
Complete service 
$1,115
$600 – $900
$470 – $1,425
$295+
$600 – $800
$2,400 – $2,485
Battery 
Replacement 
$100 – $160
Crystal 
Replacement 
$200 – $1,200
Watch strap 
Replacement 
$200 – $1,000
But what about a battery swap, strap replacement, or crystal repair? Let's talk more in-depth about the price of servicing each for your IWC watch below.
How Much Is An IWC Battery Replacement?
A replacement battery costs about $100 – $160, depending on the type of battery your watch requires. A regular battery replacement is $110, IWC's 'basic' watch battery. 
For a watch perpetual calendar battery, it's about $100. 
If your watch is solid gold or needs a capacitor due to it being an eco-drive or powered by kinetic, motion, or solar energy – it's about $160 for a replacement battery. 
If you only wanted to get your timepiece water tested, expect to pay $160 or so, too. 
Cost To Replace An IWC Watch Strap Or Bracelet
The cost varies for an IWC strap or bracelet service, ranging from $200 to about $1,000. 
For example, the patented quick-change rubber strap can cost upwards of $1,000 to fix. 
IWC offers some high-end leather straps, which typically fall higher in the $200 to $1000 range as well.
Cost To Replace The Crystal On Your IWC Watch
Expect to pay around $200 – $1,200 to replace the heavy-duty sapphire crystal on your IWC watch. 
Keep in mind that IWC watches are known for their see-through sapphire glass backs, so you may not only be paying for replacing the front crystal of your watch. 
Suppose you have the Aquatimer Automatic Edition in "Boesch" or the manual-wound Portugieser Tourbillon, for example. In that case, you could potentially have to pay to fix that see-through glass should it break. 
If you have one of the famous Mark XV watches, a crystal replacement is about $635.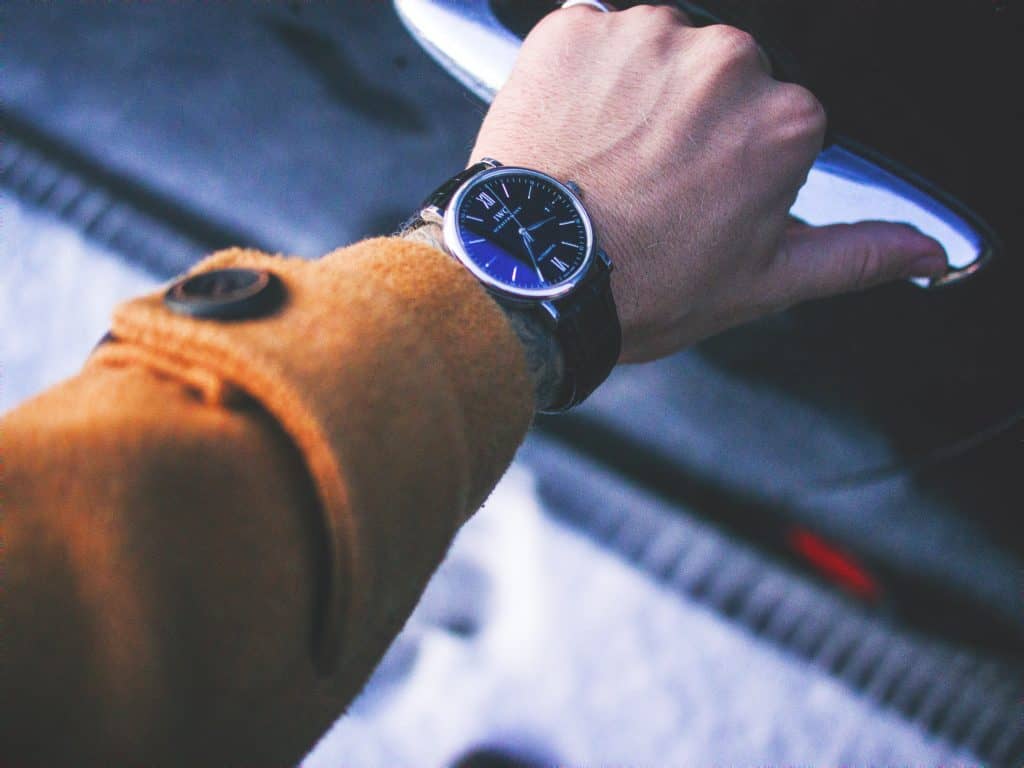 IWC Service Costs For Automatic Watches
It costs about $600 – $900 to service an automatic IWC watch. 
IWC's classic Pilot Watch collection features many popular automatic watches, including the Automatic 36, the Mark XVII, and the Las Vegas edition of the Big Pilot's watch.
The Big Pilot's Perpetual Calendar automatic watches are also quite popular – and expensive – reaching upwards of $35,000 or more for the Mojave Desert and Top Gun Ceratnium editions. 
If you have an Aquatimer, a full service including a dial replacement and pressure check is about $500. For a Mark XVI, service may be about $550. 
The most expensive service cost for an IWC watch is likely from their extraordinary Grand Complication automatic caliber, which costs about $2,500. While that may sound like a hefty price to pay for service, the purchase price for most of any of the Grand Complication watches is more than $200,000!
IWC Service Costs For Mechanical Watches 
It costs about $470 – $1,425 to service an IWC mechanical watch. 
IWC has a smaller collection of mechanical watches than they do automatic, but each mechanical timepiece can still wow any wearer.
If you have a special edition of a Big Pilot's watch (such as the IWC Racing or Le Petit Prince editions), then you may have an IWC mechanical watch. 
Other IWC mechanical watches include the Portofino Hand-Wound Eight Days, the Portugieser Siderale Scafusia, and the Portugieser Minute Repeater. 
IWC Service Costs For Quartz Watches 
It costs at least $295 to replace the quartz battery on your watch, though that depends on the type of battery your watch requires and its current condition. According to where you take your watch for service, batteries for an IWC watch go for about $100 – $160. 
Many IWC batteries, including the perpetual calendar battery, cost about $100 – $120. 
Watches made with solid gold or are powered via light cost a bit more, about $140 – $160 on average. 
IWC Service Costs For Chronograph Watches
To service an IWC chronograph watch, you can expect to pay about $600 – $800 or more. 
Popular IWC chronograph watches are the brand's Portugieser Chronograph line. 
The Portugieser Automatic and the Yacht Club Chronograph are other chronograph watches you can expect to pay about $600 – $800 for full service. 
As the last example, IWC's Tribute to 3705 chronograph watch goes for about $700 for full service. 
Where Can You Service Your IWC Watch?
An IWC watch can be serviced at your local jeweler or by mailing it to an official IWC store.
The easiest option is to have your local jeweler fix your IWC watch. However, with watches that cost as much as IWC's, it's probably better to have it mailed to an official IWC store.
Having your watch serviced by an official IWC store is also the safest route when it comes to warranties. Some companies void a warranty when third parties have repaired the product.
Your watch can be mailed to IWC, where they will give you a cost estimate upon arrival.