The name Longines and its winged hourglass is one of the most recognizable brands in the world of watches. Based in Saint-Imier in Switzerland since 1832, Longines has been producing some of the most elegant and expensive watches on the market.
Buying one isn't just a sound investment; it's also a commitment. With Longines, you know you'll get the best service possible, but how much is a Longines watch service?
Let's take a look.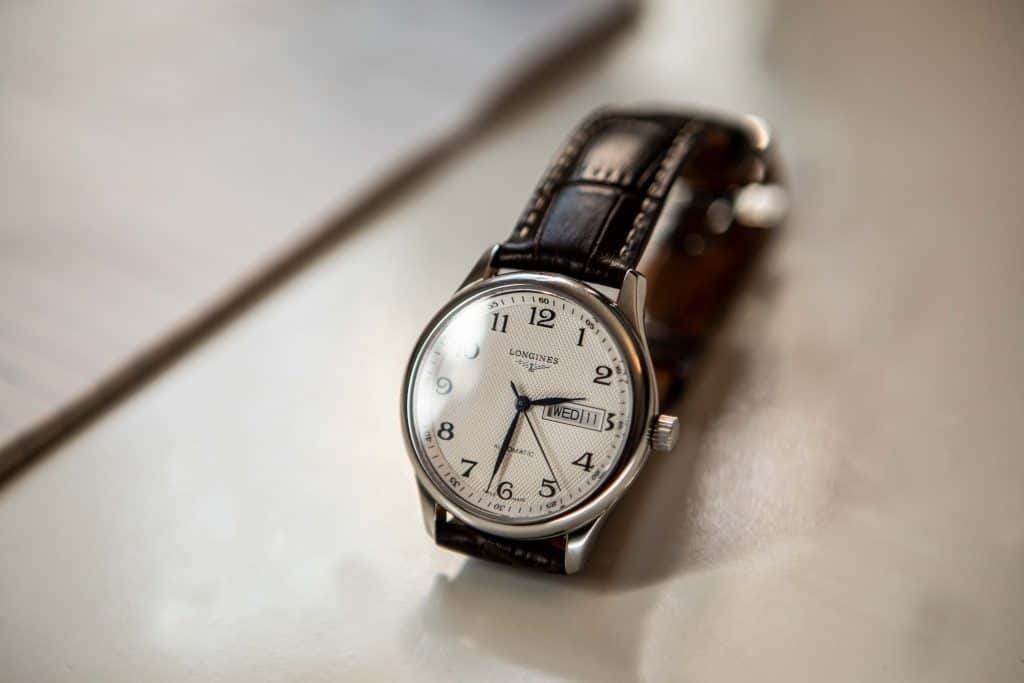 How Much Is A Longines Watch Service?
The question of how much you're going to pay to get your watch serviced depends on several factors, including:
The Type Of Service
There are generally two types of servicing available from Longines for their watches. You can opt for a full or partial option, with the latter being cheaper and quicker.
However, that doesn't mean you won't get premium maintenance. It simply means the technician won't carry out some of the extras typically found in a full service.
Other options include a full battery check-up, as well as the restoration of old watches originally by the company.
The Type Of Watch
There are three watch types available by Longines; each has its own subcategories. The differences between them lead to different servicing costs, along with the type of service you want to be done on your watch.
The three types are:
Manual Winding watches.
Quartz watches: available in two models. One features two or three-hands with calendars and chronographs, whereas the second features two or three-hands with only perpetual calendars.
Automatic watches: come with either chronographs or only calendars like the Quartz models.
The Cost Of The Service
In the tables below, you can see the prices for both full and partial services for each watch type available at Longines and their subcategories.
Longines Quartz Watch Service Costs
| | | |
| --- | --- | --- |
| Specification | Partial Service | Full Service |
| 2 Or 3 Hands + Calendar | 80 | 210 |
| 2 Or 3 Hands + Perpetual Calendar | 80 | 250 |
| Chronograph | 80 | 310 |
| Battery Service & Water Resistance Test | 30 | 30 |
Longines Automatic And Manual Winding Watch Service Costs
| | | |
| --- | --- | --- |
| Specification | Partial Service | Full Service |
| All Manual Winding Models | 80 | 230 |
| Automatic 2 Or 3 Hands + Calendar | 80 | 250 |
| Automatic Chronograph | 80 | 410 |
Longines Special Watch Models Service Costs
| | | |
| --- | --- | --- |
| Specifications | Partial Service | Full Service |
| Moon Phase + Annual Calendar | 80 | 410 |
| Retrograde + Calibers L599, L600, L601 | 80 | 450 |
| Vintage Calibers (Made Before 1985) | Estimate | Estimate |
Other Longines Service Costs
| | |
| --- | --- |
| Specifications | Costs |
| Demagnetization | Free |
| Rate Control | Free |
| Certificate Of Authenticity | 120 |
According to Longines, these prices are inclusive of VAT, but not shipping costs. Also, they're subject to change at any time as deemed appropriate by the Longines company.
What Does A Full Longines Service Include?
This option costs slightly more because more steps are involved. Therefore, it takes more effort to ensure everything in the watch is operating as it should, leading to a longer lifespan.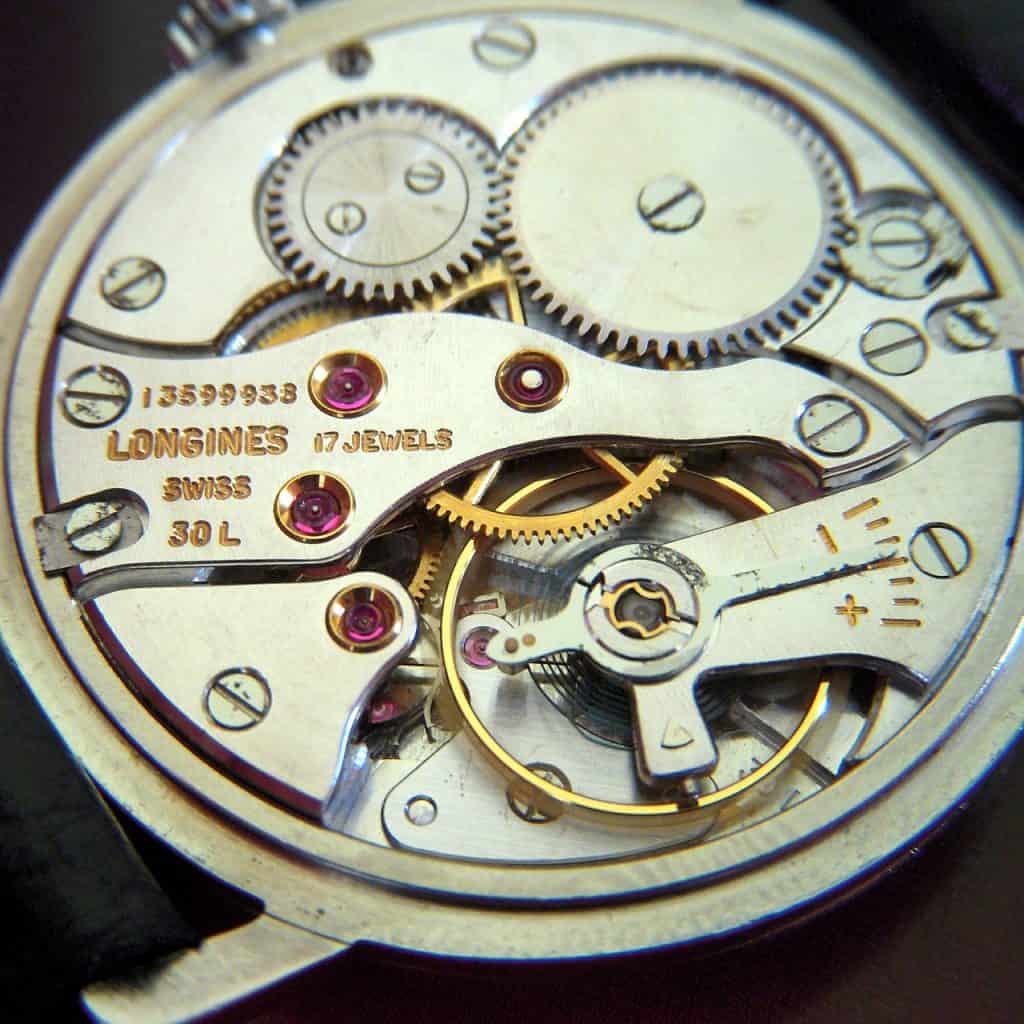 The company's full maintenance check-up is as follows:
A specialist or experienced technician will closely examine your watch and identify it by its unique serial number. Then, they'll run a diagnostic check.
The case and all the internals, such as the glass, back, bezel, and seals, are disassembled into separate components. This is so that each part can be looked at individually and see if anything needs restoration.
The movement is also disassembled to check whether anything needs to be either fixed or removed.
Then, they're placed in an ultrasonic machine to clean them. This machine is incredibly efficient as it uses certain chemicals at specific temperatures to completely remove contaminants.
Using ultrasonic treatment, the case is cleaned from dirt, gunk, or particulates.
Next, the case is polished. Keep in mind this step has to be done with great care and can take time, especially if the watch is of an older model. Also keep in mind that if you don't want the watch to be polished, you should mention it beforehand!
Before reassembling the case, any missing and damaged elements will be replaced.
The internal movement of the watch is put together after removing any damaged components. Finally, the gears are oiled and polished.
The case and the movement are put back together, and the case is closed to complete the final assembly.
Finally, diagnostics are carried out on the watch to ensure that it complies with Longines' specifications and high-quality standards. These diagnostics include checking for water resistance, power reserve, precision, and polish quality.
What Does A Partial Longines Service Include?
The partial service consists of only five steps rather than the full 10, which include:
The physical condition of the watch is analyzed and accessed.
After that, the case and its components are disassembled from the watch's movement.
Then, the technician cleans the case in an ultrasonic bath that eliminates dirt and debris.
Next, the case and the movement are reassembled.
Finally, all the pieces go through the same technical and cosmetic diagnostics as the full service to make sure they fit with Longines' longstanding quality and precision.
What Does A Longines Battery Replacement Include?
The process of replacing the battery is simple and straightforward. Still, Longines takes pride in ensuring each piece is in perfect condition.
The steps that go into the battery replacement are:
The back of the watch is opened to reveal the movement and the battery inside.
First, the battery is removed. Then, its strength quality and power are checked to see if the problem is from the battery or from the movement itself.
The movement is also supplied with external power to try and locate the source of the problem.
At this point, the movement is inspected while still powered to check for its precision and if any adjustments are required.
Next, the technician supplies the movement with a new battery, and then the back gets a new water-resistance seal.
Finally, The back of the case is closed, then a technical water resistance diagnostic is performed.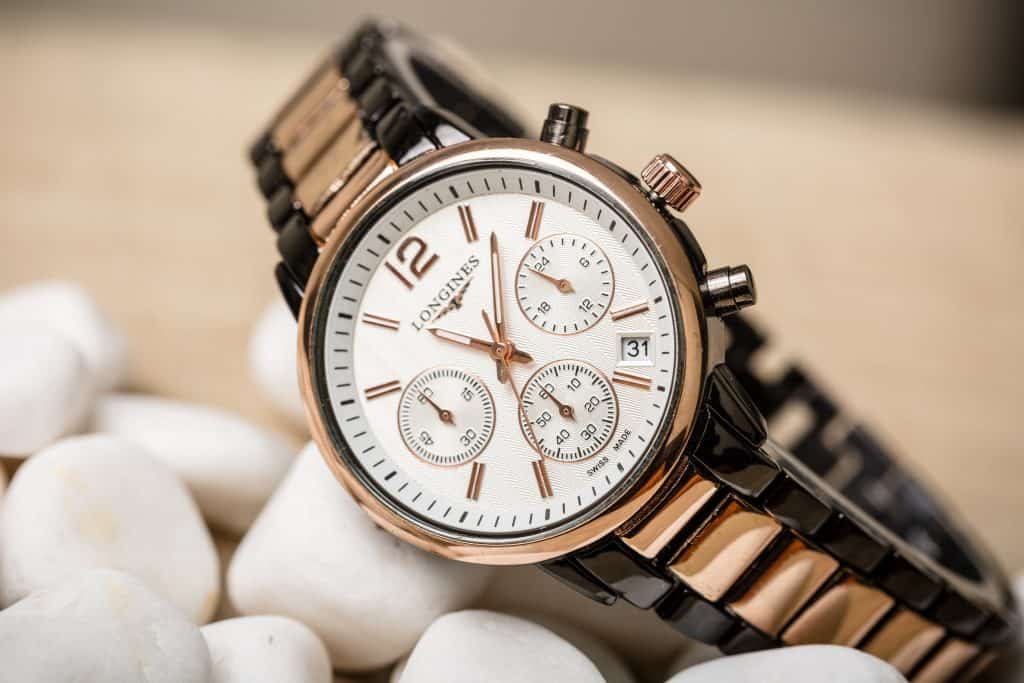 How Often Should You Service Your Longines Watch?
Longines recommends you get your watch services every 6 to 8 years. This is a reasonable timeframe, as your watch will start to show signs of wear after those 6 years. You should also get your watch serviced if you feel like something's wrong.
Servicing your watch is important, but you don't need to have it serviced every year or so. Luxury watches like Longines are made to last a long time, so a service every 6 to 8 years is more than sufficient.
Most of the time, the watch only needs to be lubed up and have a few minor parts repaired or replaced.
Of course, the 6 to 8 year timeframe is just an estimate. If at any point you see, feel, or notice that something's wrong with the watch, you should get it serviced as well.
Things to look out for:
The hands start to stutter.
The watch becomes slightly more inaccurate.
There's moisture or debris inside the case.
We wrote a more in-depth article on when you should get your watch serviced, which you can find here!
Wrapping Up
A Longines watch is undoubtedly a prized possession guaranteed to add class and elegance to your collection. As such, it needs the right level of attention and care to keep working properly.
That said, if it gets damaged for whatever reason, you'll need to get it serviced. Based on the type of damage, the Longines people will be able to figure out what kind of maintenance check you need.