By taking a look at all available Thomas Earnshaw watches, it's easy to see why they're so sought-after. They have such a wide variety of absolutely amazing-looking watches. But sometimes, looks can be deceiving. Is that the case for Thomas Earnshaw watches?
Thomas Earnshaw's watches are of good quality. Earnshaw watches include a Chinese-made movement, which has the chance to be unreliable at times. Typically, though, an Earnshaw watch will work fine and look fantastic.
With a movement that can be inconsistent at times, you may wonder whether or not Thomas Earnshaw watches even good. In this article, we'll discuss why Thomas Earnshaw is indeed a good watch brand!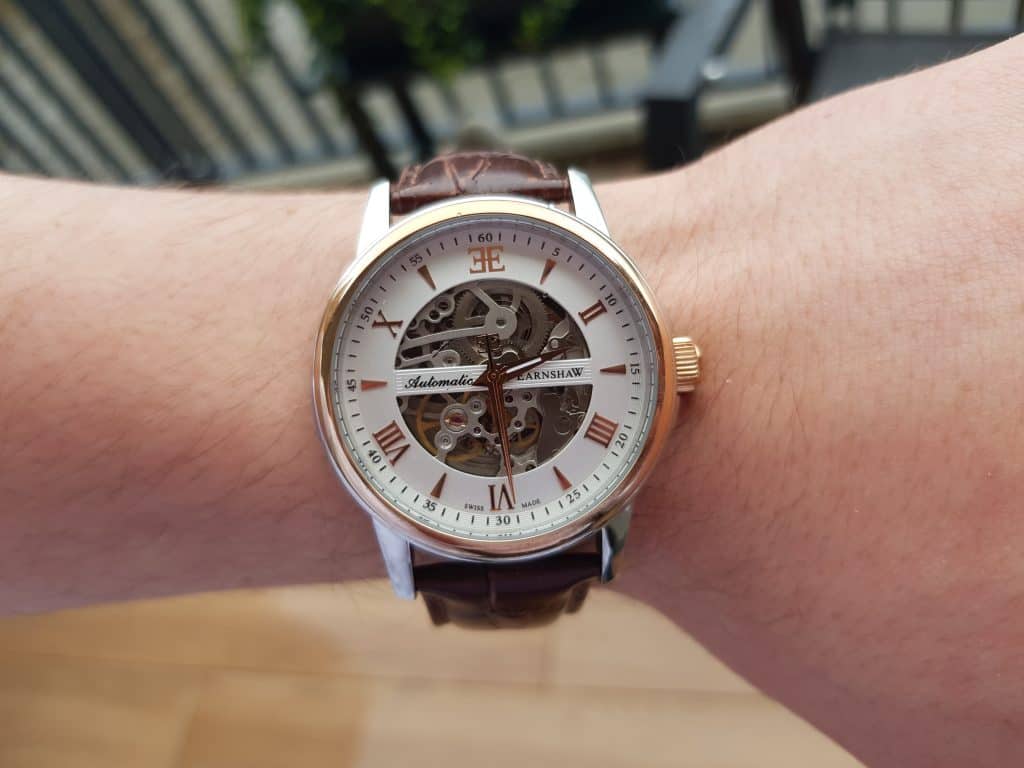 How Good Are Thomas Earnshaw Watches?
Thomas Earnshaw produces good-quality watches for an affordable price. Their watches are known as some great value for your money, especially when it comes to their skeleton watches. They do outsource the movement to China, which can lead to a faulty movement every now and then.
An Earnshaw watch is a true piece of beauty. Over the years, Thomas Earnshaw has gained the reputation of offering some of the best-looking and best-value-for-your-money watches, particularly their skeleton watches.
But good looks aren't the only important thing when it comes to watches. The watch itself needs to be of good quality as well. And although quality can be somewhat subjective, there are always a few things that come up when we judge whether or not a brand makes good watches.
Movement & Materials
The movement and materials are arguably the most important factors of a quality watch. A watch with a poor movement will constantly break, and a watch made with sub-par materials will deteriorate quickly.
Thomas Earnshaw's movements are outsourced to China. Typically, this isn't seen as the best thing to do, but let's be fair, a lot of companies do that (just read our article about fashion watches, you'll be shocked!). In the case of Earnshaw movements, though, they tend to be a hit or miss, most commonly being a hit.
That's to say that in most instances, you'll have no problem with your watch's movement at all. The watch will simply work as it should. But in the rare instance that you do have issues with your watch's movement, you shouldn't count on it going away anytime soon.
That's typically the issue with Chinese movements; they either work wonders and you won't notice anything, or you'll constantly run into issues.
As said, though, Earnshaw movements will almost always work as they should.
A Thomas Earnshaw watch is typically made with good-quality materials. Stainless steel is the most common material, and it never fails to perform well.
Their golden watches are typically gold-plated, an industry standard for non-luxury watch brands, and they a mineral glass crystal to cover the watch's face. Once again, mineral glass is an industry standard for watches in this price spectrum.
Design
The design of a watch is what's most important to the vast majority of people. It's why so fashion watches are so popular. Most people just want a watch that looks good, not necessarily a work of craftsmanship.
For those people, Thomas Earnshaw should be a great brand. The general consensus is that Thomas Earnshaw watches look phenomenal. Of course, it's subjective, but there's something to say if most people agree on something.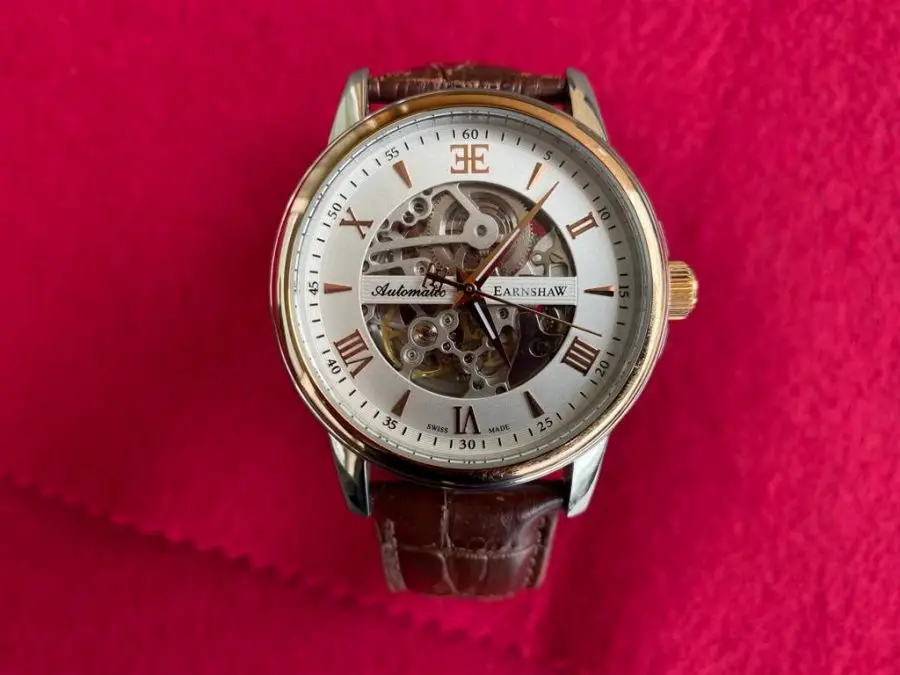 They have a large variety of different watches, the most popular being their skeleton watches. They feature an open display of the movement, making for a sophisticated and luxurious look.
Thomas Earnshaw watches are on the larger side, though, typically having a diameter of 44mm. This is pretty large, especially if you've got smaller wrists, but it's nothing too bad. The case is also quite thick, giving it an elegant finish.
The dial itself has a clean and crisp display of the numbers, and the hands move elegantly.
Warranty & Repairs
Thomas Earnshaw is a brand that prides itself in its work. And that shows. Not only do they deliver good-quality and great-looking watches, but they also have your back if anything breaks.
A Thomas Earnshaw watch comes with a 24-month warranty. If the watch breaks within those 2 years, Earnshaw will repair it cost-free.
There are some exceptions, such as damages caused by misuse or water damage on watches that are not labeled water-resistant. But in most cases, Thomas Earnshaw will repair whatever is broken and will do so cost-free.
You can mail your timepiece to Thomas Earnshaw itself to get your watch fixed. They will start working on the watch, and you can expect your watch back after 4 to 6 weeks.
Is Thomas Earnshaw A Luxury Watch Brand?
Thomas Earnshaw is not a luxury watch brand. Earnshaw watches have an outsourced Chinese movement and typically don't include luxurious or precious materials. Earnshaw does have more expensive watches available, but they are typically seen as mid-range watches at best.
For a watch to be a luxury watch, it needs to follow some guidelines. Now, these guidelines aren't set in stone, but they're generally agreed upon to indicate whether or not a watch is a luxury watch.
These guidelines include:
The movement must be made in-house.
The watch brand must use luxurious or precious metals in their designs.
The watch should be hand-assembled.
Aside from these three main points, the brand's name and the price of the watch also play a role. The brand's name should be regarded as that of a luxurious watch brand, and the price should reflect that. In other words, the price should be on the higher end.
A high price creates scarcity, as not everyone will be able to purchase one, which is something that luxury brands are after. It's difficult to become a 'luxury brand' if everyone is able to afford it. That would make it 'just another brand'.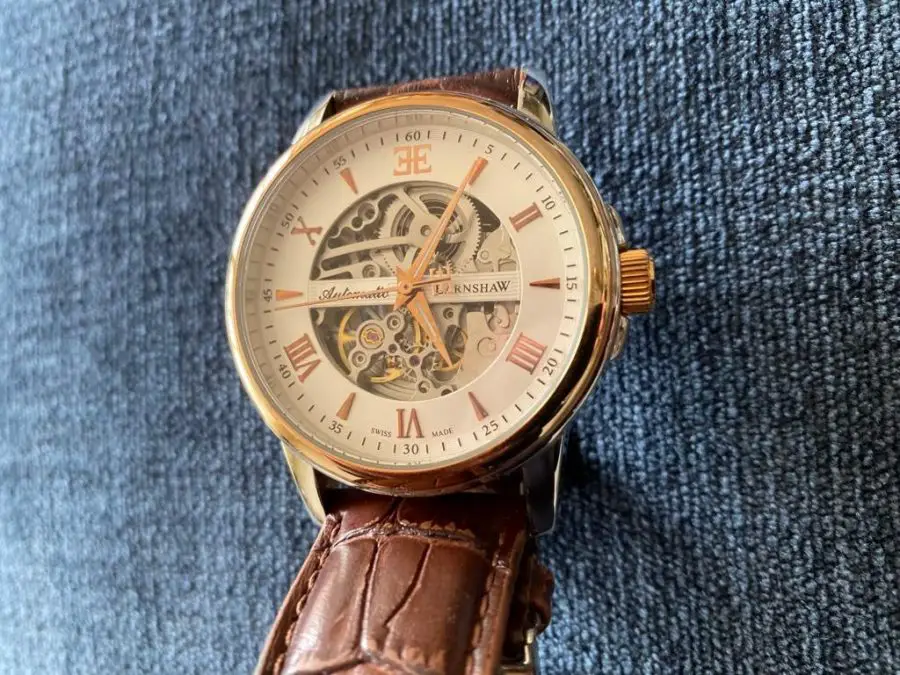 In the case of Thomas Earnshaw, it's apparent that the brand is not a luxury watch brand. The most important guideline has to be that the movement must be made in-house. After all, the movement is the heart of the watch. If that part isn't made by Thomas Earnshaw, then what does that make the watch?
Since Thomas Earnshaw typically outsources its movement to China, the brand is already disqualified from being a luxury watch brand.
With that said, though, Thomas Earnshaw is considered to be a brand that produces high-quality and great-looking watches. They just don't quite make luxury watches.
Are Thomas Earnshaw Watches Swiss Made?
Thomas Earnshaw has several watch collections classed as Swiss-made. To be Swiss-made, at least 51% of the watch needs to be assembled in Switzerland, a guideline Thomas Earnshaw adheres to for several of their collections.
For a watch to be classed as 'Swiss-made', the watch actually only needs to be assembled for more than 50% in Switzerland. This is a relatively easy loophole that some companies like to abuse to give their watches that sought-after Swiss-made title.
They'll do the bare minimum in Switzerland and outsource all the costly parts of production to a cheaper country.
Thomas Earnshaw is pretty transparent with this. They are honest about the fact that their cheaper watches are not Swiss-made. Some companies would try to reach the bare minimum requirements to still get the Swiss-made title, but not Earnshaw.
Instead, Thomas Earnshaw has several different collections; Cheaper watches that aren't Swiss-made, and more expensive watches that are Swiss-made.
Earnshaw watches that are Swiss-made will most likely also have a movement from either Japan or Switzerland. Japan and Switzerland are the leading countries in horology, and their movements are highly respected.
Where Are Thomas Earnshaw Watches Made?
The bulk of Thomas Earnshaw's production takes place in China. However, some of their up-scale models are made at least 51% in Switzerland.
We just talked about how some Earnshaw watches are Swiss-made (meaning at least 51% of the watch is made and assembled in Switzerland), but the majority of Earnshaw watches are produced in China.
The easiest way to distinguish is by looking at the price. Earnshaw watches that reach upwards of $1000 or more are typically Swiss-made and include more complications.
Earnshaw watches that are a couple of hundred bucks are typically produced in China. Not that there's anything wrong with that, of course, but the quality could be slightly worse compared to the more expensive models.