Any tried-and-true horologist probably has a watch winder sitting next to their timepiece collection, maybe even a watch winder case. But for the average watch wearer, a watch winder may seem intimidating, unnecessary, or quite frankly – unheard of. So what is a watch winder, how do they work, and perhaps most importantly, do you need one?  
A watch winder is an electronic device used on automatic watches to keep them running when they are not being worn. You'll find them in pencil-sharpener-sized boxes for single watches or bigger cases that hold multiple watches – some having enough space for as many as 12 or more timepieces. 
If you're interested in learning more about watch winders and how they work, great! That's what this post is about. Are you also curious about common watch winder questions such as how long a watch should be left on the device, how much they cost, or whether or not you truly need one? We'll answer those questions, and more so you can scroll away feeling confident in your watch winder knowledge.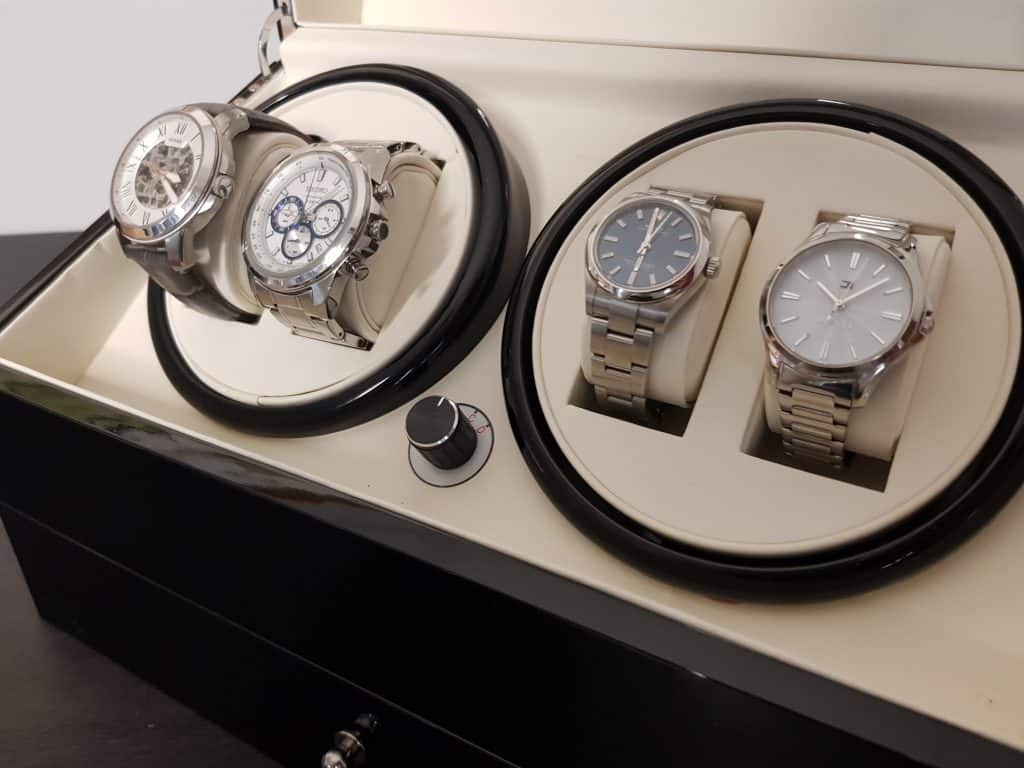 What Is A Watch Winder?
A watch winder is an electronic device used to keep automatic watches running while not worn – so essentially, it keeps a watch fully wound. The device works by gently rotating the rotor in an automatic watch sitting idle, keeping the mainspring continuously wound with stored energy. 
Watch winders are shaped like a box or vault depending on the number of watches they can hold and are pretty complex despite their simple purpose. Single and dual watch winder boxes are most common, though there are watch winder cases that house more – anywhere between eight to 12 watches, on average. 
Smaller watch winders look most like oversized jewelry boxes; larger ones that hold rows of watches look more like mini-safes. 
How Do Watch Winders Work?
Watch winders work by continuously rotating your watch while the watch is placed on a cushion inside the device. Because automatic watches automatically wind themselves via the watch's internal mobile weight, which moves according to the person's movements, watch winders must "move" like a human wrist. 
How exactly do watch winders work, though? Let's take a look.
Place your watch in the watch winder. You'll have to put it on the padded watch holder that "pops" out of your watch winder. 
Click the watch holder back into place in the watch winder. 
Adjust your controls such as the length of operation, rotation direction, and turns per day (TPD). Always being sure to follow the watch winder's manufacturer's directions. 
Turn your machine on. Some watch winders are battery-powered (DC), while others must be plugged into a power source (AC). 
Watch your watch winder go! Most machines rotate for 30 seconds up to a minute before pausing. The length of pauses and how often they occur depends on how you adjusted the controls. For example, your timepiece may wind ten times in 30 seconds. 
When done, switch it off, take out your watch, and enjoy wearing it on your wrist!
Remember, if an automatic watch isn't being worn, then it is not being wound up. Watch winders are a handy tool to keep your automatic timepieces in prime working condition.
What's The Difference Between DC And AC Powered Watch Winders?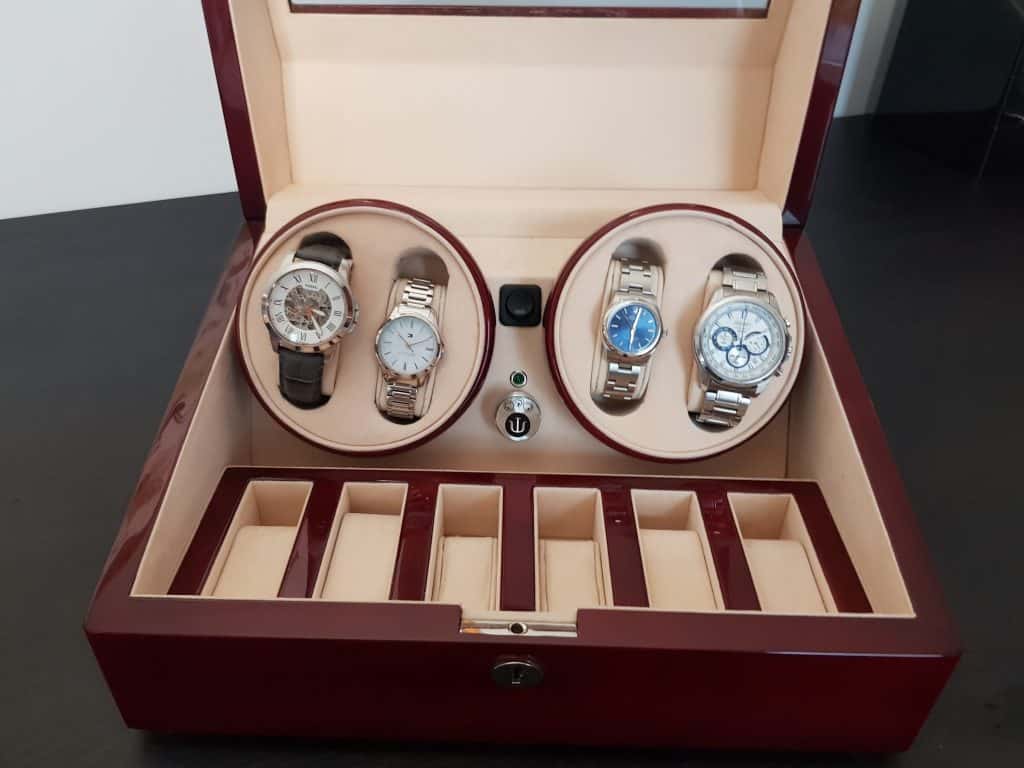 DC watch winders are powered by batteries, whereas AC watch winders must be plugged into a power source like a wall outlet. The difference between these two types of watch winders is how they are powered.  
DC watch winders are battery-operated and readily portable. They are commonly used when watch collectors keep their timepieces in safes (since you can't plug in from inside those walls!), and it's common to get 6 – 12 months of battery life. DC winders also can run off of AC by using an AC/DC adapter in a wall outlet. 
On the other hand, AC-powered watch winders must be plugged into a power source, like a wall outlet, in order to work. Most people keep these hooked up in their bedroom or closet – and don't worry – a sweeping majority of these little gadgets are incredibly quiet while winding – so you can undoubtedly get a good night's sleep and wake up to a fully wound automatic watch in the morning. These are not so portable, though, so if you're a travel junkie, go for a DC-powered watch winder. 
You can take along a DC-powered watch winder more easily than its alternatively charged counterpart, but both types of watch winders are great for people who travel and leave their watches behind. Place your watch inside, and it'll be ready to wear when you get back. 
How Long Should A Watch Be On A Winder?
A watch winder does not need to be left running all day, every day.  There isn't a specific answer for how long you should leave your watch on the winder, as it depends on how often you wear your watch and the type of activities you do (such as high-intensity exercise or more sedentary-style Netflix binge sessions).
There are general guidelines that you should follow through:
 If you wear your automatic watch daily (whether you're active or not), you probably don't need to put your watch in the winder every day.
If you don't wear your automatic every day, you should keep your watch in a watch winder.
If you put on your watch every day, that's enough movement to keep it continually wound. Even if you've been sitting on the couch all day, that should be enough movement of your wrist to keep your watch wound and ready to go, no watch winder necessary. 
However, if you find yourself regularly forgetting to put on your watch – or prefer to don one only for special occasions – then keeping your watch in a watch winder is a good idea. This way, it will always be ready to go when you want to wear it. 
And no – watch winders won't overwind your watch. Watch winders are designed with exceptional safety features that prevent them from overwinding your precious timepiece. Watches also have an internal slip-clutch that releases tension when needed, but we'll discuss this in more detail below. 
What Are The Benefits Of A Watch Winder
Now that we know a little about how they work, why should you use one for your watch besides keeping it running smoothly? Let's talk about a watch winder's specific benefits.
Watch winders: 
Keep a watch's internal mechanisms lubricated via an even distribution of oil, thus maintaining its performance and extending its life
Save you money down the road on servicing – when the internal components of your watch stay lubed up, there is less wear and tear on your watch
Make it conveniently easy for you to wear any watch you own – no more "aw shoot, it's dead" when you're about to leave the house 
Are an eye-catching way of winding, storing, and displaying your watches when you are not wearing them – unlike a useless display case
Are a great way to protect your watches from dust and dings – many winders have cushioned drawers 
Do You Need A Watch Winder?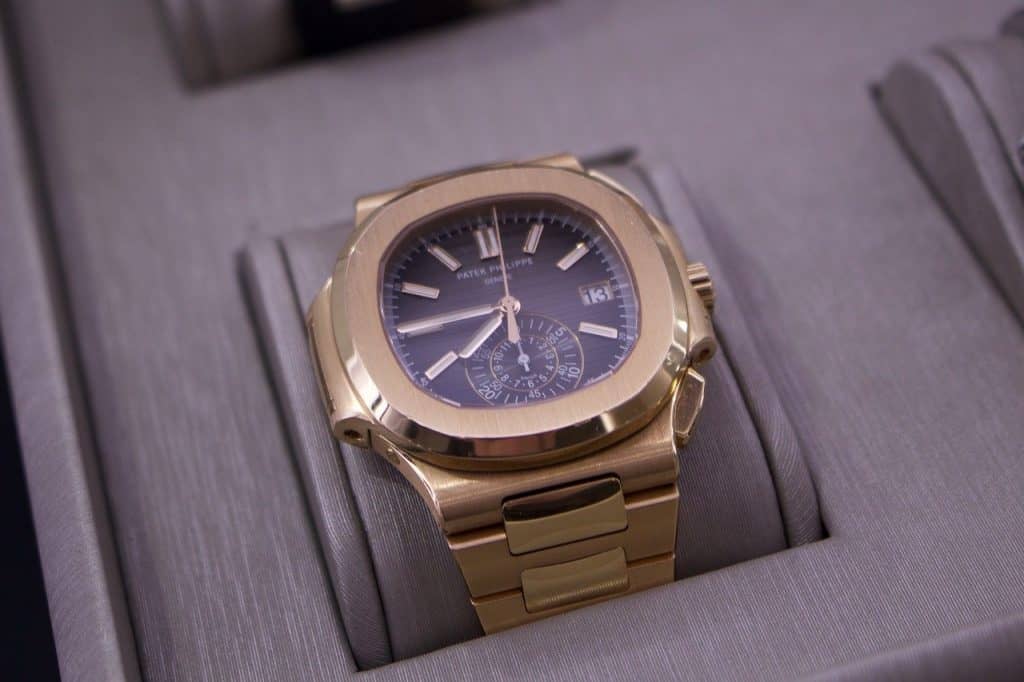 Whether or not you need a watch winder is a controversial question in the horologist community, and we say – no, you do not need a watch winder, but it is a nice tool to have along with your collection. But how do you know if you should get one? You'll need to ask yourself a few questions. 
The first is: Do you have an automatic watch?
Watch winders keep automatic watches consistently wound, so if you own an automatic watch, then a watch winder may be beneficial to you. If you don't have an automatic watch in your collection, you don't need a watch winder. 
Next question: How often do you wear your watch? 
If you don't wear your timepiece every day or frequently travel without them, a watch winder is an excellent tool to use to maintain the performance and longevity of your pieces. As we previously discussed, watch winders work by rotating a watch to mimic the movement of being worn on the wrist, so anytime your watch it off your wrist, it'll stay properly wound. 
You can save yourself time, money, and energy by not taking your watch to get it serviced and instead buy a watch winder. 
Final question: How many watches do you have? 
If you have a growing collection of watches, a dual watch winder or watch winder case will keep them in tip-top shape whenever you feel in the mood to reach for that particular watch for that special occasion. Even if you only have one automatic watch, a watch winder is still worth getting since any time you forget to wear your watch – like a weeklong vacation from work – your treasured timepiece will be ready to adorn your wrist. 
How Much Does A Watch Winder Cost?
Watch winders will run you anywhere between $50 to thousands. Most of us can't afford the pricey ones (like a Dottling Gyrowinder or the jaw-dropping Stockinger Brabus SV12), and trust me, the less expensive versions work just fine! 
A single watch winder is about $40-50. 
A double watch winder runs between $80-150.
A 4-slot watch winder starts at around $250.
What's The Difference Between Cheap And Expensive Watch Winders?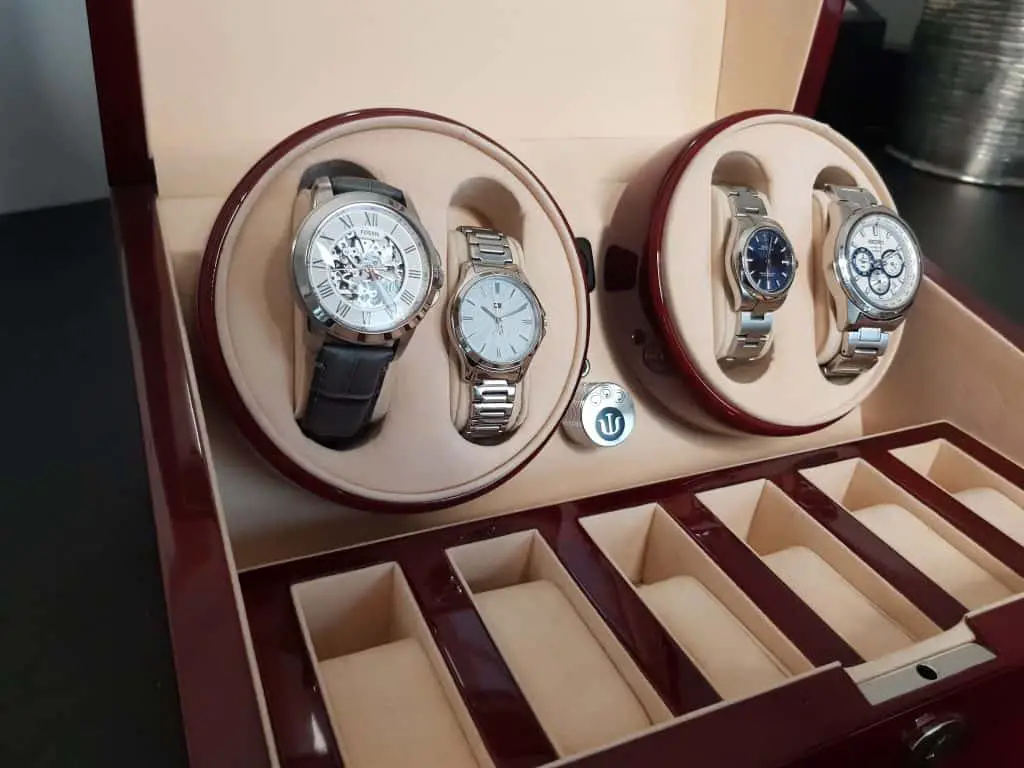 The difference between the less expensive watch winders and the most expensive ones is that the pricier ones are made with better quality materials and have more bells and whistles. Similar to a luxury car, you get what you pay for with watch winders. Again, that's not to say you can't get an affordable quality watch winder because those certainly exist. 
The Dottling Gyrowinder, mentioned above and inspired by NASA's gyroscope, is priced at a whopping $14,000. It looks like a sci-fi trophy display inside a glass dome, and it'll spin your watch around 360 degrees at an incredible speed. It also has counterweights that are precisely calibrated to keep your watches correctly balanced. 
On the other hand, the Versa Automatic Single Watch Winder is one of the best and most affordable options, available for purchase at around $50. While users love how quiet it is and how aesthetically pleasing the device looks on bedside tables, it does not rotate your watch 360 degrees, like the outrageously priced winder from Dottling. 
Do Watch Winders Damage Your Watch?
In general, a watch winder will not damage your watch. Both your watch and watch winder have built-in safety mechanisms that should prevent damage to your timepiece. Overwinding and magnetization are the most common concerns about using a watch winder, though both are pretty rare.
Damage from overwinding on a watch winder comes more from what's inside your watch versus the watch winder itself. When your timepiece is tucked inside a watch winder, the constant pressure being applied to the slip-clutch inside the case of your watch could cause the slip-clutch to wear out, causing internal damage. This is rare, though.
If you have a quality watch winder and it's compatible with your brand of watch, you should not have an overwinding problem. 
Magnetization is a more common issue with watch winders. It's when the magnet and the electric motor in the watch winder create a small magnetic field that causes a watch's mainspring to "stick" and keep less accurate time. You'll notice this if your watch begins to have jerky movements. 
But again, this problem is rare and can be easily avoided with a quality watch winder. 
Should You Keep A Rolex In A Watch Winder?
Yes, it would be best if you routinely keep your Rolex in a watch winder. If you're lucky enough to own a Rolex, you'll probably want to ensure it stays in the best condition possible. A watch winder will not only keep your luxury watch running in great shape, but it'll also show off your prized possession in style. Many Rolex owners only slip on their watches for a special event, so because they don't wear them daily, watch winders can be a good investment. 
Rolex watches need about 650 turns per day (TPD) to remain completely wound. Standard watch winders are set around 750 TPD, which are safe for Rolexes. Be sure to wind your watch first manually and then place it in the winder.
All in all, a quality watch winder is a great tool to add to your automatic watch collection!