Fossil is a well-known watch brand, known for being an upper-tier brand, but not a luxury brand. With watches ranging from as little as $100 to as much as $1000, you might wonder, what makes Fossil watches so expensive?
Despite not being on the upper spectrum of watch brands, Fossil still produced great-quality and great-looking watches. And quality timepieces cost money. Fossil is a respected watch brand that nicely sits between the cheap brands and the extremely expensive luxury brands.
The Fossil brand is an interesting case. It's neither considered to be a cheap watch brand, nor a luxury brand. And this is perfectly found back in the price. In this article, we'll cover everything about Fossil and what makes their watches as expensive as they are!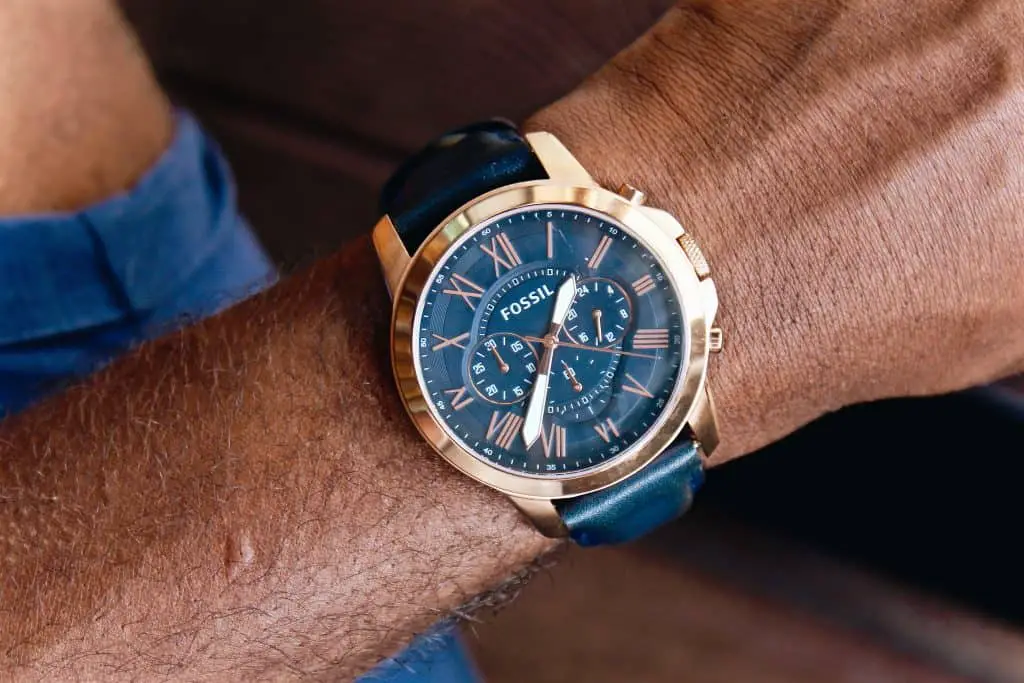 What Makes Fossil Watches Expensive
Despite being more of a 'mid-tier' brand in terms of price, some Fossil watches can definitely be expensive. And just like the price of any watch out there, it has everything to do with the materials and craftsmanship.
Watches aren't easy to make. There are lots of little pieces and components that all need to be carefully placed and handled. Now, of course, the process of making a cheaper watch is much more automated with lesser-quality materials when compared to high-end luxury watches.
Whereas most luxury watches are hand-made with the highest quality materials and with extreme precision and care, most cheaper watches are made with machines with lower-quality materials. This, of course, is not to say that Fossil offers low-quality watches. As mentioned before, Fossil sits nicely in the middle.
As for Fossil, a lot of their watches are made in China. These watches are their more affordable offerings and will usually cost you a few hundred dollars. But Fossil also makes a few high-end watches in Switzerland. These are the expensive Fossil watches and are found in the Michelle and Zodiac collections.
As for what makes these watches expensive, it's simple.
Fossil makes high-quality watches that will perform great for years on end. They use quality materials for their highly accurate and durable watches. Despite not being a luxury brand, Fossil offers great-quality watches, arguably some of the best quality to price ratios.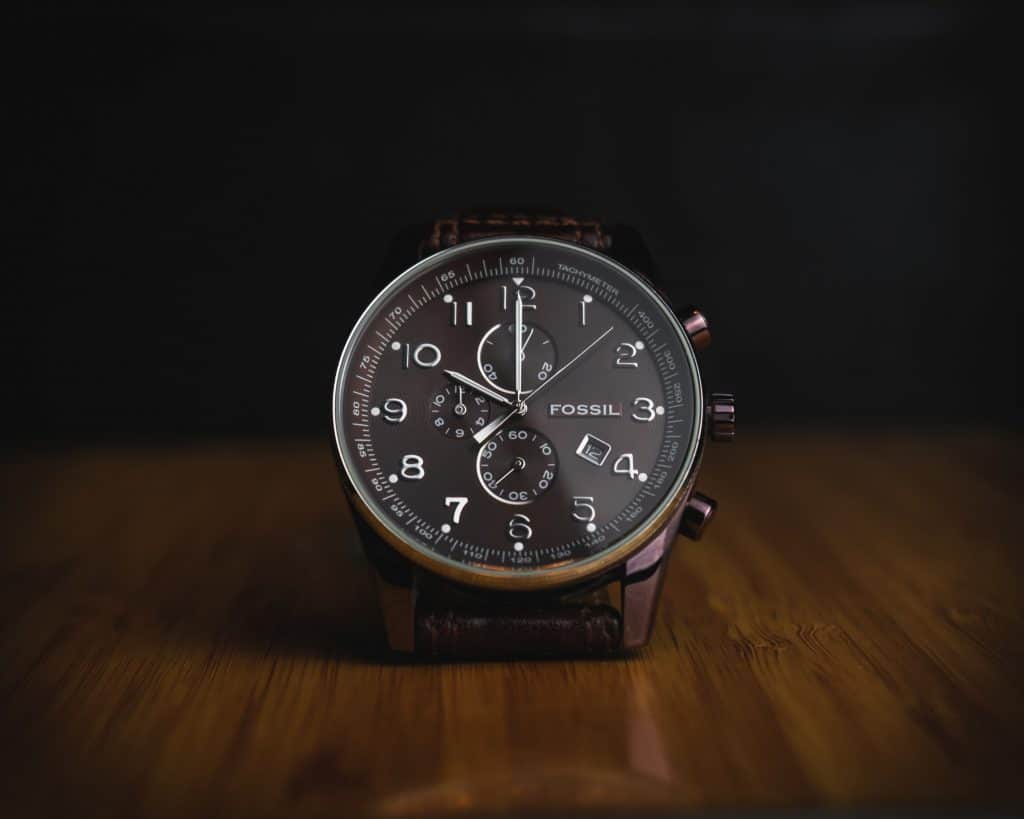 Materials
The raw materials of a watch are extremely important. Poor quality materials result in a poor-quality watch. Luckily, Fossil uses great quality stainless steel alloys, great crystals, and high-quality leather for its leather straps. This all results in a better watch, but also in a slightly higher price.
Their stainless steel ensures your watch won't rust and that it's scratch resistant. And if you do scratch it, it's easy to fix by polishing it. Polishing is the act of removing a minuscule layer of the metal (read more about it in this article here!) to fade away the scratch.
Fossil watches are also really accurate. All Fossil watches use either a Quartz or Mechanical movement, and both are very reliable and precise. They are also not that susceptible to outside factors such as gravity or magnetic fields.
Durable
Aside from ensuring a watch looks great, high-quality materials are also important to how durable a watch will be. Poor quality materials once again result in a poor quality watch. But since Fossil uses good-quality materials, their watches are quite durable.
Fossil watches will easily last you a good five years, if not more. They are also water-resistant (it depends on the watch what depth it can endure, so make sure you know how deep your watch can go before doing any activities that involve water), so there's nothing to worry about on that front either.
Overall, Fossil watches don't only look fantastic, but they are also precise and durable. You get the complete package, but that also means that their prices will be a little bit higher than any of the mass-produced, lower-quality watches. It's only fair.
Namesake
Lastly, Fossil is also a recognized name. It might not be as renowned as Rolex, Audemars Piguet, or Patek Philippe, but Fossil is definitely not synonymous with poor watches either. It has always been known as that brand that sits nicely in between!
There are several more affordable watch brands known for creating quality timepieces, and Fossil is one of them. Just the name might not bump up the price as it does for Rolex, but there's definitely a price to pay for wearing the name of a quality brand!
The History Behind Fossil
Fossil is an American brand that falls under the Fossil Group, Inc. The brand was founded in 1984 by Tom Kartsotis and includes a range of brands. Aside from their Fossil watch endeavors, the Fossil Group also creates licensed products for well-known brands. Some of these brands include BMW, Puma, Armani, Michael Kors, DKNY, and Diesel.
In 1984, Tom Kartsotis found the brand after seeing the potential profits in importing goods from the Far East. Although he wanted to import many different goods, importing moderately-priced watches would be the main focus. Here is where the roots of Fossil watches lie as well. To this day, most Fossil watches are mass-produced in China.
In 2001, however, Fossil wanted to create a foothold in the Swiss watch market. They positioned themselves by purchasing a Swiss brand named Zodiac Watches. Later on, they also bought the Michele Watch brand, officially positioning themselves in the Swiss market. To this day, Fossil still has these collections, Michelle and Zodiac, as their luxury Swiss line.
Despite being a brand on its own, Fossil also creates licensed products for other brands. Michael Kors, Kate Spade, Burberry, DKNY, Armani, Diesel, Marc Jacobs, and even Adidas watches are all essentially Fossil watches. They just have a different logo, but Fossil is the one that made them.
Overall, Fossil is an amazing brand. They have positioned themselves perfectly as a great-quality watchmaker that offers timepieces for affordable prices. They offer watches for as little as $50 or less, but they also have some more expensive offerings. On average, you can expect to pay around $200 for a Fossil timepiece. An amazing price to quality ratio!
Is Fossil A Luxury Watch Brand?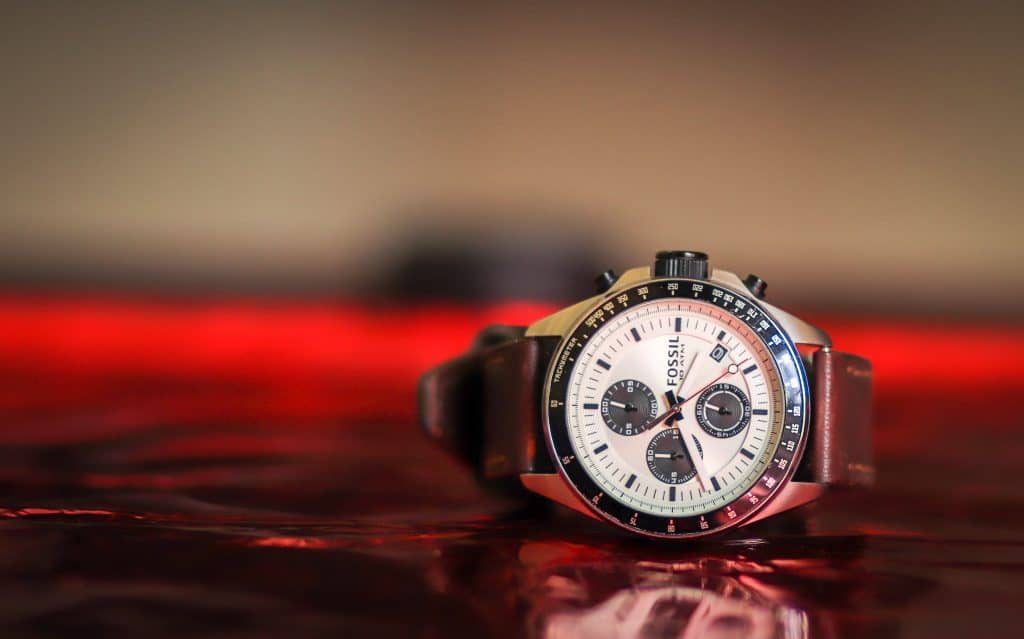 Fossil is not a luxury watch brand. Luxury watches are hand-made by experts, utilizing the highest quality materials and have intricate designs. Furthermore, luxury watches are in limited supply and not mass-produced. Fossil does not check every box, thus resulting in them not being a luxury watch brand.
Luxury is of course a pretty subjective topic. For some, a Rolex is an unattainable piece of luxury, while for others, it's just another piece for the collection. Despite luxury being a subjective topic, there are a few guidelines for watches in order to be classed as luxury watches.
One of the first guidelines is the materials used. Luxury watches only use the best of materials, and although Fossil uses great-quality materials, they are not up to par with those used by the likes of Rolex. Their stainless steel alloys are of lesser quality and they also don't have a sapphire crystal. Sapphire crystals are a staple for luxury watches, as they are extremely durable and scratch-resistant.
Another extremely important factor for luxury watches is their movement. Luxury watch brands make their own in-house movements. Fossil does not. Fossils primarily uses the movements made by Seiko and Citizen. Great movements, but not in-house.
And lastly, Fossil watches are readily available. Luxury watches are usually in limited supply. Because they are hand-made, it can take some time for the brand to make 1000+ watches. This leads to a feeling of exclusivity. However, Fossil watches are primarily produced in China in massive numbers. And on top of that, they also don't have that 'luxury price tag'.
All of this is not to say that Fossil makes bad watches; they just aren't up to par with the high-end luxury brands. And that's okay. Fossil doesn't go after that market. They aim to make affordable yet qualitative watches for anyone.
Are Fossil Watches Worth It?
Fossil watches are some of the best price-to-quality watches on the market. Their watches are durable, accurate, and look amazing, all while being priced very reasonably. They are the perfect watches to purchase as your first timepiece or to add to your stylish collection. Well worth the money!
Fossil has long been known as the perfect brand to get an affordable but qualitative timepiece. As mentioned before, Fossil utilizes great-quality materials to make their watches. And although they are mass-produced, there is nothing inherently wrong with that. All watch brands that offer affordable/budget watches mass-produce them.
When it comes to the price-to-quality ratio, Fossil is in a perfect spot. They fill the gap between mega-expensive luxury watches and poor-quality budget watches that break after a year's wear.
How Expensive Are Fossil Watches?
Fossil has many different collections of watches, all varying in price. Some collections are as affordable as $50, while the luxury Swiss collections can go for up to $1000. It all depends on what collection you're buying from, but on average, a Fossil watch will cost you $200-$250.
Retro Digital
Retro Digital watches are among the cheapest Fossil offerings. With prices as low as $99, these are not only some of the most affordable Fossil watches, but some of the most affordable brand-name watches in general.
Still, these watches are of great quality. They have a digital movement and usually come with a metal bracelet. This makes for a classy look that pairs nicely with the digital display. It's a little different than usual, but that's part of its charm!
Neutra Chronograph
The Neutra Chronograph range is slightly more expensive than the Retro Digital watches, but these timepieces are still really affordable. They cost around $149 (with some a little lower and some a little more expensive), so that makes these really affordable watches.
And they also look great. You can choose between a metal bracelet or a leather strap with several different styles and colors. This watch has a quartz movement, is water-resistant up to 50 meters, and has the stopwatch ability. Overall, a great watch, especially for such a price!
Everett Chronograph
The Everett Chronograph is a slight step up from the Neutra Chronograph in terms of price. These timepieces go for $169 apiece, making them slightly more expensive. The Everett has a slightly different look; a little more bulky and only with metal bracelets.
There are four different colorways; one all-black watch, a stainless steel one with a blue face, a darker stainless steel one with a dark grey face, and a two-tone stainless steel variant.
The great thing about this collection is that there's something for everyone. If you're looking for something classy, you've got the stainless steel options. If you're looking for something flashy, you've got the two-tone one, and if you're looking for something different, there's always the all-black timepiece!
Gen 5 Smartwatch
Gen 5 is Fossil's take on the nowadays popular smartwatches. These smartwatches come in many different colors, some of the most popular being the Carlyle HR Smoke Stainless Steel smartwatch and the Black Silicone smartwatch.
What's cool about these smartwatches is that some of them have a stainless steel bracelet, something not that commonly seen with smartwatches.
For a Fossil Gen 5 Smartwatch, you can expect to pay around $250 with some models going as high as $350.
These smartwatches are powered by Google's Wear OS and are compatible with both Android phones and iPhones. The Gen 5 Smartwatches are highly functional, but be careful near water. They aren't as water-resistant as one might hope!
Zodiac
These watches don't display the Fossil name. Instead, they keep their original Zodiac name displayed. Still, this brand is part of the Fossil Group, and these are some of the most expensive Fossil watches on the market.
For a Zodiac watch, you can expect to pay $1000 dollars. This is an average, and most watches are actually a little more expensive than that, but these really are the upper-tier watches when it comes to Fossil.
There are many different styles of Zodiac watches. Some with leather straps, others with metal bracelets. Some with quartz movement, others with automatic movement. In short, there is something here for everyone. That is if you want to pay $1000 for a Fossil watch, of course!