Hamilton is known for creating great-looking and qualitative watches. However, Hamilton watches' price tags remain contested, with many questioning why these watches cost so much when they aren't a luxury brand.
Hamilton watches are expensive because they are made of high-quality materials, have a costly manufacturing process, have been worn by celebrities, and are made by a trusted Swiss watch brand. The fact that Hamilton sponsors high-profile events also contributes to their watches' pricing.
Read further for an in-depth explanation of why these coveted watches have such a high price tag.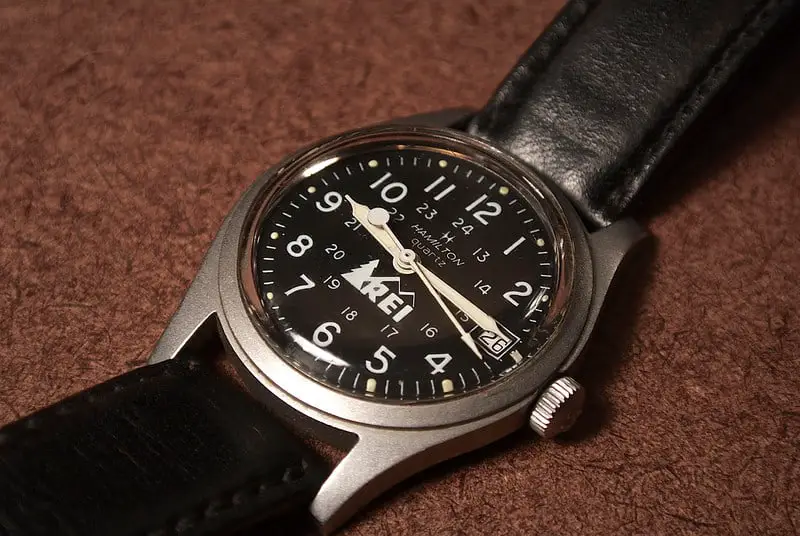 Why Are Hamilton Watches So Expensive?
While Hamilton watches aren't as expensive as luxury watches, they are not cheap either. Currently, there are over 70 different men's models alone, and on average, you'll pay between $300 and $3000 for a Hamilton watch.
Hamilton has its reasons for why these watches are priced that way. They tend to focus a lot on quality and aren't afraid to go the full mile.
High-end materials, an in-house manufacturing process, and all of that taking place in Switzerland are just a couple of reasons why Hamilton watches are expensive.
Below, we'll go over the main factors that determine the price of a Hamilton watch!
Hamilton Is a Trusted Watch Brand
Hamilton watches were originally made in Lancaster, Pennsylvania. However, they moved their production to Switzerland in 1969 and were bought by SSIH (today known as The Swatch Group) in 1974. 
As one of The Swatch Group's brands, Hamilton is synonymous with Swiss watchmaking excellence and must comply with the group's stringent standards. This builds consumer trust and is one of the reasons their watches fetch a high price. 
It also helps that Hamilton watches appeal to a wide range of customers. With their classic style, Hamilton watches aren't "fast fashion" watches; they're timeless pieces you can wear for decades.
If supporting a watch company with a strong American heritage using Swiss watchmaking technology appeals to you, you'll be hard-pressed to find another brand like Hamilton.
Even though the company has undergone many changes over the years, it has consistently been viewed as a reputable brand that produces excellent watches.
Hamilton Watches Are Made of High-Quality Materials
Hamilton uses only the best quality materials to create their beautiful timepieces: 
Stainless steel. This metal is incredibly durable and scratch resistant. Most Hamilton watch cases are made from it. 
Titanium. Top-of-the-range Hamilton watches can have titanium cases, which are just as robust as stainless steel ones but more costly. However, titanium is more lightweight, making it ideal for a wristwatch. 
Genuine leather. Not all Hamilton watches have leather straps. Hamilton will use only genuine cow's leather on the models with leather straps.
Sapphire crystal watch glass. This is the best available material to cover the watch's face with. It's so scratch resistant that it can only be scratched by diamonds. While it is the best possible material for the job, it's also the most costly one.
Precious stones. Some Hamilton watches have precious stones, such as tiny diamonds. In such cases, Hamilton will provide the customer with a Precious Stone Certificate, proving that it is Top Wesselton quality.
High-quality materials typically cost more. Using such materials increases the production cost, bumping up the price.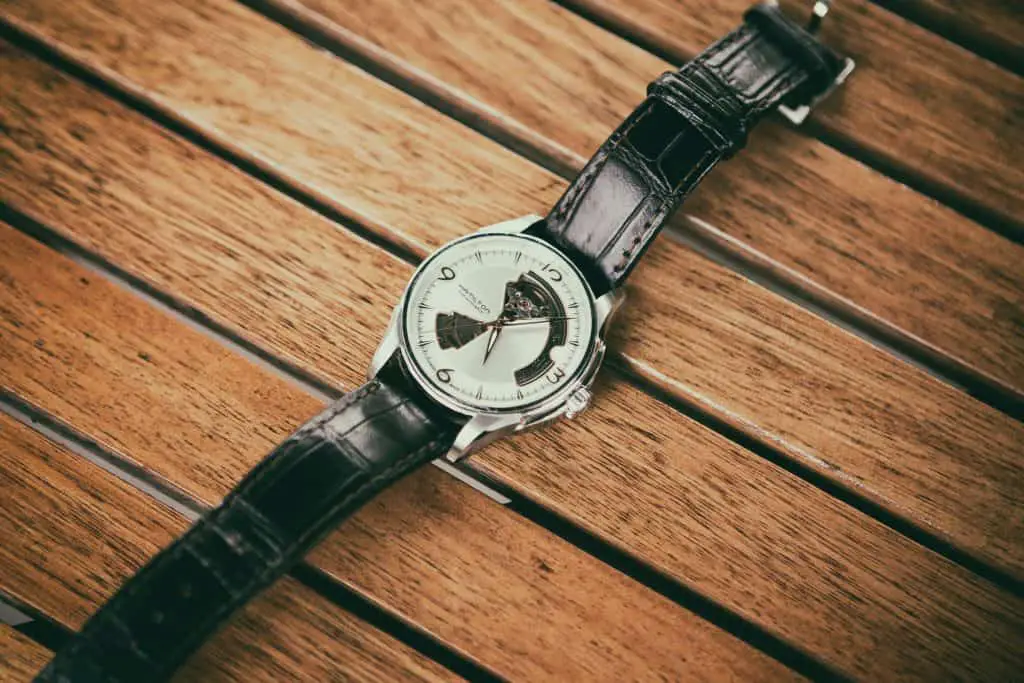 Hamilton Watches Have a Costly Manufacturing Process
Since 2011, Hamilton has been producing their own watch movements or calibers in conjunction with ETA, another Swatch-owned company. The in-house watch caliber design is backed by several years of research and uses only the best quality parts to ensure that it's as accurate as possible.
In-house caliber design results in better watches than outsourced movements, but the former is more costly. This is one of the main reasons brands that produce their movements in-house price their watches higher than their outsourcing counterparts, and Hamilton is no exception. 
Another factor that increases the manufacturing costs of Hamilton watches is where the caliber is made.
As a Swiss company, Hamilton is bound by laws that require at least 60% of the watch caliber to be made in Switzerland. Though it can manufacture the remaining 40% in countries with low production costs, creating most of the watch caliber in Switzerland pushes up the manufacturing cost.
Since the manufacturing cost makes up the larger part of any product's pricing, increasing it translates to more expensive watches.
In addition to the in-house caliber design and the legal obligation to make most of the watch caliber in Switzerland, Hamilton watches' manufacturing costs are increased by the fact that they undergo a stringent manual quality control process to check for: 
Water resistance
Integrity of parts
Accurate placement of parts
These quality control processes are costly, and you can bet they're included in the watches' pricing.
It's in the brand's best interest to perform thorough quality checks because customers receive a free 24-month warranty that covers any manufacturing defect or part failure.
The warranty terms also allow you to return your watch for a full refund within 30 days if you're unsatisfied with the product's quality. So if the brand doesn't do its due diligence in checking for quality defects, it stands to lose money fulfilling its warranty obligations.
Some Celebrities Wear Hamilton Watches
One of Hamilton's most remarkable accolades is that its watches have appeared in over 500 movies, yet no movie star has ever been paid to wear them. Some of the most well-known examples of celebrities wearing Hamilton watches in movies include: 
Marlene Dietrich in Shanghai Express.
Elvis Presley in Blue Hawaii.
Matt Damon in The Martian.
Chris Hemsworth in Men in Black.
George Clooney in Ocean's Eleven.
Roger Moore in Live and Let Die.
Hamilton watches have also been worn in popular television series: 
Hugh Laurie in House.
Aaron Staton in Mad Men.
Claire Danes in Homeland. 
The brand has also had various paid ambassadors: 
Daniel Henney, a popular American model and actor.
Dario Costa, the world-famous racing pilot.
Pierre Frolla, a record-breaking deep sea diver. 
Having so many stars wearing Hamilton watches has secured Hamilton's status as a sought-after watch brand. Research has it that celebrity endorsements can positively change a brand's perception in consumers' eyes, establish loyalty, and increase demand.
This makes buyers willing to pay more for celebrity-endorsed products, and that has been the case with Hamilton watches.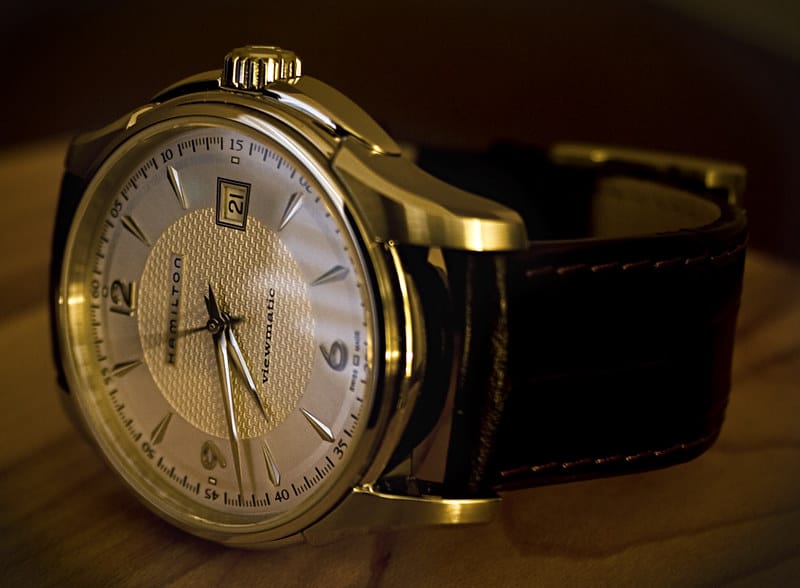 Hamilton Is a High-Profile Sponsor
Another reason Hamilton watches are so expensive is that the company regularly sponsors high-profile events and services such as:  
Syroco sailing team. Syroco is a French startup that has built what they believe to be the world's fastest yacht. Their goal is to shatter the record for the fastest time sailing around the world, and it's doing it with Hamilton's sponsorship. 
Far Cry 6. As a popular video game, Far Cry 6 features characters wearing Hamilton watches. 
Air Zermatt. Air Zermatt is a Swiss mountain rescue service that Hamilton sponsors. 
Red Bull Air Race. Although Red Bull is the main sponsor of the Red Bull Air Race, Hamilton is also a sponsor and provides all the timekeeping devices.
Sponsorships come with several benefits, among them brand exposure and advertising. These two perks play a critical role in boosting Hamilton's brand equity. In other words, they help build Hamilton's prestige.
When consumers view a brand as prestigious, they're willing to pay more for its products. So by sponsoring high-profile events, Hamilton sets itself up to price its watches higher without compromising on demand.
Are Hamilton Watches Worth It?
A Hamilton watch is fantastic value for your money. While not quite a luxury brand, Hamilton sits amongst respected watchmakers, known for their incredible quality, accuracy, durability, and timeless design.
Hamilton sits amongst the most respected watchmakers in the world. Together with Seiko, the brand shows that you don't need to be a high-end luxury brand in order to make quality timepieces.
When you purchase a Hamilton watch, expect to receive a high-quality timepiece, expertly assembled by a Swiss watchmaking expert, and made of high-quality materials.
Additionally, many recent Hamilton watches also contain an in-house movement.
Overall, Hamilton ranks among one of the best brands when it comes to value for your money.
And on top of that, Hamilton watches tend to hold their value relatively well; a difficult feat for even the most respected luxury watch brands.
Most Expensive Hamilton Watches
Now that we know why Hamilton watches are so expensive, let's take a look at some of the most expensive ones the brand has to offer.
Typically, these timepieces are made with extra care and attention to detail, ensuring an excellent horological experience!
Hamilton Khaki BeLOWZERO Black Dial
The Khaki BeLOWZERO is a fantastic watch for deep water excursions. It is water resistant enough for the wearer to reach depths of up to 100 bar (1,000 m) and has a helium escape valve and a convex-shaped sapphire crystal to help it to withstand even the most intense deep water adventures. 
However, this watch's most fascinating feature is the black PVD-coated case, which looks like a submarine. Though this watch is ideal for deep water enthusiasts, it's also a great sailing watch with "being worn by Matt Damon in the 2015 movie, The Martian" as a bragging right.
This Hamilton watch is incredibly durable with a sapphire crystal. It's also an automatic watch with a power reserve of up to 72 hours!
On the flip side, this watch is one of the most expensive Hamilton pieces, costing between $1500 and $2000.
Hamilton Pulsar
Priced in the $1000-$1,500 range, the Pulsar is easily one of the most legendary watches from Hamilton. It starred in the James Bond film Live and Let Die, giving it instantaneous cult status. When the watch was initially launched, it became a cultural icon, and the current version is no exception.
The Pulsar is a 40mm digital watch in a stainless-steel case. It features a unique digital display in a neat, minimalist package. The watch also has a fashionable bracelet and comes with 100m of water resistance.
Hamilton American Classic
This watch is known as The Hamilton American Classic Intra-Matic Chronograph Mechanical Movement Black Dial Steel. Measuring 40mm, this watch is the perfect sized watch for a fashionable man.
A unique chronograph aesthetic comes with its oversized crown that is attended by a large pusher on either side. It also has a box-shaped sapphire crystal with a double anti-reflective coating that exudes charm. The price tag on this is $1800-$2200, depending on where you shop.
Hamilton Ventura Elvis80 Skeleton Car Version H24525331
From the name, it is easy to figure out that superstar Elvis Presley made this watch version quite famous. Apart from the Swiss-made automatic movement, this Hamilton contains a sapphire crystal and is water resistant for up to 50m. It is skeletonized with luminous hands and indices. 
Currently, the Hamilton Ventura Elvis80 goes for about $1800-$2200 on the open market.