When shopping for a new, luxury watch, you will soon come across the Longines watch brand. If you check their watch prices, they are certainly more expensive than most. So, why are Longines watches so expensive? 
Longines watches are expensive because they carry a two-year warranty, are Swiss and handmade, use premium parts, and are water-resistant. Longines also has an impressive history as a luxury watch brand with an excellent marketing campaign, and they offer many luxury watch lines. 
Read further to discover more about what makes Longines watches so expensive.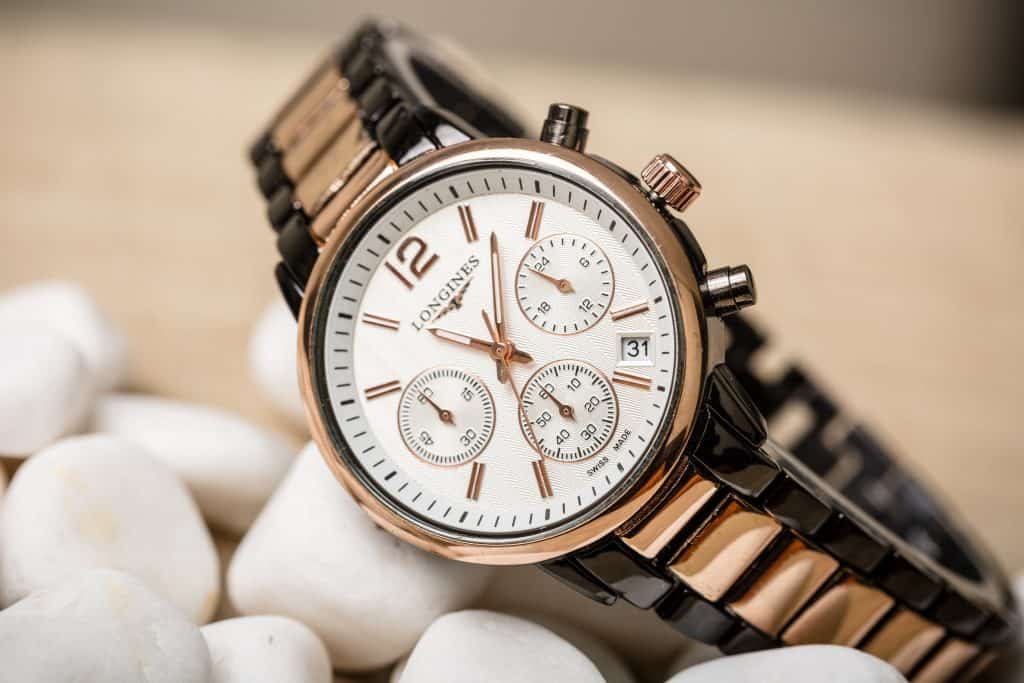 Reasons Longines Watches Are So Expensive
Investing in a high-quality watch can be a great investment, but you must make sure that you're putting your hard-earned dollars to good use by purchasing a watch that can justify its price tag. Here are some of the many reasons why Longines watches are so expensive.
They Carry a Two-Year Warranty
Every Longines watch comes with a two-year warranty, although automatic watches have an extended warranty of up to five years. Other luxury watchmakers (such as Rolex and Omega) also offer similar length warranties. Including such long warranties with the watch will inevitably inflate the price tag. 
The Longines warranty covers manufacturing or material defects, and the company commits to returning the watch to you in complete working order, or they will replace it. All Longines customers receive a warranty certificate, which must be stamped, signed, and dated with the purchase date. 
They Are Swiss-Made
Swiss watches are synonymous with exceptional quality, longevity, and luxury. Longines complies with the country's strict watchmaking standards as a Swiss timepiece creation company. 
Each Longines watch has been made according to the NIHS's (Federation of the Swiss Watch Industry) guidelines. These guidelines cover the following watchmaking aspects: 
Design.
Materials.
Shock resistance.
Chronometer movement.
Testing.
Anti-magnetism.
Water resistance.
They Are Handmade
If you're looking for a watch at a bargain price, the chances are that it will be mass-produced. 
Longines watches, however, are still made according to traditional watchmaking techniques. Each Longines watch is handmade in order to ensure the highest possible quality. Additionally, not just anyone is allowed to make a Longines watch; only fully-trained and expert professionals can put them together.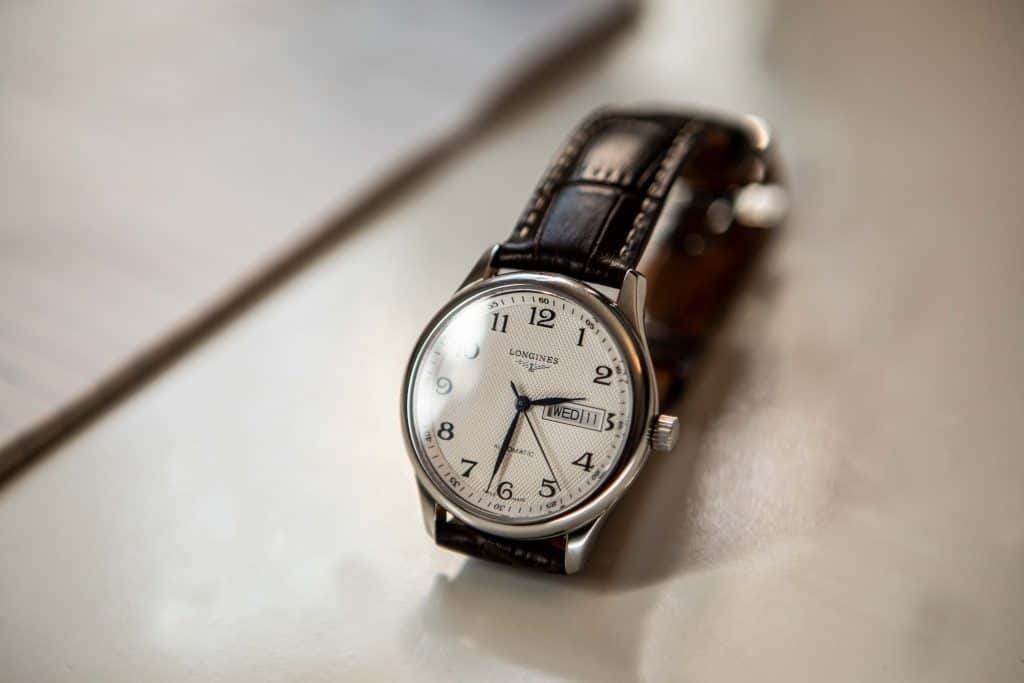 After each watch has been handmade, it undergoes Longines's stringent in-house quality control process before being retailed. It's also common for Longines's CEO, Matthias Breschan, to oversee the watchmaking process in person and provide his input. 
Hand-making watches is a more expensive and time-consuming process than mass-producing them because the company has to employ expert watchmakers. Unlike factory assembly lines, you need to hire trained professionals who can make your watches. High labor costs are one of the main reasons why Longines watches are so expensive.
They Are Water-Resistant
Longines watches are water-resistant according to the ISO 22810:2010 standard for water resistance in watches. This means that you can safely expose any Longines watch to light rain or wash your hands while wearing it. 
Depending on the model, Longines watches can be water-resistant up to the following water depths: 
30 meters (98.42 feet). These watches can handle the occasional small water splash but you can't shower, swim or snorkel when you wear them. 
50 meters (164.04 feet). Longines watches with a 50-meter (164.04 feet) water resistance allows you to shower, swim, or snorkel when wearing them. 
300 meters (984.25 feet). This is the top water resistance rating for Longines watches and is ideal for deep-sea divers. 
They Have an Impressive History
Buying a Longines watch means you are buying a tiny piece of the company's long and impressive history–and it's difficult to put a price on this. 
The company was founded in 1832 by Auguste Agassiz, a talented Swiss watchmaker. It was only in 1846, when Agassiz's nephew (Ernest Francillon) joined the company, that it made a name for itself. 
Over the past two centuries, Longines has created countless patents and has always had an excellent yet understated reputation as a luxury watchmaker. The Longines name definitely commands respect, and that's found back in the price.
They Have Celebrity Endorsements
Only the most luxurious and best watch brands worldwide have celebrity endorsements. Although it's not as famous as Rolex or Jaeger-LeCoultre, Longines has had its fair share of celebrity customers and advocates: 
Kate Winslet
Jung Woo-Sung
Regé-Jean Page
Géraldine Fasnacht
Andre Agassi
Steffi Graf
These celebrity endorsements confirm Longines as an exclusive and sought-after watch brand, one of the reasons for its high price tag. 
They Use Premium Quality Parts
Each Longines watch has premium quality parts to ensure that the watch continues working for a lifetime. The parts undergo a rigorous quality control process before being approved for use and comply with Swiss watchmaking standards. 
Examples of Longines' premium quality parts include using: 
Genuine leather instead of imitation.
18-carat gold.
Stainless steel instead of cheaper, rust-prone metals.
Tiny diamonds instead of cubic zirconia.
Sapphire crystal watch glass with double, anti-reflective coating instead of plastic or mineral glass.
They Offer Many Luxury Watch Lines
When choosing a Longines watch, there's a good chance you'll find one that suits you perfectly. Longines have many models available to suit all watch preferences and wrist sizes.
Here are some examples of their watch collections: 
Classic
Elegant
Master
Sport
Diver 
Each collection has carefully-designed watches with special features, precious stones, and top-quality metals. 
A popular Longines watch is the Aviation BigEye. Its design is reminiscent of the 1930s watchmaking style, and it has a big face, clear numerals, and chunky buttons. The light brown, genuine leather strap perfectly contrasts the deep, petrol blue watch face.
They Have an Excellent Marketing Campaign
In the past few decades, Longines has increased its marketing efforts and has recently focused on highlighting its long history, famous ambassadors, and extensive collections. 
Many of their marketing efforts involve sponsorships and costly initiatives, which is why their watches are so expensive. 
They have provided timekeeping devices at well-known sporting events and also sponsor high-level events, including: 
Longines Future Hahnenkamm Champions (alpine skiing).
2022 Birmingham Commonwealth Games (various sporting events).
HH Sheikh Mohammed Bon Rashid Al Maktoum Cup (endurance).
Dubai World Cup (flat racing).
Emirates Longines Show Jumping League (horse jumping).
Conclusion
You can expect to pay a lot for a Longines watch, but the price is worth it. They are beautiful Swiss-made watches that offer exceptional quality. Plus, every Longines watch comes with at least two years of warranty, so you can trust that you're investing in a watch that will last you a while.