Panerai is one of the leading luxury watch brands and boasts a solid reputation, courtesy of its attention to detail and impressive customer satisfaction rates. Despite their high price points, Panerai watches are highly popular and in demand. So, you might be wondering why they're so popular.
Panerai watches are so popular because they're expertly made in Switzerland with the highest quality materials. Many of Panerai's in-house movements are complicated, and each watch is made with precision and attention to detail. The brand has a good reputation and sells many styles of timepieces.
This article will discuss the main reasons why Panerai watches remain popular despite their high costs. Keep reading to learn more!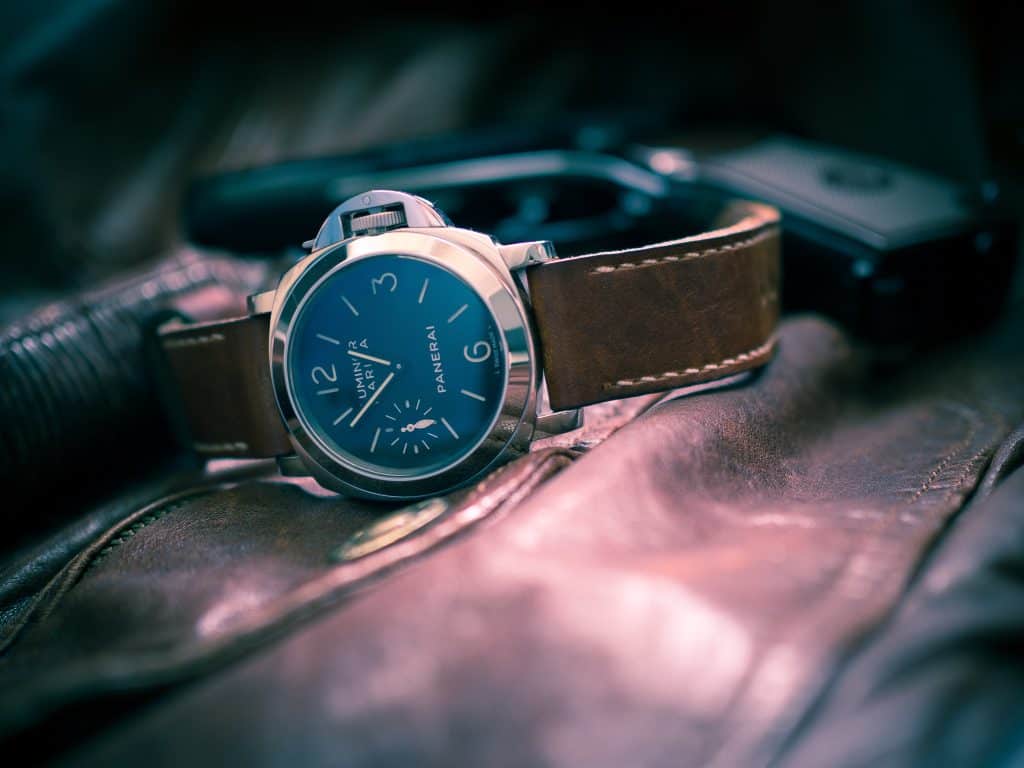 1. Panerai Utilizes In-House Movements
Firstly, it's important to discuss how Panerai watches are made. 
Panerai creates the movements in-house, including hand-wound, automatic, and high-complication movements.
Each watch is carefully hand-crafted by industry-leading experts, ensuring each piece is up to standard.
Let's look at each type of movement in more detail below.
Hand-Wound Movements
Panerai has created several hand-wound in-house movements, including the P.1000 caliber, which features the essentials like hours, minutes, and seconds.
The power reserve is three days, so you'll only need to wind a watch with this movement once every 72 hours.
Since it's hand-crafted by experts from Panerai, this hand-wound movement is dependable, robust, and sure to last a long time.
Other in-house hand-wound movements include the P.3000 caliber and P.6000 caliber.
Automatic Movements
While Panerai owns an array of hand-wound movements, it also owns some automatic movements.
An example is the P.900 caliber, with a power reserve of three days.
Unlike the hand-wound movements, the P.900 movement automatically winds itself with the help of the wearer's wrist. By moving your wrist, you wind the watch.
Other in-house automatic movements include the P.9010 and P.4000.
Automatic Panerai watches are more expensive than hand-wound mechanical ones because they're more complex, time-consuming, and costly. 
High-Complication Movements
Not all watch brands create innovative high-complication movements, but Panerai certainly does.
An example of one of the most complex Panerai movements is the P.2005/MR Caliber, which took four years to perfect.
This movement has many features, including:
Hours
Minutes and seconds
Power reserve indicator
Tourbillon
You'll find this movement in some of the most expensive Panerai watches, including the Radiomir 1940 Minute Repeater.
Other high-complication in-house movements include the P.9100/R caliber and P.2005/T caliber.
2. The Watches Are Made of the Best Materials
Panerai watches are popular because they're made of high-quality materials that stand the test of time.
Unlike cheap watches, you won't find things like plastic or acrylic glass in Panerai watches.
All materials are high-end, robust, and durable.
If you look at different watches on the Panerai website, you can see what materials they're made of.
Here are some examples of the materials used in different Panerai watches:
Brushed steel: Brushed steel is a relatively expensive and durable material, and is used to make several Panerai watches. 
Sapphire crystal: A sapphire crystal is the piece of 'glass' that covers the watch's face. It's extremely durable and can only be scratched by diamonds. This makes it the most scratch-resistant option for watch face glass available.
Leather: Some Panerai watch straps are made of different types of leather, like suede. This material is expensive, but it's super smooth on the skin. 
Gold: Some of the more expensive Panerai watch models contain real gold, making them costly but highly popular and sought-after. However, you'll likely need to spend five or six figures on a Panerai watch that contains such valuable material!
Panerai watches are made of water-resistant materials, but the precise resistance level depends on the model. The Submersible range is the most water-resistant at approximately 300 meters.
Luminor and Radiomir models are water-resistant up to 100 meters, and Luminor Due models are generally resistant up to 50 meters. 
The water resistance of Panerai watches (especially Submersible models) is another reason why they're so popular–it allows people to enjoy water activities like diving and jet skiing without damaging their timepieces.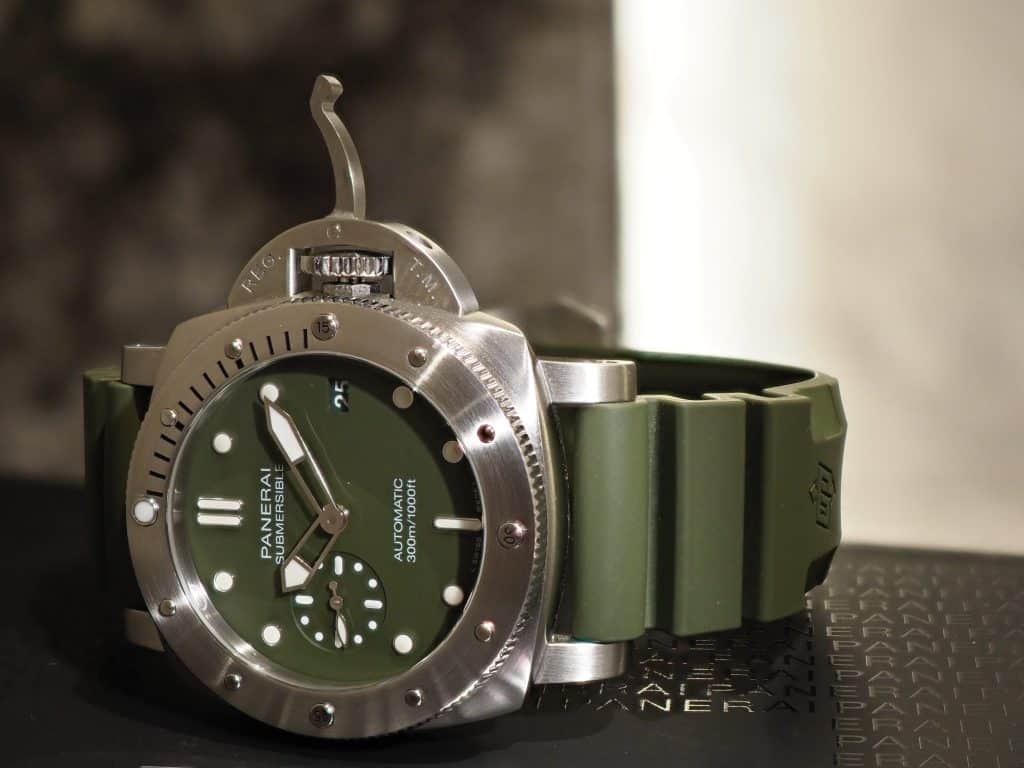 3. The Watches Come in Different Styles
Panerai is mainly known for creating large watches that take up a lot of wrist space. This is a unique look that makes them stand out from the many other brands.
Generally, you can see a Panerai watch from far away because of its bulkiness and unique style. 
Although most watches are big, they come in many styles and colors. There are four main ranges of Panerai watches, and they are:
Submersible: The Submersible range features many watches that are durable and the most water-resistant of all Panerai watches. 
Luminor: Luminor watches are based on the classic Panerai style with a modern and sleek touch. These are best for people looking for a more traditional and simple look. 
Radiomir: Radiomir watches are primarily based on the styles of the early watches made for the Italian Navy. These are best suited for people looking for a military-style watch.
Luminor Due: Luminor Due watch models come in different designs and colors. These are the smallest variety of Panerai watches, so they're perfect for those who don't want the typical 'large' Panerai style. 
Most Panerai watch styles appeal to men who like to have a large statement piece on their wrists, making them popular among this cohort. 
4. The Brand Has a Good Reputation
When considering why Panerai watches are so popular, it's essential to factor in the brand's overall reputation.
Panerai has a good reputation, and many 'masculine' male celebrities, like Arnold Schwarzenegger, The Rock, and Jason Statham, have worn Panerai watches publicly.
When big-name celebrities wear a specific brand, it creates brand awareness and makes the general public more aware of the company.
People look up to certain movie stars and artists, so seeing them wear Panerai watches can make them go out of their way to buy one or at least try one on.
Panerai also has a good reputation due to the reliability and quality of the watches and their movements.
People wear and keep their Panerai timepieces for many years without breaking or becoming overly damaged, which is undoubtedly good for their overall reputation.
Any watch enthusiast will tell you how much of a statement it is to adorn a Panerai timepiece.
The class and elegance associated with Panerai are probably why almost everyone wants to get their hands on one of these expensive watches. 
5. The Watches Are Highly Durable and Long-Lasting
As I briefly mentioned in the last section, Panerai watches are popular because they have a reputation for standing the test of time. I want to explain that a little more in this section. 
As long as you maintain your Panerai timepiece and look after it, it should last years, decades, or even a lifetime.
Panerai recommends a full service every 4-5 years, which isn't a lot in the grand scheme of things. And it's certainly worth it if it means the timepiece will last a long time.
When people want to buy luxury watches, they must consider the typical longevity and durability of the watch they want, especially if they're paying a few thousand dollars for it (at least)!
Since Panerai watches are known to last a long time without becoming too worn out or damaged, people are drawn to them as a viable luxury watch option.
Panerai offers world-class watch servicing for all your timepiece's needs, so even if you have issues with your piece, it's in excellent hands.
The trick to making your Panerai timepiece last long is to understand the model and its limitations.
For instance, having a clear understanding of the water resistance level of your watch will ensure you use it in the right environment.
Moreover, you should also know how to care for your Panerai watch depending on the type of material it is made of.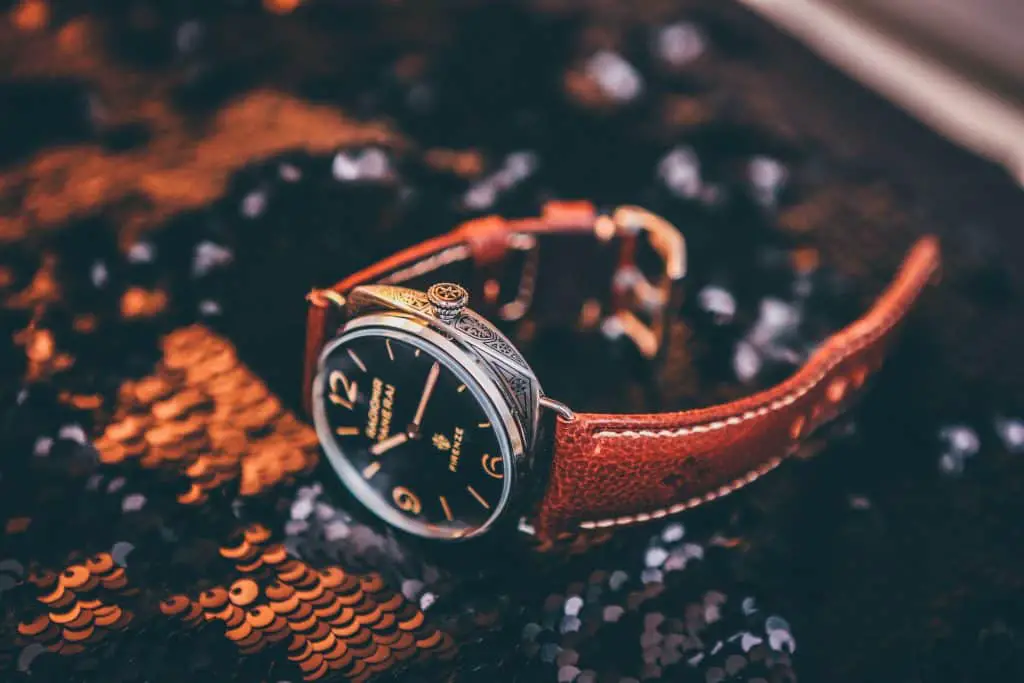 6. The Military History and Consistent Styles Appeal to Many
Initially worn by the Italian Navy, Panerai watches were made to be big, bulky, durable, and water-resistant.
This was done to fit the military needs. And although the general style has evolved over the years, the watches still appear bulky and military-like in many cases.
This appeals to (mostly) men who like to wear bulkier watches with a rich military history.
Having a military association or background is more than enough reason for many men to appreciate the brand as a whole.
The brand has remained consistent over time, ensuring the styles and watch ranges don't stray too far from the original design concepts.
Panerai's commitment to style and design consistency helps to keep it popular among many timepiece enthusiasts who fancy the classic watch styles from the 18 and 1900s.
7. The Timepieces Are Carefully Hand-Crafted in Switzerland
Unlike many cheaper watch brands, Panerai watches are not made in factories in China or other countries where watches are often mass-produced.
Instead, they are carefully crafted in Switzerland, meaning you get a precise and authentic Swiss-made watch when you buy from Panerai.
Many watch lovers prefer to wear a Swiss-made watch because it's generally a product of quality and expert craftsmanship.
Panerai watches are not thrown together quickly and cheaply in a large factory to be mass-produced.
They are made in smaller quantities but with great care and dedication.
Each timepiece is made consistently to the highest standards, and as mentioned earlier, movements are made in-house.
Is a Panerai Watch Worth the Money?
A Panerai watch is worth the money if you have enough to spare and are looking for an expertly-made luxurious watch that will stand the test of time.
Each Panerai watch is made with great care and precision, and the materials used are top-of-the-range. 
You certainly won't have issues with your Panerai watch becoming damaged if you take good care of it and maintain it regularly.