Cartier is one of the world's most popular watch brands, renowned for its rich history, high-quality materials, and celebrity clout. If you own a timepiece from the prestigious Paris-based company, it makes sense to wonder how much a watch service will cost if something is damaged. So how much is a Cartier watch service?
A watch repair service for your Cartier watch starts at around $385. For Cartier chronograph watches, the service fee starts at around $450. If you're looking for a simple battery replacement, expect to pay about $50 for the job. 
Cartier watches are certainly an investment, and it's worthwhile to consider the cost of future maintenance for your beloved wrist piece. In this article, we'll go over how much you can expect to pay for a Cartier watch service and battery replacement. We'll break down the costs by movement type so you can zero in on the specific watch you have. If a new strap for your watch is what you're wondering about, we've pinpointed the starting price for you too.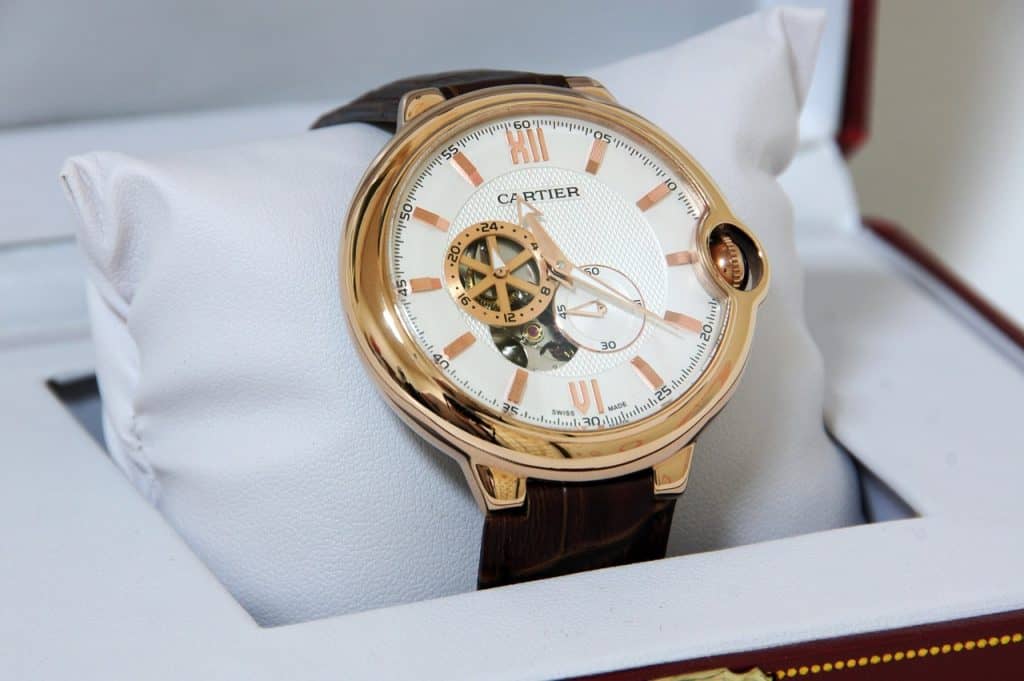 How Much Does A Cartier Watch Service Cost?
Depending on which reputable service specialist you take your watch into, a complete service for a Cartier watch is about $385 to start. For service on a Cartier chronograph watch, the price gets a little steeper at $450. A chronograph watch is a little more expensive to repair since it contains more intricate parts than a watch that only tells time. Battery replacements for quartz watches run anywhere between $45 – $100 on average. 
Remember that you are paying for parts, labor, and brand name prestige when you bring your Cartier watch into an authorized service center, so expect to shell out more dough than you would for a Seiko or Citizen watch repair. 
Movement 
Service 
Cost
Average
Complete service 
$385 – $450
Automatic / mechanical 
Complete service 
$415
Chronograph
Complete service 
$450
Quartz 
Complete service
Battery replacement (including new gaskets and pressure testing)
$45 – $100 
$70
                                                   
Cartier's ritzy and often-bejeweled watches come in designs both with and without diamonds, as well as durable and expensive materials like rose, yellow, or white gold. These materials are not as prone to scratches or breaking as cheaper parts that are put in cheaper watches, such as mineral glass.
Higher-end watches typically use a scratch-resistant sapphire crystal on the watch case, which is incredibly hard to break and lasts much longer than mineral glass. This is just one example of how Cartier's higher-quality parts drive up the cost of repair service.  
The watchmakers who work on your Cartier timepiece have to be incredibly skilled at what they do, too – thus another reason why the price for a basic service starts around $385. The brand recommends that you take in your timepiece for a check-up every five years. 
A complete watch service involves a Cartier expert performing several checks to verify the condition of your watch. Then, they'll disassemble the watch, clean the case and bracelet (if you have a metal one that needs polishing), and refurbish the movement. Last but not least, another series of checks are conducted to test the watch's performance, then the watch is reassembled back together. 
Do note that you will have to pay an additional fee to purchase any replacement parts for your Cartier watch. Anything that an expert watchmaker finds defective or damaged – like the crown, crystal face, dial, hands, metal bracelet, or leather strap – will need to be purchased by you on top of the basic service fee. 
Service Fees For Cartier Watch Models
You should expect to pay anywhere between $385 – $450 at minimum for a Cartier watch repair service. The amount you'll have to pay depends on the type of watch model you have in addition to any repair work that needs to be done. 
Cartier makes a wide range of quartz and mechanical luxury watches. Still, because mechanical watches are more complex than quartz (the former is made up of hundreds of tiny moving parts whereas the latter has a more straightforward design powered by a battery), Cartier's mechanical watches cost more to repair than their quartz watches.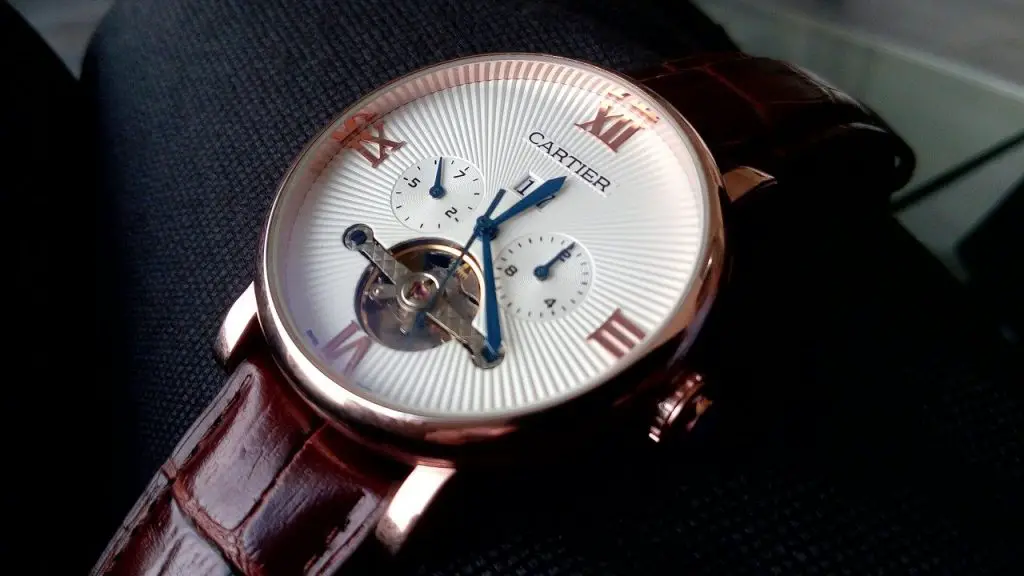 Here's a breakdown of several types of Cartier watches and the prices you can expect to pay when you bring your watch in for service. We've categorized them by movement.
Cartier Service Costs For Automatic And Mechanical Watches
Cartier's watches powered by automatic and mechanical movements cost about $415 for a full service. 
Cartier watches with automatic movements include the 1980's style Santos De Cartier, the Tank MC ("MC" stands for "Manufacture Cartier"), the Drive De Cartier Moon Phase, and the Pasha de Cartier Chronograph in stainless steel. 
Cartier watches with mechanical movements include the luxurious Tank Cintree, the Tank Asymetrique, and the Tank Solo. 
Cartier Service Costs For Chronograph Watches
Cartier also makes chronograph watches, which have stopwatch capability and are powered by an automatic movement. Many chronograph timepieces will feature other functions beyond the stopwatch, such as a pulsometer or telemeter.
These additional functions mean more parts to fix potentially, so expect to shell out a little more to service your Cartier chronograph watch than you would an automatic or mechanical watch from the same company. 

Servicing a Cartier chronograph watch starts at around $450. Have a Pasha de Cartier, Rotonde de Cartier, or the Santos de Cartier? Expect to spend about half a grand to keep your precious possession in tip-top shape.
Cartier Service Costs For Quartz Watches
A service for a Cartier quartz watch battery change may range from $45 – $100. Quartz watches are powered by a battery and have far fewer parts than their automatic and mechanical counterparts, so Cartier quartz watches are relatively cheap to service compared to their other movement types.
Ballon Bleu De Cartier, Ballon Blanc De Cartier, and Panthere Jewelry watches are some of Cartier's most popular quartz watches. 
Whenever a battery is replaced in a watch, any worn-out gaskets are usually replaced. A pressure test is also commonly conducted to ensure that the watch is water-resistant. Cartier's website lists that a battery swap including fresh gaskets and a pressure test is $70, but you'd have to send in your watch to get an accurate quote for the cost. 
How Much Does A Cartier Watch Strap Replacement Cost?
Cartier has an impressive catalog with watches that feature gorgeous straps and not metal bracelets. The cost to replace a strap depends on the specific watch type and material, but alligator skin replacement straps start at $350.