Whether you already have a Citizen watch in your timepiece collection or you're thinking about adding your first piece, it's common to wonder how much you'll pay out of pocket for servicing your watch in the future. So how much does a Citizen watch service cost, and does it vary depending on the watch type or model? 
Basic watch servicing starts around $50 for Citizen watches, including cleaning the case, changing the battery, and minor movement repair. For more involved repairs, such as a complete overhaul or fixing chronograph watches, service fees start at around $70 and upwards. 
We know you want to know how much it'll cost to repair your prized Citizen watch(es), so keep reading. We'll break down service costs for different watch types – like automatic, mechanical, quartz, and chronograph – as well as point out a few specific models and their likely service costs, such as the popular chronograph Eco Drive.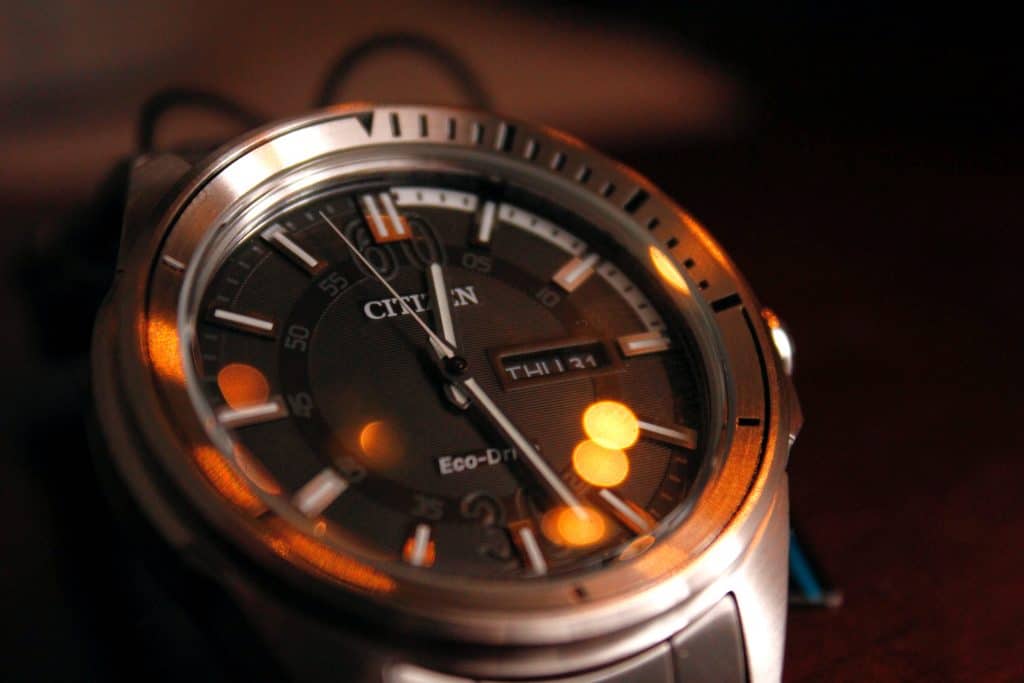 How Much Does A Citizen Watch Service Cost?
In general, it costs about $50 – $100 for a basic watch service on your Citizen timepiece. A more in-depth full movement repair service or complete watch overhaul starts around $125 and could go up to several hundred dollars. No matter what kind of servicing you receive, you pay labor fees and the cost of the parts. 
Most watch maintenance shops charge about $40 at minimum for labor costs (you are taking your watch to an expert, after all!), then charge you for the actual service and parts. A basic watch repair service averages $50 – $100. More complex services start around $100 for Citizen watches. Automatic and quartz watches are more basic; chronographs and mechanical watches are complicated and feature heavy – both inside and outside.
A basic watch repair consists of a case cleaning, battery replacement, and water testing, along with minor movement repairs and a new energy cell. Whoever you bring your watch to should also look over your watch's gaskets – inspecting, cleaning, and replacing them if necessary.
Since the brand has the famous Eco-Drive technology, most Citizen watches don't have a battery. So this is a step that can often be skipped. Some models do have a battery, though.
Chronograph watches typically get the same treatment as above. Still, they may cost a little more to service than a basic Citizen watch since chronograph timepieces feature more complex movements inside the case.
The latter also includes more functions – potentially causing the watch to require more servicing. Chronographs can measure your heart rate and calculate your average speed – why many athletes and sports goers reach for this type of Citizen watch. 
Many of the brand's Eco-Drive watches are chronographs. You can expect to pay at least $60 to service an Eco-Drive watch, like the Stiletto model. 
For quartz watches, you'll probably pay less to get them fixed than you would mechanical, automatic, or chronograph watches. This is because quartz watches have a less complex manufacturing process – i.e., these watches have fewer parts – so they'll be easier and thus cheaper to fix. A quartz watch service costs about $45. 
Movement
Service 
Cost 
Average
Basic service 
$50 – $100
Automatic / mechanical 
Basic service 
$50 – $200 
Chronograph 
                       Eco Drive
Basic service 
Glass replacement 
$75 – $400
$20 – $50
Quartz 
Basic service 
Battery change 
Reseal gaskets + pressure test 
$25 – $75
$10 – $45 
$60
Service Fees For Citizen Watch Models
Expect to shell out about a minimum of $50 – $100 bucks to service any of your Citizen watches, though for some watch types – like chronographs and mechanicals – you should expect to pay more to get them fixed.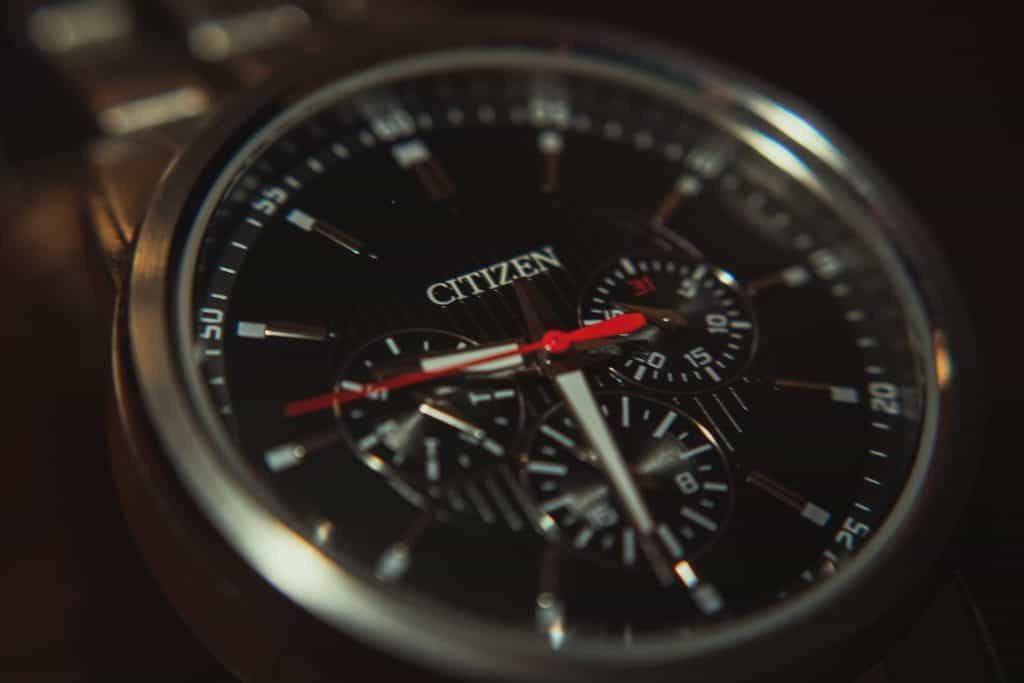 Let's take a look at several types of Citizen watches and break down how much you can expect to pay when you take it in for servicing. 
Automatic And Mechanical Watches
Citizen timepieces with automatic and mechanical movements without many complications are reasonably cheap to service since they do not contain as many complex features or intricate movements as some of the brand's other watch models. 
If you take a look at Citizen's website, their Modern and Classic watch styles tick this "basic" watch box – think the sleek Stiletto, automatic Grand Classic, Eco-Drive Chandler, or the circular or square-cased Axiom. 
You can expect to pay $50- $200 for a service. 
Chronograph Watches
Chronograph watches are a little more expensive to repair than less feature-heavy Citizen watches since chronographs combine stopwatch functionality with a display watch. Chronograph timepieces also have more complications and usually feature sub-dials inside the case and push buttons outside the case. More parts ultimately equal more service. 
It's common for chronographs to start their service cost at $65. For example, glass replacement for a Citizen Chronograph Eco-Drive is typically between $20-$50 depending on if your watch requires a flat or domed shape or a mineral crystal or sapphire composition. 
Conversely, some watch enthusiasts have posted in online watch forums that they have paid almost as much for a service as their watch initially cost. Unfortunately, there's no way to really tell how much a watch repair will cost you until you bring or mail it in! 
Quartz Watches
On the other hand, quartz watch services are often cheaper than services for other types of watches and models because quartz watches have a less costly manufacturing process (read: not as many intricate parts) and typically only require a battery change. 
A service for a quartz watch may range from $10 – $45 for a simple battery change ($65 – $95 for watches with hybrid quartz and chronograph movements) and another $60 to reseal the gaskets and pressure test its water resistance. 
For a total overhaul, expect to pay $200 or so.  
---
Now, don't be surprised if you take your watch in to get it fixed and receive a service estimate from your local watch repair shop quoting several hundred dollars for a fix-up.
Moisture in the case, overwinding, crystal replacement – depending on the condition of your watch, these factors can drive up the cost of your professional watch service. 
With proper maintenance and storage, you can skip significant repairs and bring your timepiece in only every few years for essential servicing.