Cartier is one of the most famous and influential luxury designer brands, and it's responsible for the rise of the wristwatch as an accessory. But if you're determined to acquire a Cartier watch for yourself, be prepared to invest, as these are wristwatches typically cost thousands of dollars. 
Cartier watches are expensive because they utilize high-quality materials, are only manufactured in Switzerland, and feature complicated designs. The patronage of wealthy individuals also contributes to a Cartier watch's high price.
The rest of this article will explore:
A brief history of the Cartier brand
Physical qualities that make Cartier watches expensive 
The manufacturing process of Cartier watches
How brand ambassadors contribute to the high price of Cartier watches
Whether you're interested in purchasing a Cartier watch or curious about the brand's reputation, continue reading to discover why these timepieces command astoundingly high prices.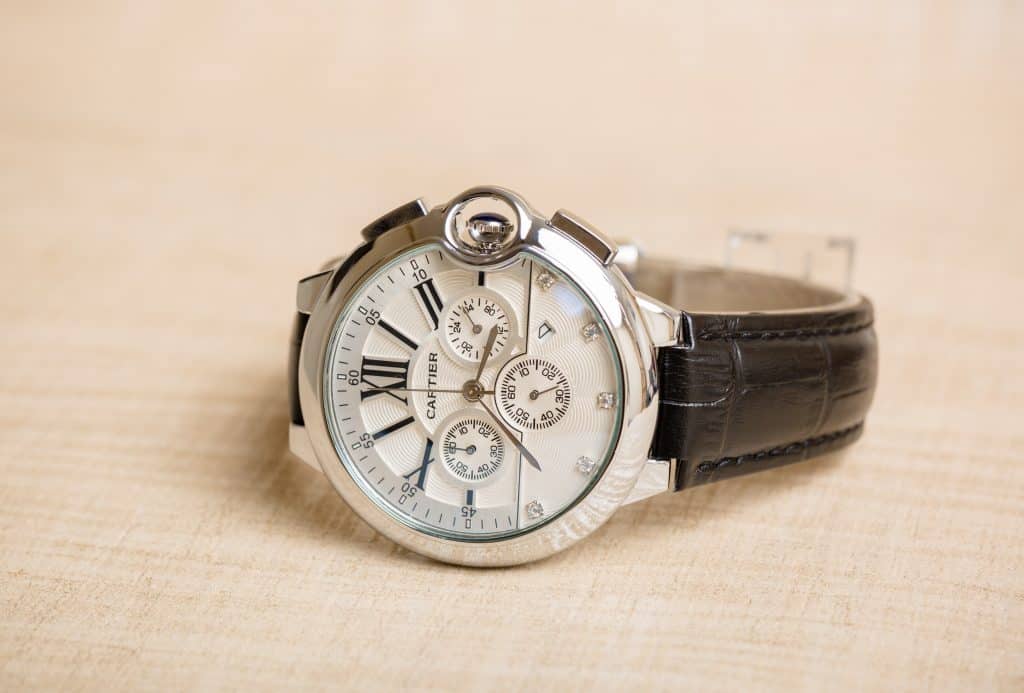 Cartier Is a Luxury Brand That Commands a High Price
Cartier is a designer brand that uses high-quality materials for their timeless watch designs, and they receive publicity from high-profile public figures. Their watches are made with real steel, leather, gold, diamonds, and other crystals, and those materials aren't cheap. 
Cartier is a famous luxury brand, so they can charge more simply for having their name on their watch designs. 
High prices are also linked to a laborious design and construction process, so Cartier watches aren't fast-fashion. Instead, these high-quality pieces took numerous people a significant amount of time and effort to design and assemble, and they're made to last a lifetime (or longer).
Cartier also has a history of high-profile figures supporting and wearing the brand, including historical figures like Princess Diana and Jackie Kennedy and young and hip celebrities like Willow Smith and Kylie Jenner. 
Finally, Cartier doesn't mass-produce their products like most luxury designer brands. 
They make a limited number of their products, so the high price also covers the exclusivity and unattainability.     
Cartier Watch History
Cartier is now most known for its jewelry, including rings, bracelets, and necklaces. But the brand actually began with watchmaking. 
Louis-Francois Cartier founded the brand in Paris in 1847, and his son Louis worked with Alfred Santos-Dumont of Brazil to create a wristwatch in 1904. Santos-Dumont was an aviator, and he complained to Cartier that pocket watches were unreliable in the air, as pilots needed to keep their hands on the controls and couldn't reach into their pockets.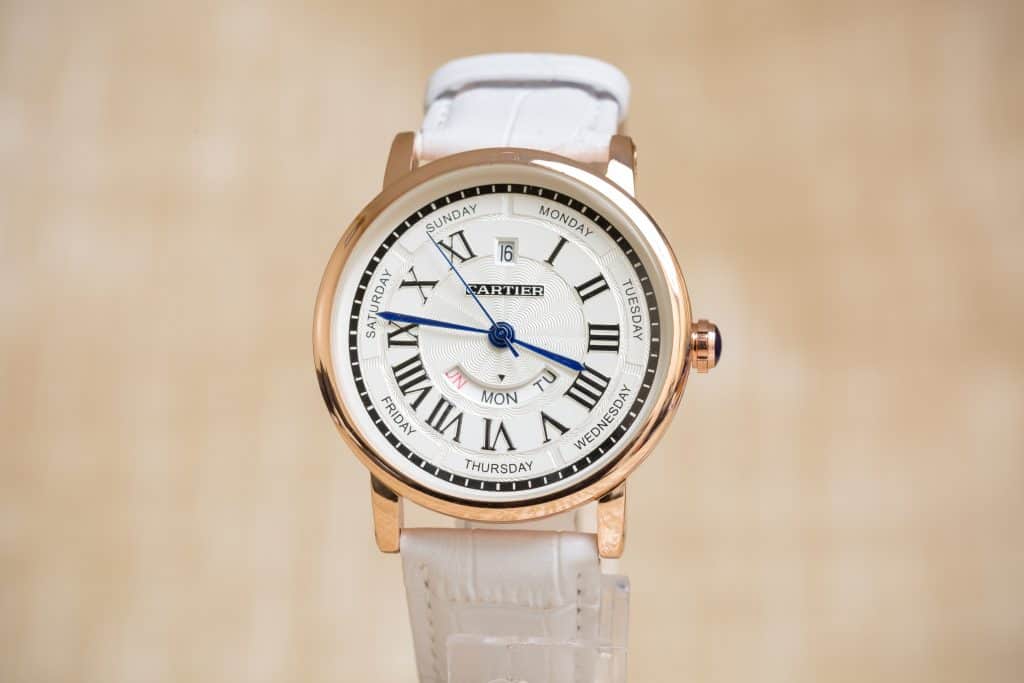 Santos-Dumont wore the watch everywhere, so Cartier began mass-producing the style, calling it "Santos." 
After this, wristwatches for men skyrocketed in popularity, and Cartier's reputation continued to grow. Fashion icons including Princess Diana, Jackie Kennedy, and Yves Saint-Laurent all wore Cartier watches. 
In 1918, Cartier released the Tank design, a rectangular watch that mimicked the style of World War I tank style. This timepiece helped turn wristwatches into a fashion trend in the 1920s. 
Since then, Cartier has been one of the most luxurious and extravagant timepiece brands and continues to produce timeless and elegant watch designs.   
Cartier Watch Design Features
Cartier has a wide array of watches in several shapes, designs, and materials. Still, most Cartier watches feature: 
A silver dial with black Roman numerals. 
Blue sword-shaped hands.
A Cartier signature in the VII or X.
Railroad-style minute track.
Blue cabochon-cut stone in the crown. 
Engraved case back. 
Cartier has a rich archive of impressive watches, and these are the design features that make them unique. That said, the materials used to create these expensive wristwatches also contribute to their remarkable price tags.
Materials That Contribute to Cartier Watch Prices
There are several reasons why Cartier wristwatches are expensive, valuable timepieces. In addition to desirable design features, these luxury-grade watches contain a variety of precious and high-quality materials, including:
Gold
Platinum
Diamonds
Stainless steel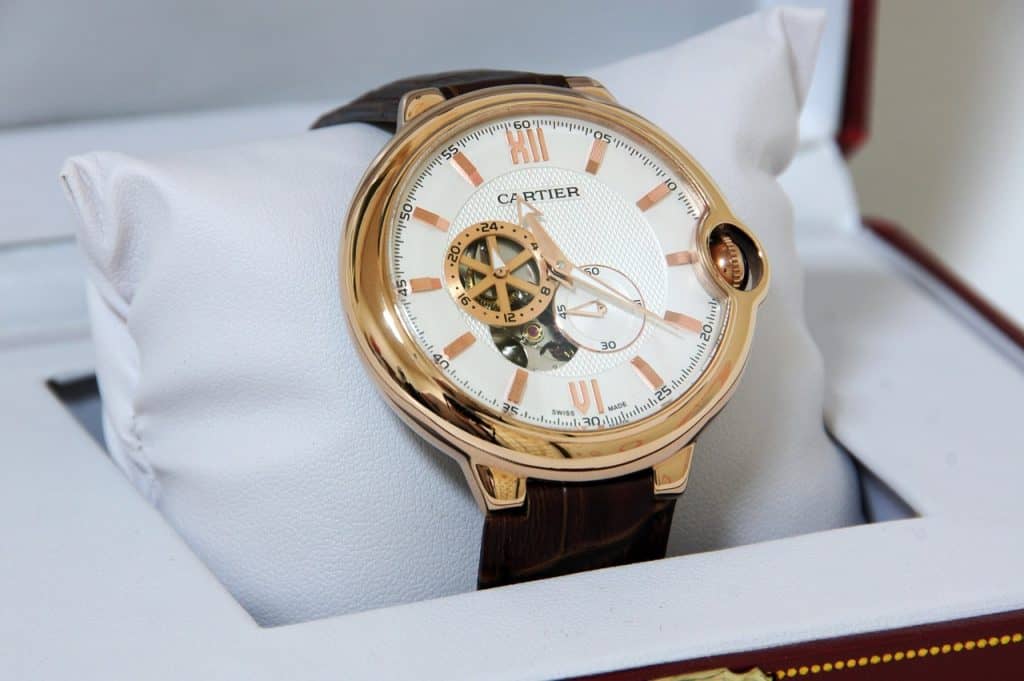 On their own, these materials command staggeringly high prices. However, when paired with the top-notch craftsmanship Cartier is known for, these materials result in an almost priceless piece easily worth several thousands of dollars.
Aside from the inclusion of these materials, a Cartier watch will also need to be serviced every few years. This is to ensure the watch looks and functions as new. You can read our article on Cartier watch service costs if you want to learn more!
Cartier Watches Are Often Made With Gold
Some of the priciest Cartier wristwatches are made with gold, a well-known precious metal for its high price point and comparative stability. 
While the value of any given currency fluctuates depending on inflation, debt, and currency exchange rates, the value of gold remains constant or consistently increases over time. Because the planet's gold quantities are limited, items made with gold will likely appreciate over time.
Cartier watches incorporate a variety of golds, including rose gold, white gold, and yellow gold. Each of these materials gets its coloration due to the presence of other metals like nickel, copper, and zinc.  
While most Cartier timepieces are wristwatches, this luxury brand also produces tabletop clocks made with precious metals. The Cartier Antique Piece Clock is a prime example and is made with gold and silver.
Though many of the most expensive Cartier watches are made with gold, a few contenders are made with platinum. This precious metal is one of the few materials more costly than gold. 
Cartier Watches Are Sometimes Made With Platinum
One of the most expensive Cartier wristwatches (if not the most expensive model) is made with platinum. Notably, platinum is almost always pricier than gold.
The Rotonde de Cartier Flying Tourbillon reversed dial watch features a platinum case and band, both of which are encrusted with diamonds. It's so expensive that its price isn't listed online. Instead, you'll need to contact Cartier directly to receive a quote and discuss payment options.
And speaking of diamonds, Cartier watches are often adorned with these shiny precious stones. This feature also influences the value of these timepieces.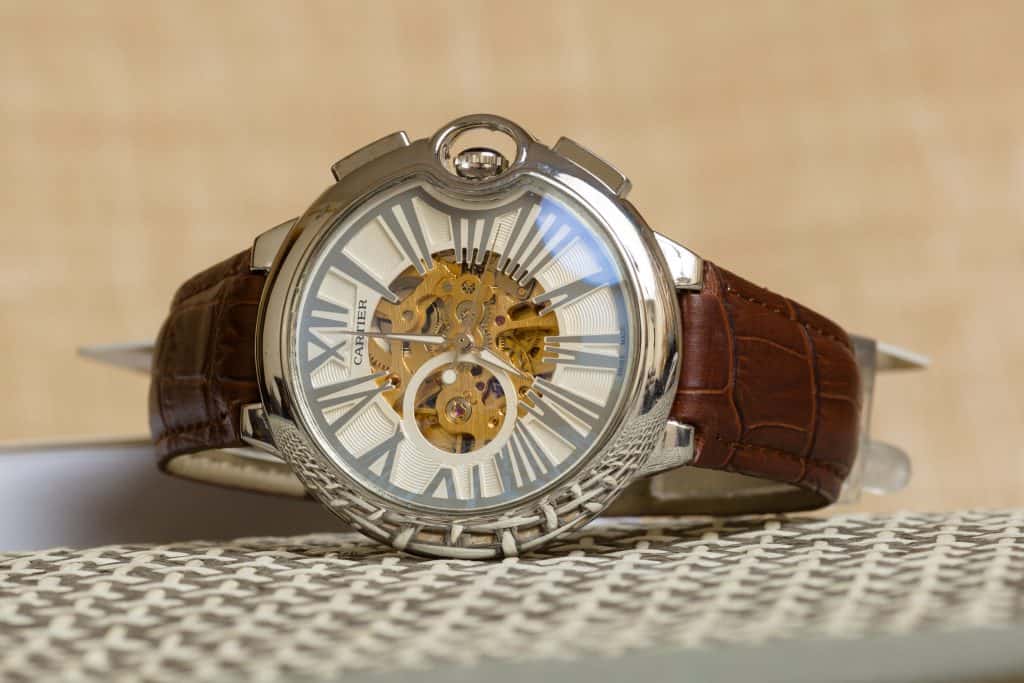 Cartier Watches Often Contain Diamonds
Diamonds are the most expensive precious stone on the planet, with some costing more than $70 million. As such, it should come as no surprise that Cartier watches that contain diamonds are often worth hundreds of thousands of dollars.
Naturally, the most expensive diamond-encrusted Cartier watches feature more than just one of two diamonds. The La Panthère watch is a fantastic example.
With an average retail price of more than $250,000, this delicate watch features 136 diamonds (a total of about one carat's worth). Each faceted gem sparkles beneath the light, making this watch one of the most luminous and attractive Cartier women's watches.
Cartier Watches Often Feature High-Quality Stainless Steel
While stainless steel isn't typically considered a precious metal, high-quality stainless steel can last for decades. It's also resistant to impacts and abrasions. These aspects make it an excellent material for various jewelry pieces and wristwatches.
That said, many of the most affordable Cartier wristwatches are made with steel or stainless steel. For example, the Tank Must Watch (which retails for about $2,600) features a steel case and minimal additional adornments (no diamonds or gold). 
How the Manufacturing Process Contributes to Cost
The components used to create Cartier watches are some of the most significant factors contributing to their high prices. However, the manufacturing process also raises the cost of these watches.
That's because:
Cartier watches are handmade, and
Cartier watches are made in Switzerland
How do these qualities increase a Cartier watch's price tag? Let's delve more deeply to find out.
Cartier Watches Are Handmade
The average wristwatch found at a department store is created by machines, with very little (if any) human craftsmanship. While this automated manufacturing process results in a lower price point, it often translates to inferior quality. 
This is one of the aspects that sets Cartier watches apart from other timepieces. Every Cartier watch is handmade, constructed via painstaking methods that require several hours of dedicated effort. 
This level of craftsmanship is rarely seen in other watch brands, setting Cartier apart from other luxury-quality competitors. The hours of hard work required to create a single watch translates to a higher cost, as all Cartier watches are handmade in Switzerland.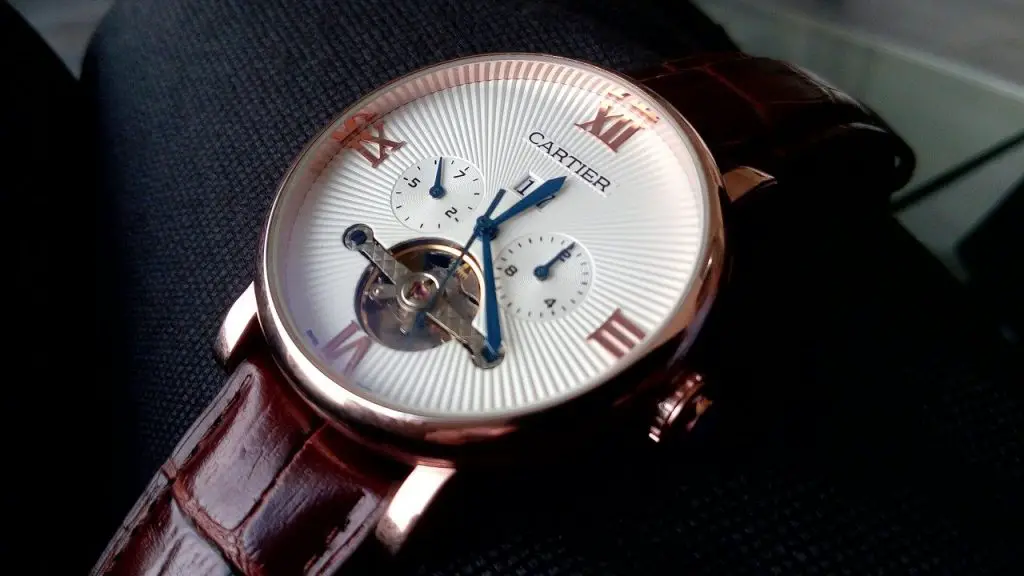 Cartier Watches Are Made in Switzerland
In addition to considering how Cartier watches are made, it's also crucial to consider where they're made. After all, every country has unique labor laws and wages.
The professional, expert-level watchmakers in Switzerland earn comparatively high wages, typically ranging between $62,000 and $100,000 per year. To ensure Cartier watchmakers are appropriately compensated for their delicate craftsmanship, the brand must charge hefty prices for their goods.
Celebrity and Royal Ambassadors Associated With Cartier
One of the reasons Cartier is so famous and so expensive is its sales to royals and celebrities and the star power behind the brand. For example, Kylie Jenner, Jacky Kennedy, Remi Malek, and Angelina Jolie have purchased Cartier watches or acted as an ambassador for the brand.  
This strong association with the wealthiest and most famous individuals has helped make Cartier watches one of the most reputable luxury-quality brands on the planet.
Conclusion 
There are several reasons why Cartier watches are so expensive. Firstly, Cartier is a designer brand with a fascinating history. Secondly, Cartier watches are handmade with high-quality, costly materials in Switzerland, a country known for its high wages. 
Furthermore, many wealthy and notable public figures wear Cartier timepieces and support the brand. For these reasons, Cartier can charge steep prices for their elegant, timeless, and sought-after watches.