Omega is one of the world's best-known Swiss watchmakers, known for its high-quality and reliable timepieces. But are Omega watches also luxury watches?
Omega is, without a doubt, a luxury watch brand. The brand has a long and rich watchmaking history and produces high-quality timepieces made with luxurious and expensive materials. Furthermore, their watches feature an in-house-made movement, a prerequisite for a brand to be a luxury watch brand.
The title of 'luxury watch brand' isn't an easy title to obtain. But Omega manages to claim it. In this article, we'll explain exactly why Omega is a luxury watch brand and how it differs from its competitors.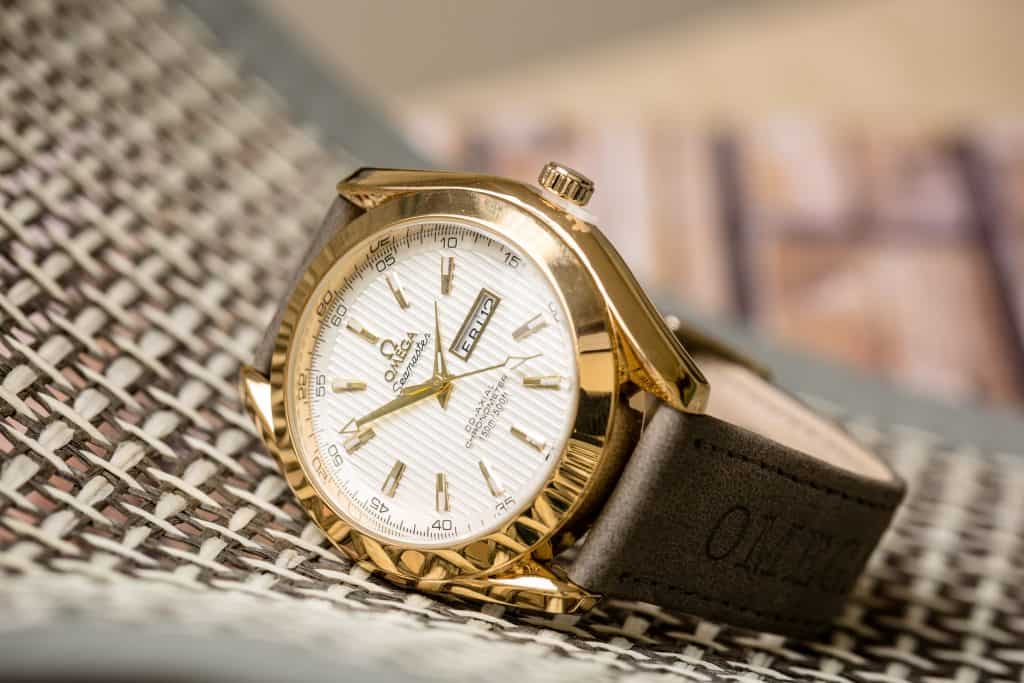 Why Omega Is A Luxury Watch Brand
It's always a bit of a debate whether or not a watch brand is a luxury brand. Opinions tend to differ widely, and there aren't any clear-cut rules on the matter. But luckily, there are a few guidelines that even the strictest watch enthusiasts tend to agree on.
The first and most important one we look at is the movement. The movement is the most important part of a watch, and for a brand to be a luxury watch brand, it MUST make its movements in-house. Not having an in-house movement is an absolute dealbreaker.
Secondly, we'll look at the materials used to make the watch, as well as the entire manufacturing process behind it. Lastly, we'll consider the price tag of Omega watches and how the brand has positioned itself over the years.
If you'd like to learn about other watch brands and if they're considered luxury brands, we have many more articles on that. Click on the links here to go to brands like Citizen, Cartier, IWC, Tissot, and Tudor.
But before we go into those guidelines individually, it's important to note that luxury is a subjective term. Owning a watch in and of itself can be a luxury for some, while for others, a $3000 watch is another one for the collection.
There's no right and wrong, and the 'luxury' title really does not matter all that much in the grand scheme of things. As long as you like the watch, it should not matter if it costs $100 or $10.000.
Let's now look at all these guidelines individually and see how Omega meets the requirements!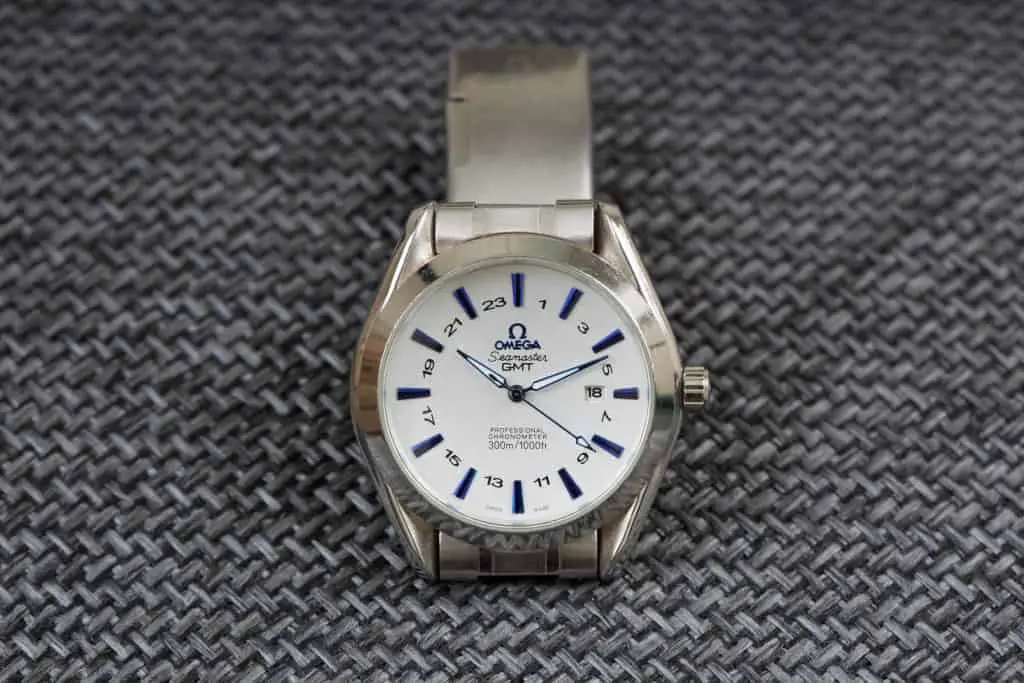 The Movement Of An Omega Watch
As we stated earlier, the movement of the watch is one of the few actual dealbreakers amongst these 'guidelines'. Not having an in-house movement is a one-way ticket to not being a luxury watch brand.
And there's a very simple reason for that.
The movement is almost like the heart of the watch. It's the most important part. When companies outsource the movement, they basically buy one from a large pool of suppliers. These very same suppliers could be supplying much more affordable brands as well.
So if you pay upwards of $5000 for your luxury timepiece, it stings when you find out that it basically functions the same as a $200 watch.
Making your own in-house movement is very expensive, but it's expected that luxury watch brands don't cut any corners here.
In Omega's case, they do make their own movement, hence why Omega is a luxury watch brand.
Omega is actually part of The Swatch Group, which also owns ETA, one of the largest and most trusted movement suppliers. Together, these companies create a movement that's purely for Omega. No other watch brand is able to get their hands on those particular movements.
One example of Omega's fine movements is the first Omega co-axial movement, the Caliber 2500. This is one of those Omega-exclusive modified ETA movements, and it's arguably one of the best in its class at the time.
This movement has since been improved upon with the 8500, 8800, 8900, and 9300. These are modernized versions, but they are still top-of-the-class. They have a 60-hour power reserve and are incredibly accurate, and are something that Omega can be proud of.
Production & Manufacturing Rates
Perhaps the biggest difference between 'normal' watch brands and 'luxury' watch brands is the exclusivity. Luxury watches are in much shorter supply and much harder to obtain.
This is something that luxury watch brands strive for. After all, if we're all able to get a luxury timepiece, is it still really that luxurious?
Luxury watch brands tend to achieve this exclusivity in multiple ways. The first one is by setting a high price, but we'll get into that a little later on.
The second method of reaching exclusivity is by limiting the production rates.
Omega produces around 800.000 watches annually. That is actually quite a lot when compared to other luxury watch brands. Audemars Piguet only produces about 40.000 watches per year, while A. Lange & Söhne only produces 5000 a year!
But compare it to more affordable brands like Casio and Citizen, who produce tens of millions of watches a year, and you can see a clear difference.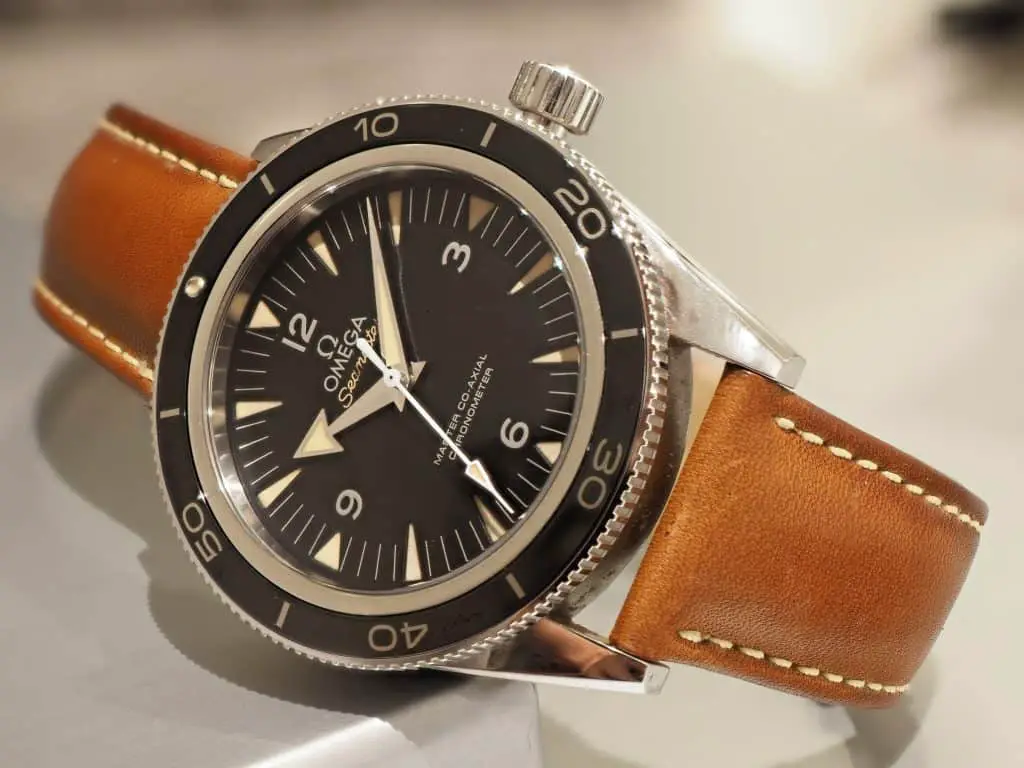 There's a very simple reason why Omega produces so many watches a year compared to other luxury brands, and it's the same reason why Rolex makes around one million watches a year; these two brands are a special case.
Ask anyone on the street to name two luxury watch brands, and Rolex and Omega will come up. These two are arguably the most popular and well-known luxury watch brands.
To meet the much, much higher demand for these watches, the two brands tend to produce more watches than their luxury peers.
But mind you, an Omega watch is still expertly produced. Every Omega watch is still hand-assembled by a Swiss watchmaking expert. It takes up to 500 manhours to even produce a single watch!
While machines do play a role in the production process, they're manually operated and used sparingly (think of tasks like placing the hands).
And that right there is another one of those guidelines. It's expected that luxury watches are hand-assembled by watchmaking experts. Omega definitely ticks that box.
The Materials Used To Make A Watch
Luxury timepieces are often made with luxurious materials such as precious metals and diamonds. After all, you're spending a couple of thousand dollars. It would be a bit disappointing if the watch you bought for that sort of money were made out of cheap plastic.
Of course, Omega isn't shy about using these luxurious materials. They once again tick this 'luxury guideline' box!
Stainless steel, gold, diamonds, titanium, and platinum are just a few examples of materials found back in Omega watches.
Here's a quick breakdown of the materials that Omega uses:
Yellow Gold: Omega starts with 24k pure gold. This tends to be slightly reddish in color, so Omega adds a copper/silver alloy to achieve a yellow-golden color. Omega's yellow gold is 18K.
Red Gold: Same story here; the gold starts off slightly reddish. To enhance the red color, Omega adds a copper/silver alloy to deepen the red color. Omega's red gold is 18K and is also known as 'Sedna Gold'.
White Gold: Once again, Omega starts with 24k pure gold, but adds a palladium/copper alloy to give the gold a white finish. Omega's white gold is 18K and is also known as 'Canopus Gold'.
Stainless Steel: Omega uses the 316L stainless steel alloy. This is the industry standard stainless steel alloy, known for its corrosion resistance and shine.
Aluminum: Omega uses this material because of its lightweight feel. While lightweight, aluminum is highly durable, making it the perfect material to use for watches that need to weather outer damages.
Titanium: Loved for its durable tendencies, titanium can withstand extreme temperatures, is corrosion resistant, lightweight, and doesn't reflect all that much. All the while, it looks stunning. This is Omega's preferred material for watches that end up going into outer space.
Platinum: Omega makes use of 950 platinum, a durable and beautiful material.
Diamonds: Omega mainly uses white diamonds, also known as 'Tom Wesselton'.
Liquidmetal: An Omega exclusive, Liquidmetal is a mix of titanium, zirconium, and copper. This material is three times as hard as stainless steel, making it much more durable.
Below, you'll find a table of Omega models that incorporate these materials. The use of these materials is not limited to just these listed below!
| | |
| --- | --- |
| Model | Material |
| Seamaster 300 Master Co-Axial Chronometer | Platinum |
| Speedmaster Aqua Terra | Titanium |
| Moonwatch Professional | Gold |
| De Ville Co-Axial Chronometer | Rose Gold |
| Constellation | Diamonds |
An Omega watch is also always covered by a sapphire crystal. This is the most durable and scratch-resistant material to cover the watch's face with. There are typically three options out there; acrylic glass, mineral glass, and a sapphire crystal.
If you're interested, you can read more about all the different watch glass materials and their properties in this article!
A sapphire crystal is, without a doubt, the best option, and it's expected to be included in every luxury watch. Omega fulfills these expectations, as all Omega watches have a sapphire crystal.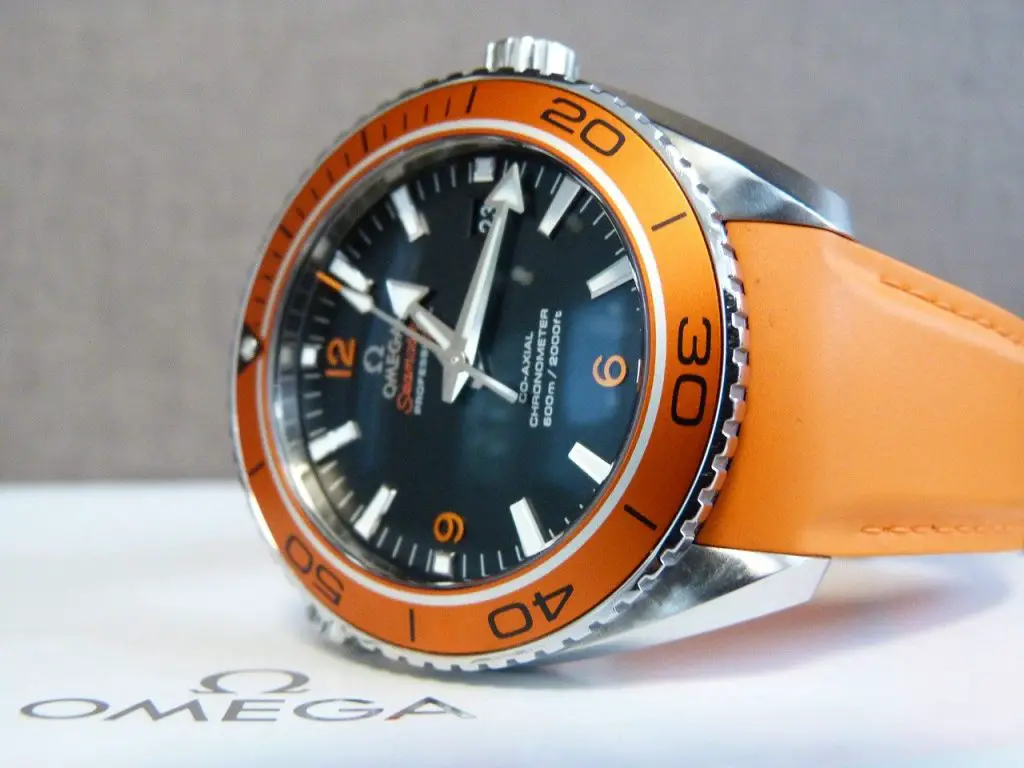 The Price Tag
Earlier, we talked about how the low production numbers keep Omega watches exclusive. The second half of that exclusivity comes from the price.
A luxury product is not a cheap product. They tend to be priced relatively high, at least to the point where it excludes the majority of people. It sounds harsh, but luxury items are not items that simply anyone can afford.
Luxury watch brands tend to be expensive. And while there's no exact price tag for a watch to be a luxury watch, most people tend to agree that the $2000 mark is a solid starting point.
In Omega's case, most watches start from the $3000 mark and make their way up from there. This actually makes Omega one of the more approachable luxury watch brands. Omega watches aren't all that expensive compared to some of its competitors.
Here's a list of the current four Omega watch models in production and the average costs associated:
| | |
| --- | --- |
| Omega models | Price range |
| Speedmaster | $4500 – $10.000 |
| Seamaster | $4500 – $10.000 |
| De Ville | $3000 – $17.000 |
| Constellation | $6000 – $20.000 |
These are the most common price ranges for the current four Omega models in production. There are some outliers, though, such as:
Omega Speedmaster Calibre 321 Chronograph – $70.000
Omega Moonswatch – $250
Omega De Ville Tourbillion Co-Axial Chronometer – $165.000
One significant outlier is the Omega Moonswatch, an unusually cheap watch for a luxury brand. This is actually a recent release where Omega teamed up with Swatch to create a timepiece. The Omega Moonswatch is the result of that!
Overall, though, Omega definitely prices their watches in the luxury spectrum!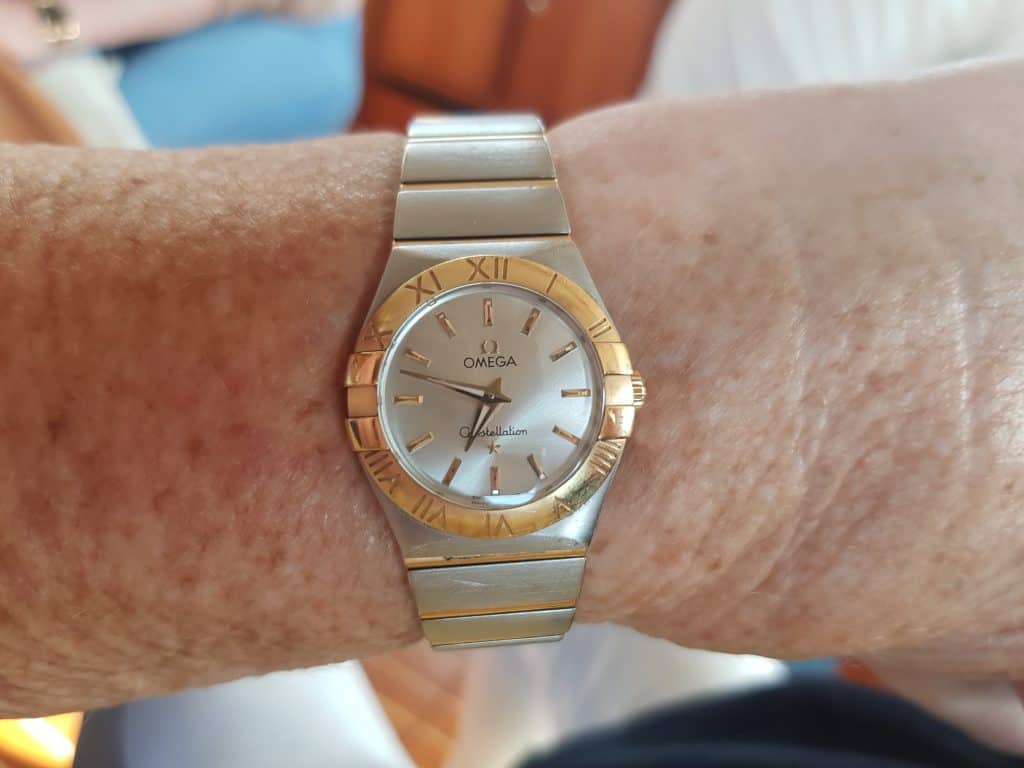 Omega's Position In The Watch Market
All watch brands sit somewhere in the watch hierarchy. At the bottom, you'll find dropshipped fashion watches, and at the top, you'll find a select few horologic masterpieces.
Omega sits near the top of brands overall, but it sits near the bottom of luxury brands. Omega's high accessibility (800.000 watches a year!) and relatively low price, when compared to its competitors, place it here.
Omega also tends to be more playful and easygoing with its designs and typically features fewer complications than its competitors. While still an excellent piece of horology, an Omega watch is not on the same level as a watch from brands like A. Lange & Söhne or Audemars Piguet.
But all in all, Omega is most definitely a luxury watch brand. The Swatch Group even pushes Omega as one of its luxury brands, as seen back in the deal with ETA and Omega to make Omega-exclusive movements.
Everything points to Omega being a luxury watch brand, but maybe more like an entry-level luxury brand.
Omega's Rich Watchmaking History
While not a must, a rich watchmaking history behind a certain brand definitely helps propel that luxury feeling.
The very first Omega watches ever produced date back to 1848 in a small shop in La Chaux de Fonds, Switzerland. Ever since then, Omega has continued to innovate and expand its knowledge, experience, and craftsmanship.
Now, the reason we touch on the brand's history is because it most definitely does play a role. When you buy an Omega watch, you buy a piece of horological history. And for that to happen, the brand must have some history behind it.
It's actually one of the things that make people see Hublot as a non-luxury watch brand. The brand is still so young; how could it possibly have already proven itself as a luxury watch brand?
In Omega's case, not only have they been around for a long time, but they have also achieved many things. Here's a list of several of their achievements over the years:
Omega was the official timekeeper for the US army during World War 1 and World War 2.
Buzz Aldrin wore an Omega Speedmaster when he took his steps on the moon.
Omega is the main sponsor of the Olympics.
Omega is the brand of choice for many of our favorite characters, like James Bond and Tony Montana.
While our favorite fictional characters wearing Omega watches isn't necessarily a monumental achievement, being the first watch on the moon is. And that's what we mean with 'buying a piece of horological value'.
Is Omega A Top Luxury Brand?
Omega is an entry-level to mid-level luxury watch brand. While Omega most definitely produces luxury timepieces, their watches tend to be on the more affordable and simplistic side when compared to the top luxury watch brands.
Earlier in the article, we talked about there being a brand hierarchy. We can break this down into three different 'pyramids' to figure out exactly where Omega sits.
The first pyramid includes all watch brands, ranging from MVMT to Fossil to Rolex to Audemars Piguet.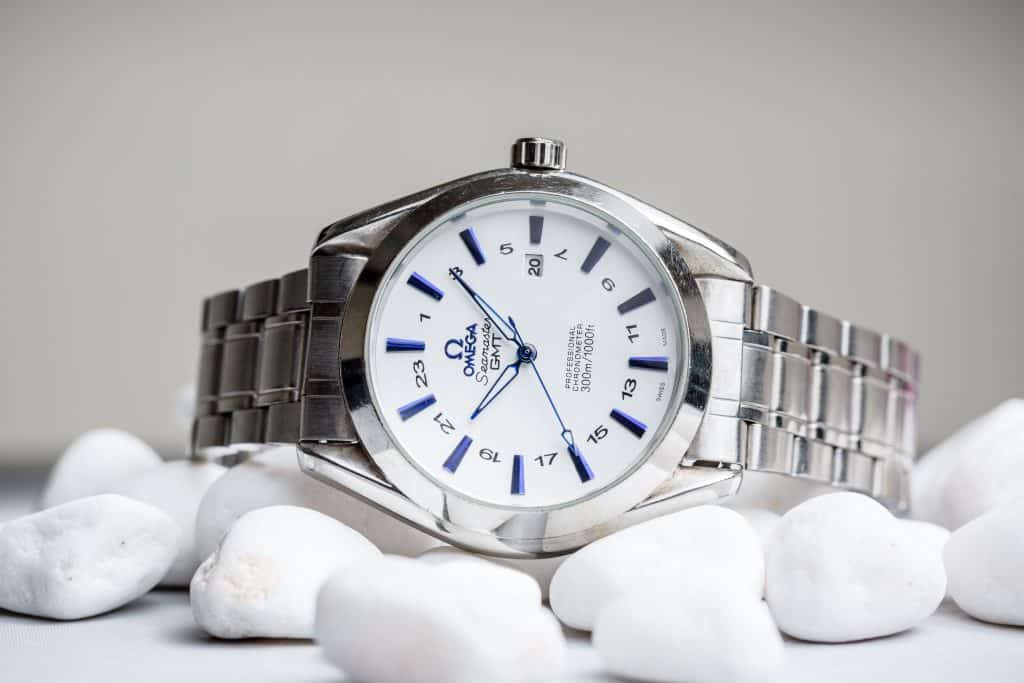 In this pyramid, Omega sits nicely in the middle, just as we approach luxury watch brand status. Omega is an entry-level luxury brand, so it fits perfectly here.
The second pyramid we can take a look at is that of only luxury watch brands. Since Omega is an entry-level luxury brand, it sits near the bottom in this one.
And the last pyramid we can take a look at is the one including all watch brands owned by The Swatch Group. Here, Omega sits near the top, along with brands like Breguet and Blancpain.
It all really depends on how you look at it. Omega is a top luxury brand within The Swatch Group portfolio, but in the grand scheme of things, Omega is an entry-level luxury watch brand.
Is Omega A Respected Watch Brand?
Omega is a highly respected watch brand. Thanks to its rich watchmaking history, excellent-quality timepieces, and massive recognition, it gets that reputation.
Together with Rolex, Omega is one of the two most recognizable luxury watch brands in the world. And you don't get in such a position if you're not offering top-of-the-line timepieces or aren't respected by the masses and watch enthusiasts alike.
Quality-wise, an Omega watch is a masterpiece, so it's easy to see why the brand is so highly regarded. Great-quality materials, excellent movements, and all assembled by Swiss expert watchmakers.
On top of that, Omega also has a rich history behind it, dating back to 1848. This all combined makes people respect the brand for what it is; an excellent watchmaker that offers high-quality timepieces.
Are Omega Watches Worth The Money?
Omega watches are most definitely worth the money. Omega is amongst the more affordable luxury watch brands, so you get an excellent quality timepiece for a relatively lower price when compared to its competitors.
Omega is one of the more affordable luxury watch brands, but they certainly don't compromise on quality. We've talked extensively about the materials used to make an Omega and what the manufacturing process looks like, so we won't go into all of that again.
But in short, an Omega watch is most definitely worth the money. You get a stunning timepiece that's both functional and durable, all for a relatively more affordable price when compared to its direct competitors!