Daniel Wellington has grown to be a household name in the watch world. But their watches are pretty pricey, especially considering their less-than-ideal quality. But why is that?
Daniel Wellington watches are expensive because the brand adds a huge profit margin. Most timepieces are sold for about 10 times as much as they cost to produce. All the while, the watch is made with cheap materials and an outsourced movement.
There are always many factors that go into pricing a watch. In this article, we'll discuss why Daniel Wellington watches are as expensive as they are. But we'll also briefly talk about whether or not they're worth it.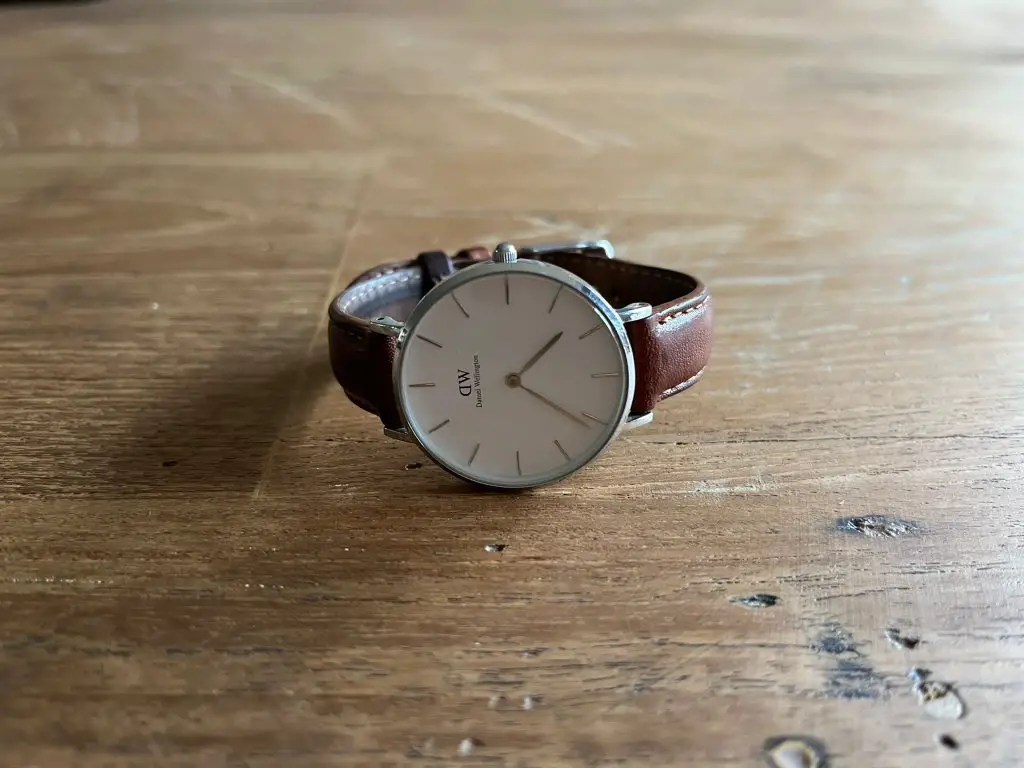 The Main Reasons Why Daniel Wellington Watches Are So Expensive
Typically, we look at a couple of factors that play a role in pricing a watch.
These are:
The movement of the watch.
The materials used to make the watch.
The manufacturing process behind the watches.
These 3 factors are typically the most influential. Others that also play a role are the brand's legacy, the marketing, and, of course, the profit margin.
Let's now take an in-depth look at these factors and see how they impact the price.
The Brand Is After High Margins
Alright, let's just state it as it is.
Daniel Wellington is simply after as much profit as possible.
Quality-wise, these timepieces are nothing to write home about. We'll dive into more details a little later on, but just know that the manufacturing cost of a single Daniel Wellington watch likely does not exceed $20.
With that in mind, you can see what a huge markup they add.
A watch that doesn't even cost $20 to make is sold for $200. That's 10 times more.
See, Daniel Wellington is what's known as a fashion watch brand. These brands create good-looking watches with the pure intent of selling as many as possible.
These are no horological standouts. Compared to other brands in the same price class, Daniel Wellington lacks in quality of both the materials and usability.
The Marketing Behind Daniel Wellington
Perhaps the only actual reason why Daniel Wellington watches are as expensive as they are is because of the marketing.
Over the years, Daniel Wellington has positioned itself as a popular and sought-after brand.
And they got to that position by marketing their watches correctly.
Unlike most other brands, Daniel Wellington made lots of use of influencer marketing. And that has worked to great success.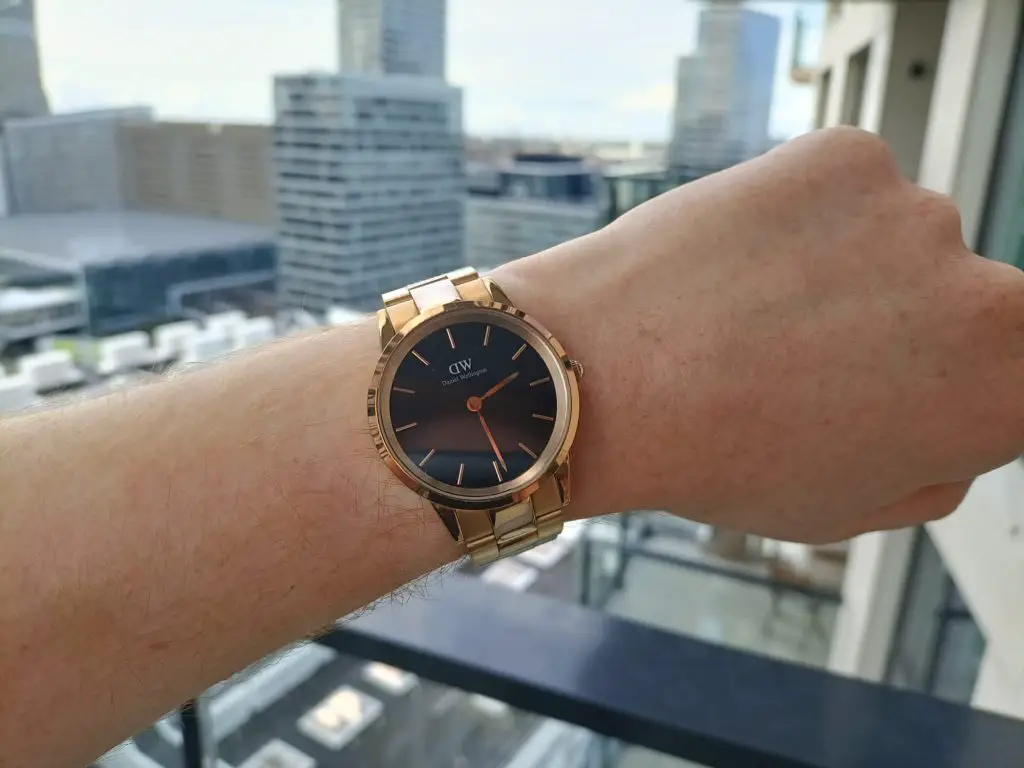 See, the brand is still very young. It was founded in 2011, and just a decade later, it became a household name.
Their marketing strategy involved reaching out to just about anyone with a following. They didn't limit this to just watch or fashion influencers. Even painters and artists were contacted.
To keep these contacts warm, they often gave these influences their own discount codes. Naturally, these discount codes offered the influencers a commission for every sale.
Unlike the watches themselves, they put a lot of effort into marketing them.
But all of that comes at a cost. And sadly, that cost is for us, the customers.
Daniel Wellington markets its watches as affordable luxury. And while their watches are affordable, they're not luxury.
The brand isn't exactly known as the best watchmaker (or even a watchmaker at all), making the marketing of these watches the primary driver of the high price.
The Movement Of A Daniel Wellington Watch
Usually, this is the section where we would talk about the intricacies of the movements used by the brand.
But Daniel Wellington doesn't really have anything special here.
Instead, they source their movement from third parties.
And while there isn't anything inherently wrong with that, Daniel Wellington goes for the cheapest options.
Most Daniel Wellington watches include a Miyota quartz movement.
To be precise, your DW watch will either have a Miyota 1L22 or a Miyota GL20 quartz movement.
Both retail for around $3. But since Daniel Wellington buys in bulk, the price is probably much lower.
Either movement works fine and will serve you for many years. That's not the issue. But both of these movements are also found in watches that cost a fraction of what a Daniel Wellington costs.
The Materials And Manufacturing Process
Once again, this would typically be a significant factor as to why a product is priced a certain way. But there's no rhyme or reason for a Daniel Wellington watch.
The production process seems to be entirely outsourced to cheap countries like China.
Here, the watches are bulk-manufactured in loosely checked assembly lines.
This results in a very poor quality standard during the manufacturing process.
And that's definitely found back in the watches themselves.
They're easy to break, easy to scratch, not waterproof, and sometimes outright faulty or defective.
But the manufacturing process isn't the main reason why the watches are of poor quality.
That all has to do with the materials used to make these watches in the first place.
Once again, it's no shocker that Daniel Wellington watches are made with the cheapest materials.
While not the very worst, the materials used seem to be just good enough to appeal to the masses.
But when you look closer, they're really not up to par.
Take their stainless steel, for example.
They use the 316L stainless steel alloy, like most other brands. This is the industry standard for stainless steel.
However, they may use the industry standard alloy, but there are still differences in quality. Whereas a 316L stainless steel Seiko is difficult to scratch, a 316L stainless steel Daniel Wellington scratches easily.
It's obvious that the brand actively chooses to keep costs as low as possible, even if it means putting out sub-par quality.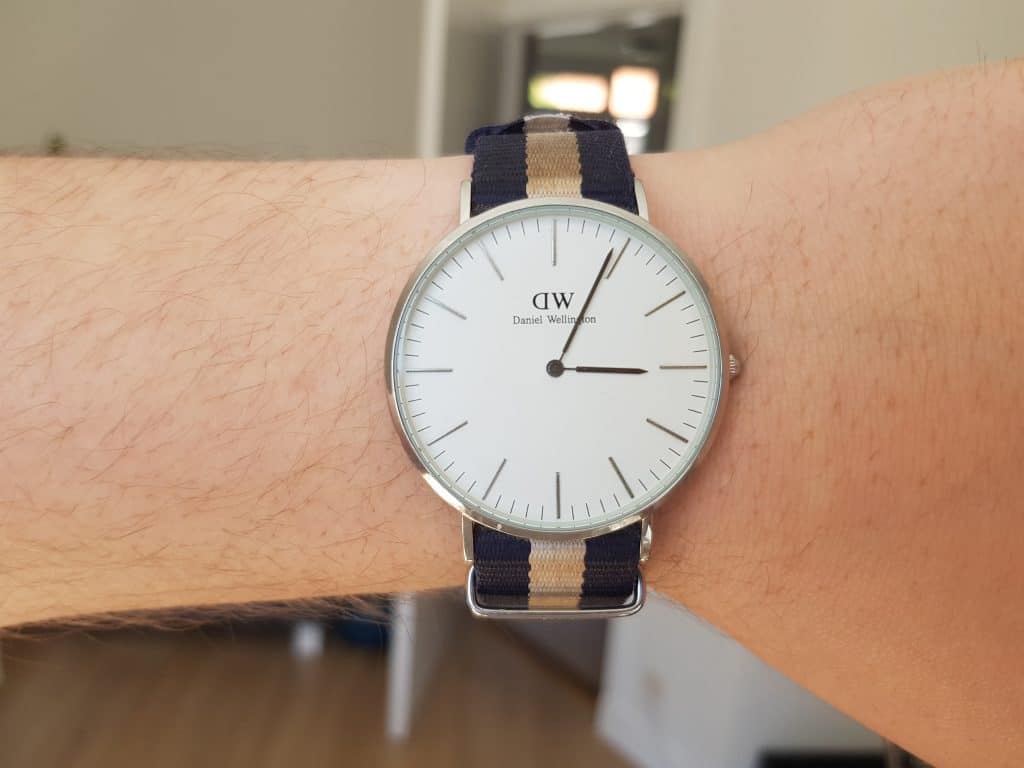 Are Daniel Wellington Watches Worth It?
A Daniel Wellington watch is not worth it. While the watches do look fantastic, they leave a lot to be desired in quality. The watches contain a cheap movement, scratch easily, and are not water resistant.
It's never fun to be negative about something. But in the case of Daniel Wellington, it would be wrong to say they're worth it.
While I do agree that the designs of Daniel Wellington watches are fantastic, they simply don't meet the minimum quality standards you would expect of a $200 timepiece.
Quality-wise, a Daniel Wellington is about as good as most $30 – $40 watches.
But they're sold for so much more. And there's just nothing that backs up the high price.
They also tend to lose pretty much all of their value right as you walk out of the store.
Judging by the price-to-quality ratio, it's difficult to justify buying a Daniel Wellington. Especially considering the many brands that offer better watches for a lower price.
---
That said, though, it's important to point out that most of this is said from a horological standpoint.
If you're simply looking for a great-looking watch that functions fine, a Daniel Wellington isn't bad at all.
See, the brand is judged harshly by watch enthusiasts. But for most people, it's simply a brand that sells good-looking watches.
The quality may be poor, but most of that is on the inside. You don't really see it. And most aren't really bothered by it.
And truth be told, most won't even notice it to begin with.
So if you're looking for a watch with a sleek and timeless design and aren't all that bothered about the best manufacturing quality, a Daniel Wellington may be for you.
What Are Some Great Daniel Wellington Alternatives
Daniel Wellington watches are extremely popular. And that's mainly because of their sleek and timeless designs.
But many other brands offer similar timepieces. And they're often of much higher quality and, get this, a lot cheaper.
Some brands that offer great alternatives are:
Seiko
Citizen
Swatch
Casio
Timex
Skagen
These are all respected watch brands that actually offer some horological value.
Take the Seiko 5 series, for example. These watches have an automatic movement (a big plus) and come from a highly reputable brand. When you buy from a brand like Seiko, you're assured that the watch meets all the high-quality standards they put in place.
Timex is also known for offering affordable timepieces. And a lot of their models feature a similar sleek and simplistic design. The kicker? Most models will cost you no more than $80.
Not to mention, you will have a more unique timepiece on your wrist.
Everybody seems to be wearing a Daniel Wellington watch nowadays. By buying any of these brands, you'll have not only a more qualitative timepiece, but also one that's unique.