Omega is one of the best-known luxury watch brands in the world, and we're all familiar with their high price tags. But why are Omega watches so expensive?
Omega watches are costly due to the use of expensive and high-end materials. Their watches are also hand-assembled by Swiss watchmaking experts, further bumping up the price.
Of course, these aren't all the reasons why Omega watches are expensive, so in this article, we'll go over all the aspects that make an Omega watch as expensive as they are.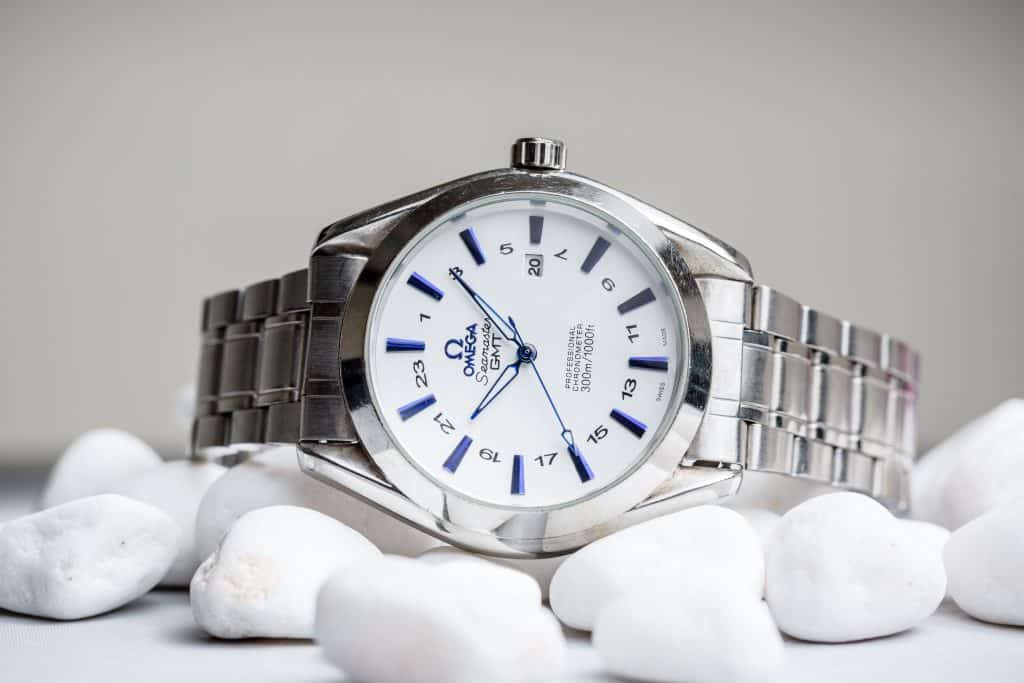 Why Are Omega Watches So Expensive?
We all know that Omega watches are expensive, but how expensive and why they are so expensive may be a mystery to some.
Below, you'll find a table showcasing the average price point per Omega model. There currently are four Omega models in production, and, of course, these are just price ranges. Some models can be much, much more expensive.
| Omega Models | Price Range |
| --- | --- |
| Speedmaster | $4500 – $10.000 |
| Seamaster | $4500 – $10.000 |
| De Ville | $3000 – $17.000 |
| Constellation | $6000 – $20.000 |
But why they are so expensive comes down to a couple of factors. The two most important ones are the materials with which the watches are made and the way the watches are produced.
Omega is a luxury watch brand, and they hand-assemble all of their timepieces in Switzerland. Considering this is done by Swiss watchmaking experts, who aren't working on minimum wage, this isn't cheap.
Other factors that determine the high price are the inclusion of complications, the marketing strategy of the brand, and the brand's name and position in the market overall.
Let's dive into these factors individually and see how they contribute to the high price!
Omega Watches Are Made With High-End Materials
Luxury timepieces are often made with high-end and precious materials. Think of materials like gold, diamonds, titanium, and platinum.
These materials are, of course, a lot more expensive than regular old cheap plastic, and the inclusion of these materials will most certainly be reflected in the retail price.
Omega isn't shy about using these highly sought-after materials. They even went as far as making their own versions of white gold and rose gold (red gold, in their words).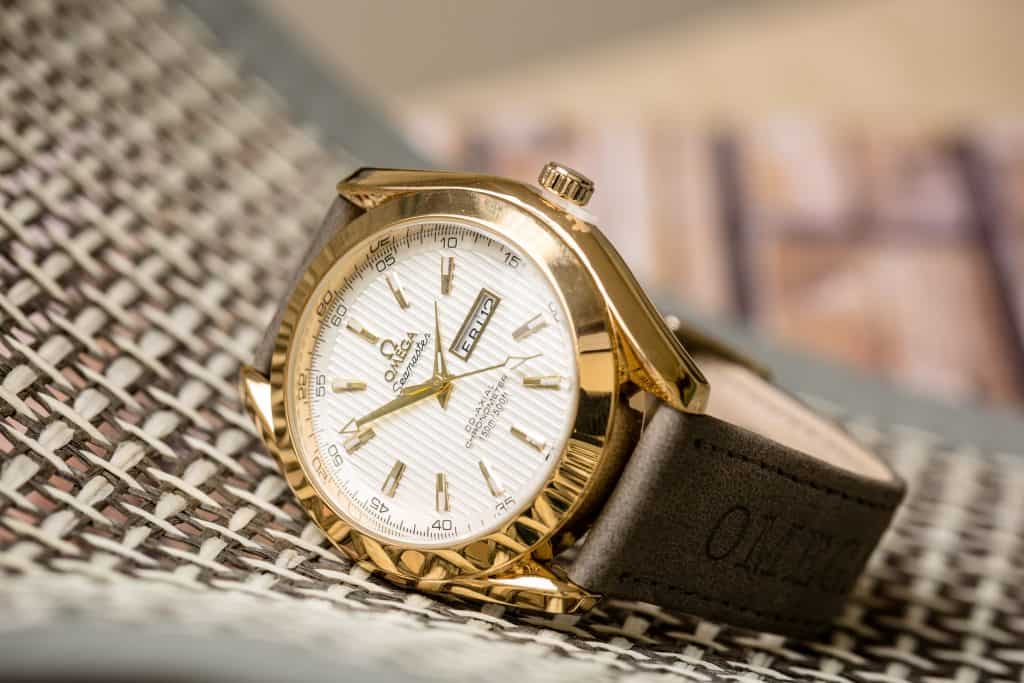 Here's a breakdown of all the different luxurious materials that Omega uses:
Yellow Gold: Omega starts with 24k pure gold. This tends to be slightly reddish in color, so Omega adds a copper/silver alloy to achieve a yellow-golden color. Omega's yellow gold is 18K.
Red Gold: Same story here; the gold starts off slightly reddish. To enhance the red color, Omega adds a copper/silver alloy to deepen the red color. Omega's red gold is 18K and is also known as 'Sedna Gold'.
White Gold: Once again, Omega starts with 24k pure gold, but adds a palladium/copper alloy to give the gold a white finish. Omega's white gold is 18K and is also known as 'Canopus Gold'.
Stainless Steel: Omega uses the 316L stainless steel alloy. This is the industry standard stainless steel alloy, known for its corrosion resistance and shine.
Aluminum: Omega uses this material because of its lightweight feel. While lightweight, aluminum is highly durable, making it the perfect material to use for watches that need to weather outer damages.
Titanium: Loved for its durable tendencies, titanium can withstand extreme temperatures, is corrosion resistant, lightweight, and doesn't reflect all that much. All the while, it looks stunning. This is Omega's preferred material for watches that end up going into outer space.
Platinum: Omega makes use of 950 platinum, a durable and beautiful material.
Diamonds: Omega mainly uses white diamonds, also known as 'Tom Wesselton'.
Liquidmetal: An Omega exclusive, Liquidmetal is a mix of titanium, zirconium, and copper. This material is three times as hard as stainless steel, making it much more durable.
It's an extensive list, and in most cases, Omega makes its own iteration of the material. Just look at Sedna Gold, Canopus Gold, or Liquidmetal.
It should be noted that not every Omega watch makes use of these materials. Stainless steel, especially the 316L alloy, is also an extremely solid option that is widely used by Omega. While not a cheap material, stainless steel is much more affordable than the likes of gold and titanium.
Additionally, every Omega watch is equipped with a sapphire crystal. This isn't an actual crystal, but rather the piece of 'glass' that covers the watch's face. A sapphire crystal to cover the face is expected from luxury brands, as it's the most scratch-resistant and overall best material out there.
Using and creating these materials isn't cheap for Omega, and that's reflected back in the price you pay for one of their timepieces.
Omega Watches Are Hand-Assembled By Swiss Watchmaking Experts
It should come as no surprise, but Omega watches are not mass-manufactured watches produced in big factories. Instead, every Omega watch is carefully mand-assembled by a Swiss watchmaking expert. It can take up to 500 manhours to even produce a single watch!
Since the watches are hand-assembled in Switzerland, an Omega watch wears the proud badge of being Swiss-made, a highly sought-after and treasured title.
But Omega doesn't just assemble their watches in-house. They also created their very own movement. The movement is basically the heart of the watch. It's what makes the watch work and function.
Creating an in-house movement is very expensive but expected from luxury watch brands. But since developing one is so expensive, it's also reflected back in the price.
And that's really what most of it boils down to.
Omega cuts no corners, and that's reflected in the price: high-quality materials, an in-house movement, high water resistance levels, interesting and unique complications, and all hand-assembled in-house in Switzerland.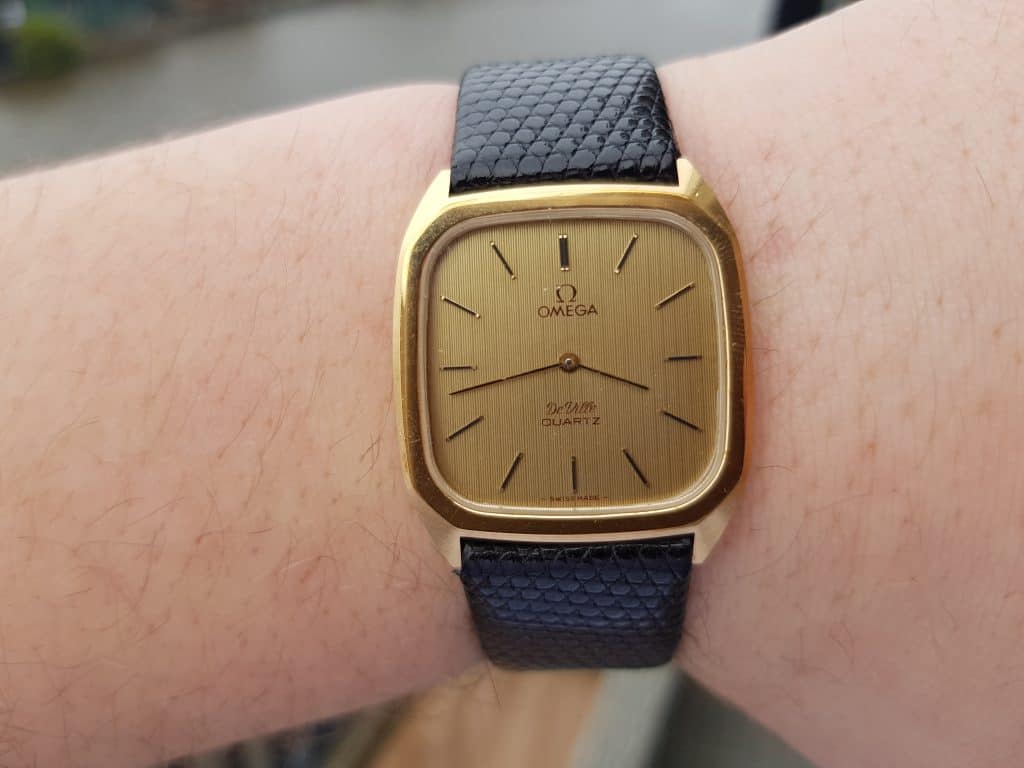 The Brand Name
As much as we may dislike it, the brand's name is also a significant influence in determining the price. Omega is a luxury watch brand, and they want to keep that image. And the easiest way to do that is to keep a relatively high price.
The high price acts as a barrier to entry (not everyone is able or willing to spend a couple of thousand dollars on a watch), keeping Omega watches exclusive and retaining that luxury image.
There's also the argument that luxury watch brands keep their prices high just because they can. And while that is partly true for some brands, I feel that Omega watches are priced relatively fair.
Yes, they are very expensive but compared to other luxury watch brands, Omega is on the cheaper side. It's no wonder that Omega is often considered to be an entry-level luxury brand.
Omega Watches Are Marketed And Endorsed
Marketing costs can rake up much quicker than you may think. Advertising is not cheap, especially if you do it like Omega. Celebrity endorsements and sponsoring huge events are not out of Omega's scope.
Omega has been the official timekeeper of the Olympics and they were the main choice of watch for NASA. In fact, the very first watch to ever reach the moon was an Omega Speedmaster, worn by Buzz Aldrin.
Additionally, Omega is worn and endorsed by many celebrities, including:
George Clooney
Elvis Presley
Prince William
John F. Kennedy
Michael Phelps
Daniel Craig (James Bond wears an Omega Seamaster)
These marketing/advertising costs quickly add up, which is reflected in the retail price.
What Makes Omega Watches Special?
Omega watches are featured in some of the world's most memorable and important moments, like the Olympics and the moon landing. Furthermore, Omega tends to have a more playful appeal when compared to its luxury brand peers.
To most people, Omega may just be another brand in the nowadays rather large pool of luxury watch brands. However, Omega is so much more than 'just another brand'.
It's the watch brand that was worn during the first-ever spacewalk, it's the brand that Buzz Aldrin wore when he set foot on the moon, and it has been the sponsor for some of the most iconic sporting events in the world.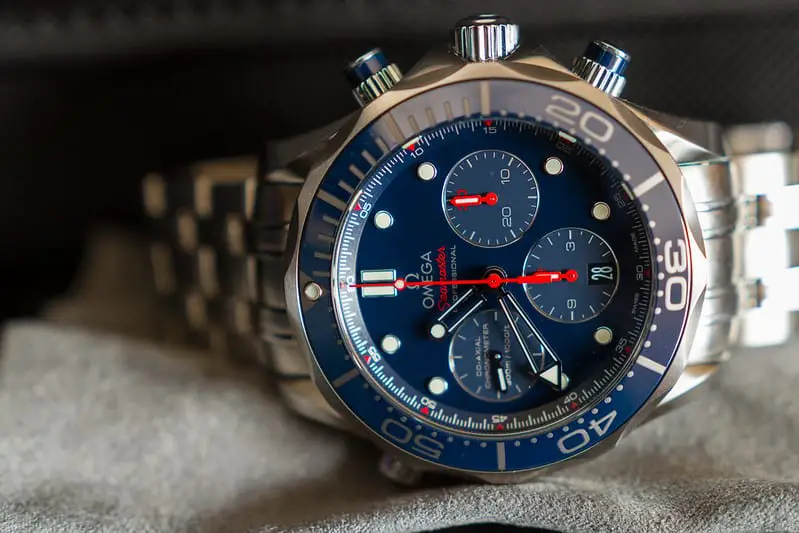 On top of that, Omega is special in the sense that their watches tend to be a little more 'playful'. They're not as set-in-stone as some other Swiss luxury watch brands. The new release of the Omega Moonswatch, a collaboration with Swatch, is a prime example of that.
Are Omega Watches Worth The Money?
Omega watches are definitely worth the money; they are high-quality luxury watches that are reasonably priced compared to most of their direct competitors.
It's safe to say that Omega watches are high-quality timepieces. With nearly 200 years of watchmaking experience and a rich history, Omega has really nailed the art of watchmaking.
While Omega watches will still cost you a couple of thousands of dollars, they are actually relatively affordable compared to other luxury watch brands.
You can get yourself a gorgeous Omega Seamaster for $4000 or so. Meanwhile, an entry-level watch from a brand like Rolex will already cost you a minimum of $6000.
But in the end, it mainly comes down to you. If you don't think a watch is worth a couple of thousand dollars, then an Omega is not worth it to you. But if you appreciate watchmaking and the brands behind it, then an Omega watch is definitely worth the money.
It should be noted, though, that a watch is not worth it to go into debt over. We wrote an entire article about how much you should spend on a watch, but you should be responsible when making such a large purchase.